Gluten free Banana pudding cupcakes
These Gluten free Banana pudding cupcakes are just simply exquisite. I love the fact that they are gluten free and awesome.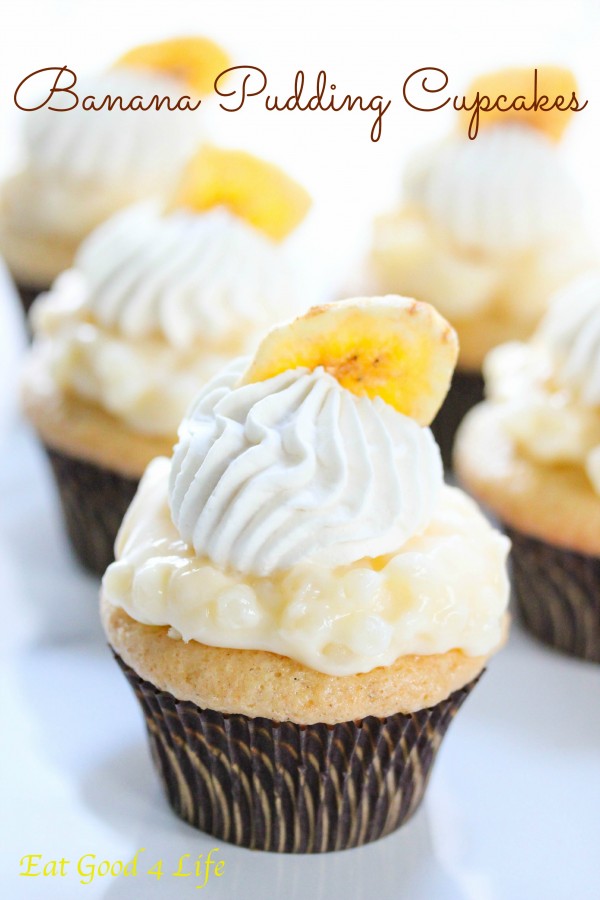 Let me start by saying these Gluten free Banana pudding cupcakes are the absolute bomb. These are going to be one of my favorite cupcakes to prepare at gatherings. I mean, who doesn't like banana pudding? and on a cupcake form? Well I think that is just even better.
For this time around I used a vanilla gluten free mix but keep in mind you can use any type of vanilla cupcake recipe you may like. Next time I will use my own gluten free vanilla recipe for the cupcake batter. While this gluten free mix was great I found it a bit too sweet so less sugar would be ideal for me.
Also, I used tapioca pudding for the pudding part because it is the only pudding I could find that is natural and doesn't contain tons of added chemicals and crap. Homemade pudding would be ideal, maybe next time.
Once the Gluten free Banana pudding cupcakes where done and cooled it was really easy to assemble them together. Just make sure that if you have any left over cupcakes you keep them in the refrigerator.
I have done the real banana pudding before and this recipe was also the bomb. Super simple to put together and extremely delicious. The second time I made it instead of just using heavy cream I used Greek yogurt. It was really good too, it just had a little tangy kick to it but if you find vanilla Greek yogurt I think that won't give you the tangy kick as much.
There is not much I can say about these Gluten free Banana pudding cupcakes but that they were just the bomb. I hope you get to try them soon. If you do let me know how you liked them.
Enjoy!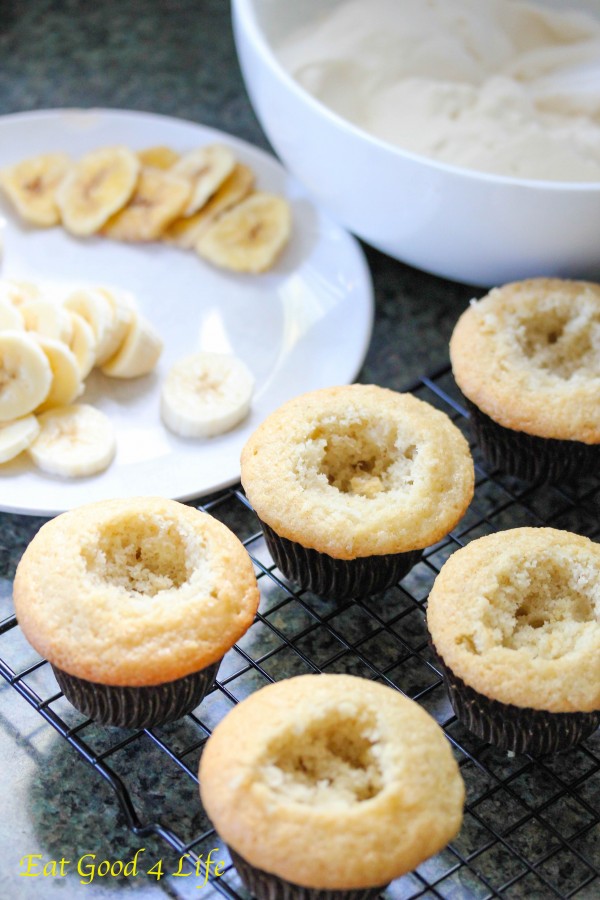 Here you can see how I made the little indentations on each cupcake. Fill it in with a slice of banana and the vanilla pudding followed by the heavy cream and banana chip if using. These banana pudding cupcakes are the bomb so I hope you get to try them soon.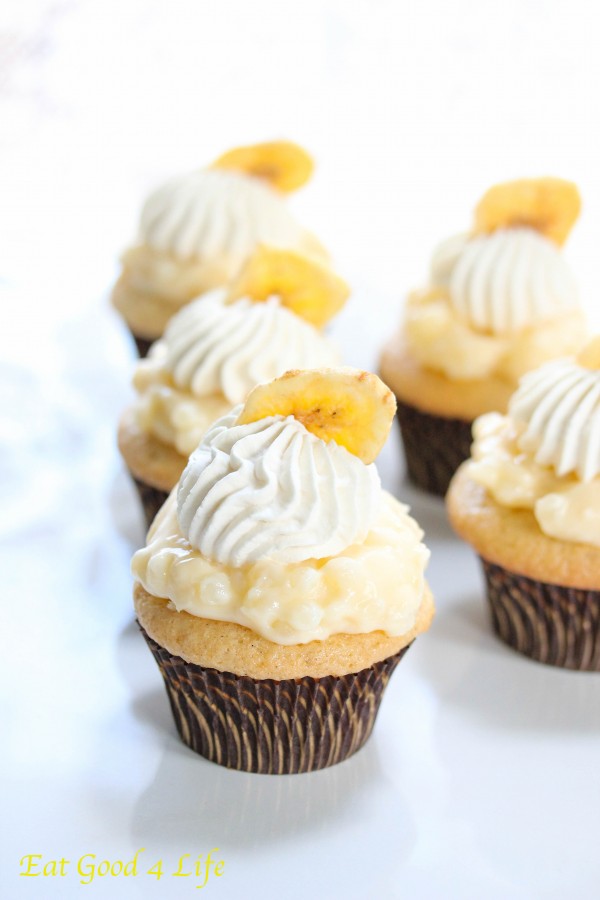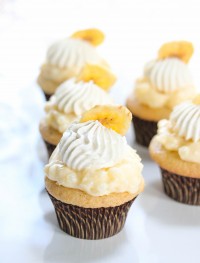 Gluten free Banana pudding cupcakes
Yield: 14-16 cupcakes
Total Time: 1 hour
Ingredients:
1 package gluten free vanilla cake mix
22 oz tapioca vanilla pudding, or any other vanilla pudding
2 cups heavy cream
1/4 cup maple syrup
1-2 bananas, sliced
Dry bananas chips to decorate
Directions:
Preheat the oven to 350F. Line cupcake pan with cupcake liners and set aside.
In a large bowl mix in the eggs, oil and water (the gluten free mix will let you know how much). Add the gluten-free vanilla mix and combine. With a medium cookie scoop fill each cupcake liner 3/4 of the way and bake for about 25-30 minutes or until a tester comes out clean.
Immediately remove cupcakes from the pan and let them cool completely on a wire rack.
On the mean time, on a large bowl, with a hand mixer, whipped the heavy cream with the maple syrup.
To assemble the cupcakes, with a spoon or a knife cut the middle out of each cupcake leaving a border around the edge, just like in the picture. Place a banana slice in the hole followed by two tablespoon of vanilla pudding. Pipe the heavy cream on top and decorate it with a slice of banana. Repeat this method with all of the remaining cupcakes.
Store leftover cupcakes in the fridge.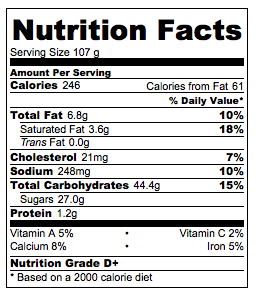 Nutrition facts calculated based on the recipe giving 16 cupcakes.