Gluten free apple coffee cake
So yesterday I decided to make another cake alternative for my diabetic and Celiac friends. I made this gluten free apple coffee cake that even though it is gluten free, you will not be able to tell. Anyone that likes desserts and cake will love this recipe.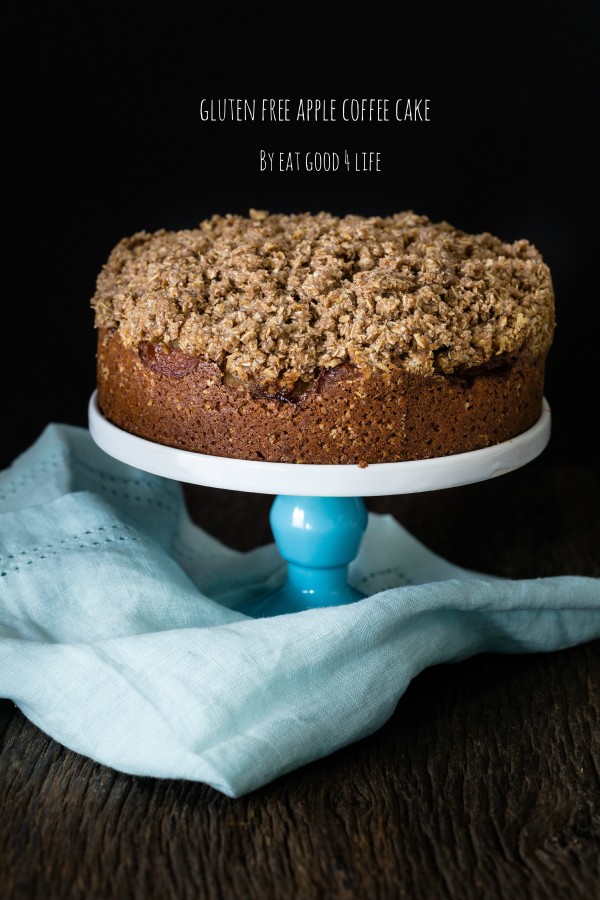 I love baking with oat flour, not only because it is gluten free but because it is healthier for you. If you don't have oat flour you can make your own in a matter of two minutes. All you need is gluten free rolled oats, a food processor and you are good to go.
I know a few people suffering from celiac disease are still sensitive to gluten free rolled oats, if you are one of them you could use a mixture of brown rice flour and almond flour for the batter in this cake. I would suggest half of each so 1 1/4 cup brown rice flour and 1 1/4 cup almond flour.
I also used Truvia Brown sugar blend to decrease the calories and carbohydrates for my diabetic friends. The sweetness will still be there, not the calories. This post is also part of Truvia's Friendsgiving program so I hope you enjoy the other recipes. This cake is very typical of the holidays…a better alternative to the conventional apple coffee cake recipes out there though!
I baked this gluten free apple coffee cake on a 7 inch springform baking pan so it is slightly smaller in size. I am sure there is going to be plenty of dessert in your Thanksgiving table to go around so no need to make huge cakes.
I hope you like this gluten free apple coffee cake. Mine was gone in a matter of two days. Experimenting with a few desserts these past few days has been a lot of work but a lot of fun.
Enjoy!
This conversation is sponsored by Truvia. The opinions and text are all mine. The end :-)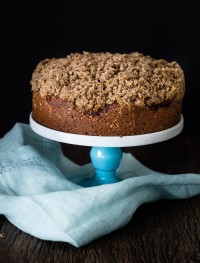 Gluten free apple coffee cake
Yield: 6 servings
Total Time: 1 hour
Ingredients:
Directions:
Preheat oven to 350 F. Grease and flour a 7 inch springform pan.
In a mixing bowl, with a spatula, combine egg, oil, milk, yogurt, vanilla and sugar. You can also use a stand mixer.
To make the oat flour, place the rolled oats in your food processor and pulse until pulverized. Add the flour and baking powder to the mixing bowl and combine. Pour thick batter onto the prepared baking pan. Place apples over the batter like in the picture.
In another bowl combing streusel topping and place over the apples. Bake for about 50-60 minutes, or until a toothpick inserted in the center comes out clean. I baked my cake for 50 minutes. Cool the cake in the pan.
Remove cake from the pan and serve.