Giant Chocolate Chip Cookie
This Giant Chocolate Chip Cookie is super fun to make with your kids. It cuts like pizza and it is much quicker to make.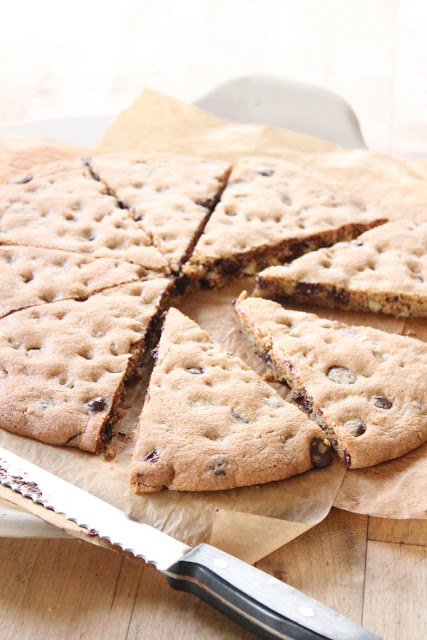 OK so this Giant Chocolate Chip Cookie is just superb. I just made it with my son and we love it. As far as taste, it is awesome and most of all, superb… because it is really easy and quick to whip together since it is just a giant cookie and you don't have to spoon the batter individually.
I baked mine probably for about 27 minutes or so.
There is not much I can say about this recipe but that it is going to be one of our favorite cookie recipes and that we will be repeating this one very soon. We will do other variations with this batter and perhaps add other type of nuts, make the batter double chocolate etc.
If you get to make this Giant Chocolate Chip Cookie let me know how it turned out for you.
Enjoy!
The picture on the left was the cookie right before putting it in the oven. We patted it down with our hands, very easy to do :-)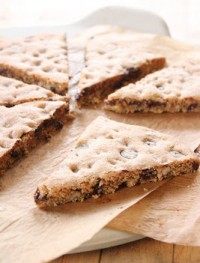 Giant chocolate chip cookie
Ingredients:
Directions:
Preheat oven to 350 F. Line a pizza pan or pizza stone with unbleached parchment paper
In a mixing  bowl mix sugar, oil and coconut oil.  Add egg, vanilla and mix well (I do this with a rubber spatula or whisk).
Stir in the flour, baking soda, salt, walnuts and chocolate chips and blend well. Shape dough into a bowl and pat down onto the prepared pan until you obtain a giant cookie, just like in the picture. I do this with my hands.
Bake cookies for 22-26 minutes. Cut into wedges 2-4 minutes after getting out of the oven, it is easier this way.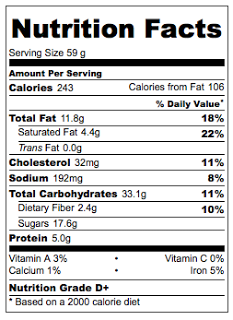 Nutrition facts calculated based on the recipe giving 8 servings.