Gambas al Ajillo/ Garlic Shrimp
Garlic shrimp or gambas al ajillo are one of my favorite Spanish tapas of all times. Super fast and easy to put together too.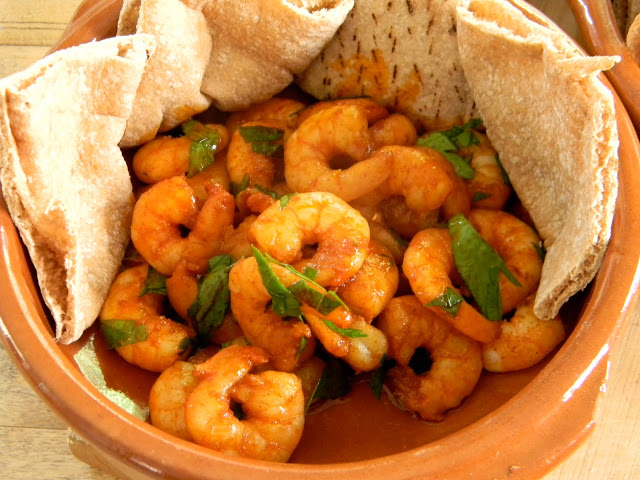 My mother was recently with us for a short visit from Spain so some of my cooking took me back to my roots.
This garlic shrimp dish is one of the most famous tapas dishes in Spain. It is extremely easy to put together and it is incredibly tasty. For those people that are watching their cholesterol though be careful as shrimp contains quite of it, moderation is the key.
You can half the quantity for the ingredient list, as I made quite a bit. You could freeze this garlic shrimp already prepared. Just defrost in your refrigerator and heat on medium to low heat for 2-3 minutes.
I hope you enjoy this super yummy and tasty recipe.
Enjoy!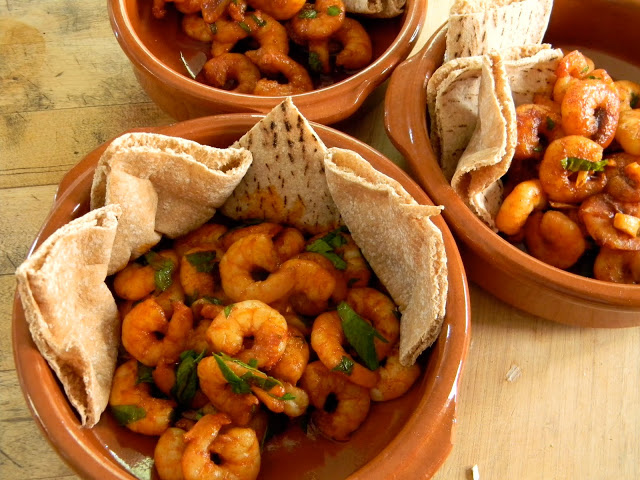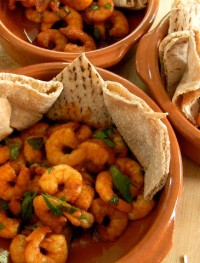 Gambas al Ajillo/ Garlic Shrimp
Yield: 4 servings

Total Time: 15 minutes
Ingredients:
1 lb large clean shrimp
6 tbsp olive oil
6 cloves garlic, minced
4 tbsp parsley, chopped
3 tablespoons smoked paprika
salt to taste
Whole wheat pitta bread to dip sauce into :-) (any other bread would do)
Directions:
Heat oil on a non stick skillet.Once the pan is warm, but not too hot, toss the garlic and stir fry, being careful not to burn the garlic, 30 seconds would do.

Throw the shrimp into the mix, followed by the paprika. Once the shrimp begins to turn pink, after about a minute or two, toss in the parsley. Shrimp gets really stringy and dry when overcooked, so remove the pan from the heat once the shrimp turns pink, but not entirely opaque. Season with salt and serve with bread.