Frozen lemonade Mojito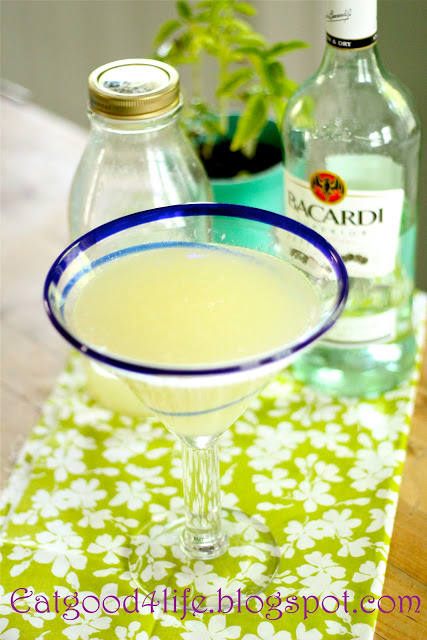 The difference between a Mojito and a Margarita? For what I have just read online the Mojito is made with rum and a Margarita with tequila. I actually didn't know but now I do :-)
I have been making this drink all summer long. I bought my big storing bottle at Create and Barrel and I have kept it, full, in the fridge, for when ever I have had the urge to drink a refreshing Mojito.
This Mojito would be perfect for the coming labor day weekend. You can put it together in a flash and it is extremely refreshing.
To be honest, the Mojito measurements are to taste. I actually do not use much of the rum because I don't like strong alcoholic drinks but you can add more if you wish, just be cautious!!
For the next three weeks or so my blog pots may suffer just a tad. I don't think I have been so busy in my life.
We have purchased a condo in TN, mind you we live in NJ.
The buying proceedings have been super crazy and stressful to say the least, and now, after going to Ikea twice and buying all of the furniture needed for the 3 bedroom condo, we have to drive down with it, put it together, and decorate the condo, all in 3-4 days. Now that is going to be fun…NOT.
Anyhow, just bare with me. If you see that I have not posted in a while, you know why.
Well, excuse me until my next post…but I am going to the fridge to get a couple of these Mojitos…
Enjoy!!
I hope you get to try this lemonade Mojito. It is super simple, easy and really refreshing. Why is it so hard to take drink pictures? Every time I try to take pictures of drinks I have a really hard time. Any tricks anyone?
On the right picture you can see the glass container I use to store the Mojito in. I just love it! I got it at a Create and Barrel outlet store.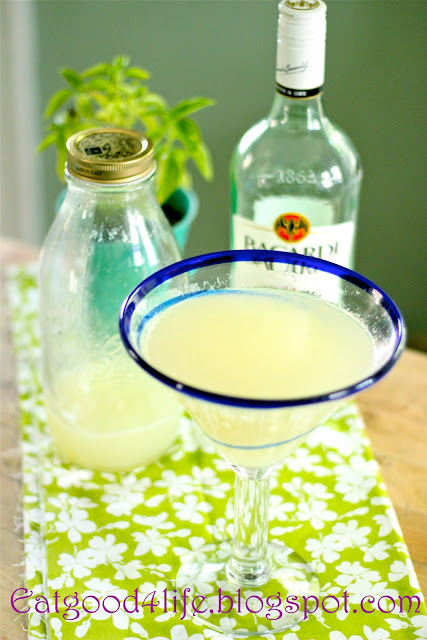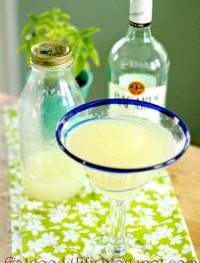 Frozen lemonade mojito
Ingredients:
4 cups seltzer water (more if you like)
1 cup light rum (to taste)
6-8 oz frozen lemonade concentrate (I get mine at Trader Joe's)
Directions:
Shake all ingredients in a glass container and serve over ice.
You may add more frozen lemonade, water or rum to taste.
Serving suggestion: You may just put everything on a blender with ice, blend and serve!
Nutrition facts calculated based on the recipe yielding 6 servings.