Flourless chocolate cake- Gluten free
This is my ultimate favorite Flourless chocolate cake. It is just perfection.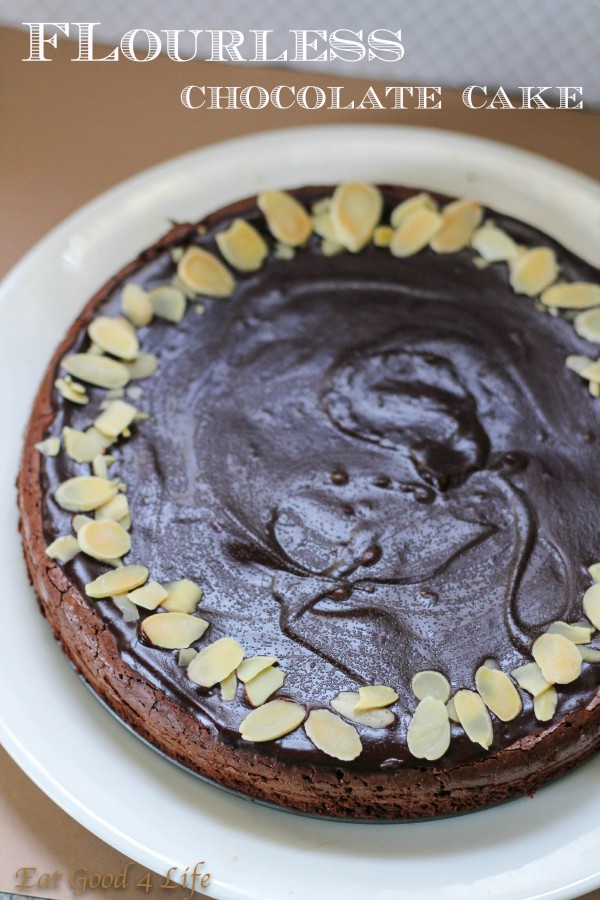 What can I say about this flourless chocolate cake recipe? You need to make this one and do yourself a favor it is that good. If you are an avid chocolate lover, like I am, you will love this cake.
When I made this Flourless chocolate cake I wasn't thinking too much of it but when I actually had the first bite, holly smokes came to mind. My husband, my sister and everyone that had a piece pretty much-loved this cake. My sister thought I actually bought the cake. Not quite. She couldn't believe it didn't have flour in it.
If at any point there is a gathering in the future that I will be attending, this is the cake I will be bringing. Quite frankly, this chocolate cake is super easy to make and just exquisite to the palate.
This flourless chocolate cake goes a long way. A little piece is just sufficient to satisfy your taste buds. This is the ultimate chocolate flavored cake. I really could go on and on about it but really you just need to try it for yourself.
A few key points to make this cake the best you can make it:
Use the best quality cocoa powder you can find. I use this kind. It is the only one I use from now on.
Use the best quality chocolate chips you can find making sure that cocoa, and not sugar, is the main ingredient.
Don't be afraid of the olive oil in this. You can not taste it at all and is better than using butter, less saturated fat and more of the good fats like polysaturated and monosaturated ones.
On another note, I have just gotten my new Dutch oven 6 quart pan and I am so ecstatic about it. I can't wait to make some stews and share the recipes with you. I really love this piece of equipment.
Anyhow, I hope you get to make this Flourless chocolate cake. It is sensational, delicious, exquisite and out of this world.
Enjoy!
Here you can see how the batter looked like before and after adding the melted chocolate. I worked with a hand mixer before adding the chocolate to whip the eggs and sugar for about two minutes and used a spatula to combine the chocolate with the egg batter afterwords. The mixture will be sort of fudgy and dense.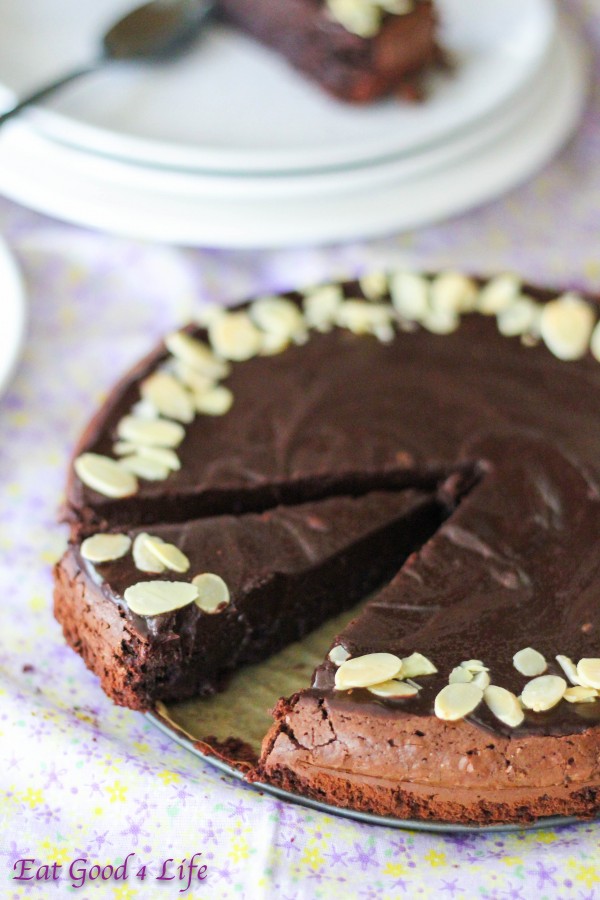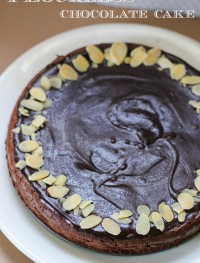 Flourless chocolate cake-Gluten free
Yield: 8-10 servings
Total Time: 45 minutes
Ingredients:
Ganache
1 cup semisweet chocolate chips
1/2 cup heavy cream
Directions:
Preheat oven to 325F. Lightly grease an 8″ round springform cake pan. Cut a piece of unbleached parchment paper and  grease it. Lay it in the bottom of the pan.
Put the chocolate and olive oil in a microwave-safe bowl, and heat until the chips are soft. Stir until the chips melt, reheating briefly if necessary. Set aside.
In a mixing bowl, with a hand mixer, combine the eggs, sugar, salt, espresso powder, and vanilla. Beat on medium high speed until the mixture is very foamy, pale in color, and doubled in volume, 2 minutes. Reduce the mixer speed to low and gradually pour in the chocolate mixture. Continue beating until well blended. Add the cocoa powder and combine until it is well incorporated.
Pour the batter into the prepared pan and bake for 35-40 minutes until the top will have formed a thin crust. I baked mine for 35 minutes. Remove it from the oven, and cool it in the pan for 5 minutes. Carefully run a small knife around the edge of the pan to loosen the cake. Remove the pan and parchment and let the cake cool completely. The edges will crumble a bit, which is fine. Allow the cake to cool completely before glazing.
To make the ganache, combine the chocolate and cream in a microwave-safe bowl, and heat until the cream is very hot, but not simmering. Remove from the microwave, and stir until the chocolate melts and the mixture is completely smooth.Spoon the glaze over the cake and decorate as desired. I used some raw sliced almonds. Allow the glaze to set before serving the cake.
Keep chocolate cake refrigerated.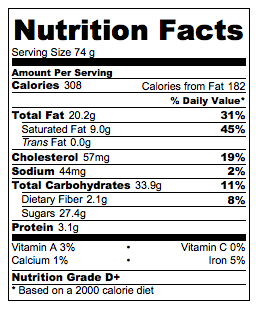 Nutrition facts calculated based on the recipe giving 10 servings.