Fish and Chips
I hardly fry food but for quite some time we have been craving fish and chips. Near by where we live there is a fish shack, which we have never been to, but have seen the menu. My husband has wanted me to make this for as long as I can remember and the fact that we have the fish shack near by, well it doesn't help so today I finally made it.
Like I said before, this method of frying food is not something that I use to often but once in a while is OK, everything within moderation right?
As you can see in the picture I used beer for the fish batter. This beer was rather strong although I didn't taste it In the batter after the fish was fried, are you suppose to though?
Anyhow, this is quite a simple recipe to do so if you like fish and chips you will like this one.
Enjoy!!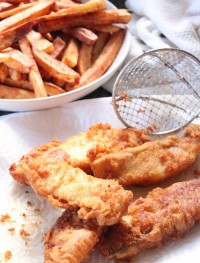 Fish and Chips
Ingredients:
3/4 cup whole wheat pastry flour, plus for dusting the fish
1 cup good wheat beer
2 teaspoons baking powder
1 lb firm white fish fillets, I used tilapia, but you could also use haddock or flounder
Salt and Pepper
For the chips:
2 lbs russet potatoes, peeled and sliced into three-inch strips
Salt
Directions:
Begin with the chips. Rinse and leave the chips to dry on paper towels while you heat the oil  in your deep-fryer or a large frying pan. Fry the potatoes until the edges begin to brown, then remove them and drain on paper towels while you prepare the fish.
Whisk together the flour, salt, pepper, baking powder and beer until you get a smooth batter that should thickly coat the back of a spoon. Dust the fish with a bit of flour then dip into the batter, allowing any excess to drip off before putting them in the oil avoiding over crowding.
Cook each fillet for about 3-4 minutes, until the batter is crisp and golden, then place them on on paper towels to drain any oil excess.
Serve fish with some tartar sauce.