Espresso chocolate chip cookies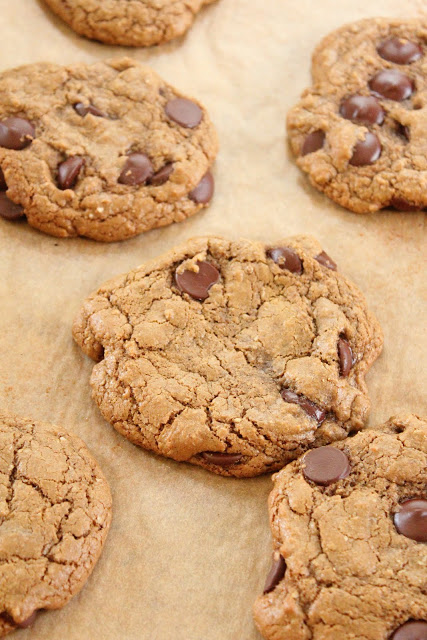 I can't say enough how much it is that we loved these cookies…but then again…..lately all of the cookies that I have made we really love :-) The espresso flavor is subtle in here, but you can definitely taste it. If you would like a stronger espresso flavor just add a little bit more of it.
I actually made these cookies for this mocha ice box cake that I have been planning to do for a while now. If the cake turns out good I will be posting the recipe in the blog.
Anyhow, these cookies are just perfect, or at least they are for us. They are chewy cookies, not to crunchy since I actually tried to decrease the sugar amount from the previous tries, and I really think they are perfect for the ice box cake!!!
There is not much else I can say about this recipe, but that it is really a straight forward cookie recipe to prepare. Also, if you like, you can add some nuts to the batter to make the recipe even better.
Enjoy!!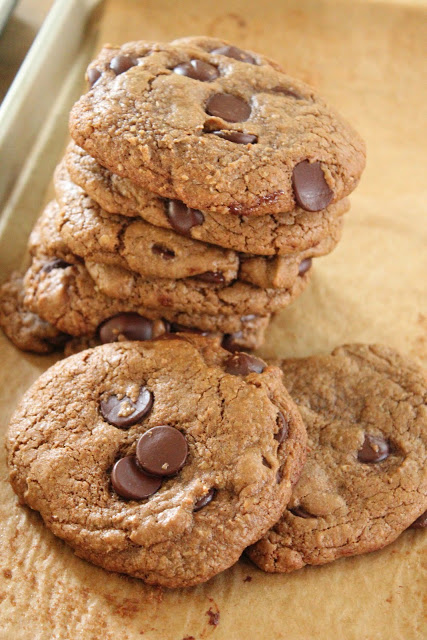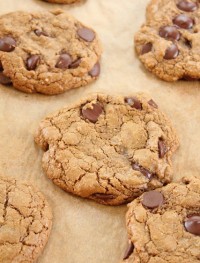 Espresso chocolate chip cookies
Ingredients:
2 cups whole wheat pastry flour
1/2 cup oat bran
1 1/2 teaspoon baking soda
2 1/2 tablespoons instant espresso powder
3/4 cup olive oil plus 2 tablespoons
1 1/4 cup unrefined sugar
2 eggs
1 teaspoon vanilla
1 1/2 cups dark chocolate chips, I used 60% cacao Ghirardelli chocolate chips which are not that sweet
Directions:
Preheat oven to 350 degrees. Line cookie sheets with parchment paper. (I use 4 at a time)
In medium bowl, whisk together flour, eggs, vanilla, sugar and oil. Add flour, oat bran, baking soda, and espresso powder.
Add chocolate chips and combine. Space cookies apart on baking sheets and flatten them slightly with your fingers. Bake for 10-12 minutes. Let cool on baking pan for a couple of minutes and transfer the cookies to a cooling rack.
Tip: To freeze the cookies, mix dough, form into flattened balls and freeze in a single layer on a baking sheet. When completely frozen, transfer them to a ziploc bag and return to the freezer. To bake, place frozen dough balls on baking sheet and bake adding 2-3 minutes to the cooking time. I actually have never done it but intend to soon :-)