Eggless tiramisu trifles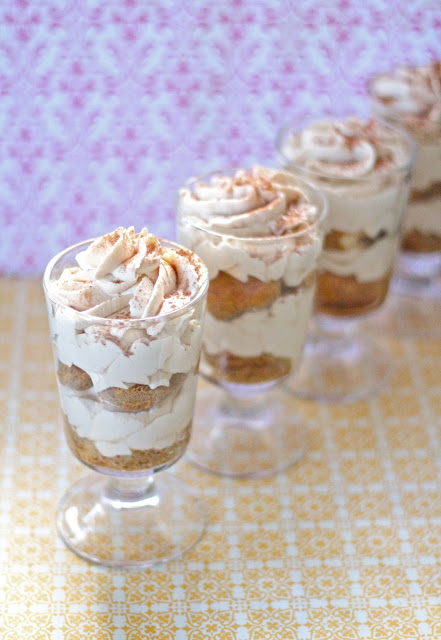 I just made these tiramisu trifles the other day and I will make some again in the next couple of days. I made them in these little nice glasses because I had some company so I thought the presentation would be better using this method.
Next time I will just make it in a 9 x 13 inch rectangular ceramic dish which will be lots easier. If you opt for this option I must just warn you that you will have to increase the ingredient amounts.
Tiramisu is one of my favorite desserts so when I first started making it the egg yolk, which is normally in this dessert, had to go. I don't like raw eggs in my desserts so having them was not an option!!
I do love tiramisu but I must warn you that this dessert is by no means FAT FREE :-) You can add a little bit less mascarpone cheese and sugar but for me I just don't go too big on  portions. No deprivation but moderation is my food philosophy!! as well as good quality ingredients :-)
Anyhow, these tiramisu trifles are very easy and simple to make so I hope you give it a go and if you prefer a strawberry and raspberry version this is one I made a while back that it is also really good!

Enjoy!!






I opted for making the individual trifles but you can make it in a 9 x 13 inch square pan. You will have to increase the ingredient quantities though!!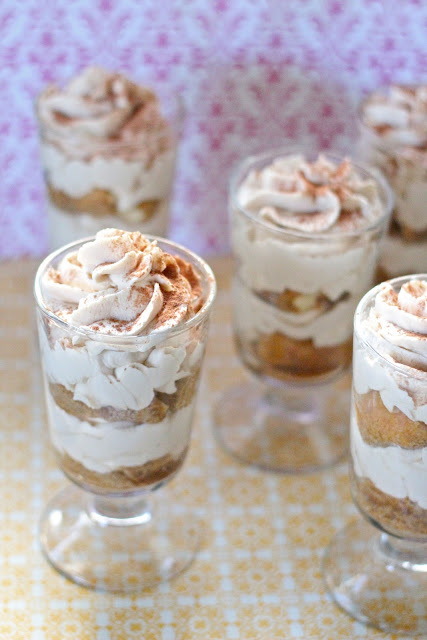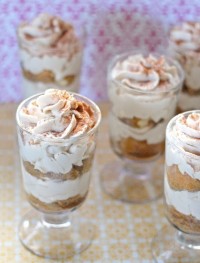 Eggless tiramisu trifles
Ingredients:
1/3 cup sweet Marsala wine
1 1/2 cup heavy cream
1/2 cup confectioner's sugar, more if you like
1 8 oz mascarpone, you can use less, I used 6 oz
12 Lady fingers
1 cup strong brewed coffee, warm
2 tablespoons confectioners sugar
Directions:
In a bowl whip heavy cream and confectioners sugar until stiff picks form. Add mascarpone cheese and whip for an extra minute until it has combined with the heavy cream. Add the Marsala wine in 3 batches and set aside.
Combine coffee and sugar (I soak lady fingers in the coffee while it is still sort of hot so that the cookie can absorb the liquid ). You will need two lady fingers per trifle.
To assemble the trifles soak one trifle and cut into pieces. Arrange the lady finger at the bottom of the trifle dish. Pipe or spoon a layer of mascarpone mixture followed by another soaked lady finger. Finish with another mascarpone layer and dust with cocoa powder.
Store trifles in the refrigerator until ready to serve.