Egg Noodle Seafood Coconut Curry
Thai food is one of my favorite cuisines and this Egg Noodle Seafood Coconut Curry is nothing but easy, tasty and delicious. A great Thai dish to try!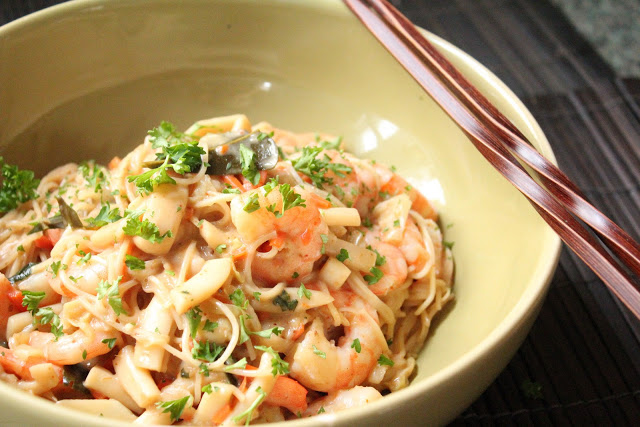 So I am thinking that I have to start making more Asian food. I simply love it and going out to eat is not much of an option for us right now. Not only because the budget doesn't permit but  because I like to know what it is in my plate :-).
My Asian recipes may taste a bit different than the real thing but with practice I think I can get the recipes down. Anyhow, this one sure was good. Spicy none the less but still good. The Thai curries are sort of spicy so there is not much I can do about that, just adding a bit less curry paste would do I guess.
For this recipe the only thing I will suggest is to eat it right after it is cooked. If you have left overs the noodles will tend to get soggy, since they will absorb most of the liquid, still good but a bit different. Also you can use any seafood mix, and vegetables you prefer.
Enjoy!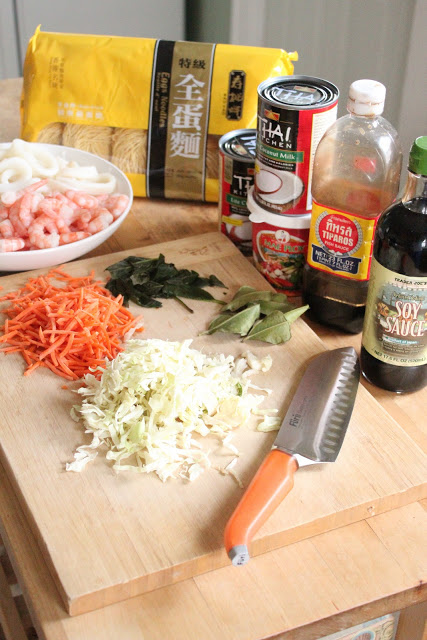 Here you can see some of the ingredients I used which I get at the Asian market by my house. I love that place!!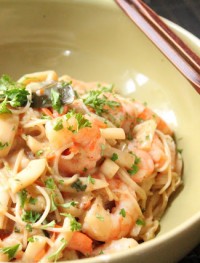 Egg Noodle Seafood Coconut Curry
Yield: 4 servings
Total Time: 20 minutes
Ingredients:
1/2 lb egg noodles
4 tablespoons olive oil
2 teaspoon Thai red curry paste
1 lb large cooked shrimp
1/2 lb squid rings
2 14 oz cans coconut cream
1 cup vegetable broth
1 cup shredded carrots
1 cup shredded coleslaw
1 tablespoon fresh parsley or coriander
2 tablespoons reduced sodium soy sauce
4 tablespoons fish sauce
2 kaffir lime leaves, sliced, I got mine on line
2 tablespoons Thai basil, chopped (optional
Juice one lime
Directions:
In a non stick pan, over medium to high heat, add the oil. Add the Thai curry paste and stir until fragrant. Add the soy sauce, fish sauce, coconut milk, broth, basil and lime leaves. Cook further for another 3-4 minutes over medium to high heat.
Bring to a simmer and add the noodles, squid, carrots and coleslaw. Cook for about 4-5 minutes until noddles and seafood is cooked through.
Add the cooked shrimp and heat through. Stir in the juice of the lime and sprinkle the fresh herbs over the noddles. Serve