Easy Peasy Wild Blueberry and Apple Pie
This Easy Peasy Wild Blueberry and Apple Pie it is plain sensational. I can't stress enough how great, versatile and quick it is to put together. One of our favorite pies of all times.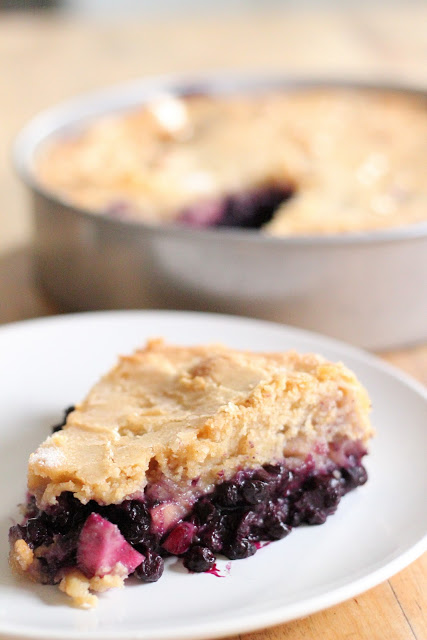 Lately I find myself in the kitchen more than normal. For some reason I have been inspired to cook and bake more than usual. I must say, I like it, but sometimes it gets a bit frustrating since I have to attend both my kids at the same time I cook or bake and can't relax in the kitchen as I would like.
Oh well, it is all good. Sometimes I get my son to help, as you can see in the picture :-) he likes doing the mixing, measuring and eating……. He really enjoys it.
Anyhow, this pie, cake, however you may want to call it, its another simple and versatile recipe, as you can add any fruit you may like (blueberries, raspberries, cranberries…….) and simple because it just is, don't you think so?
It is not exactly the classic pie but nevertheless you will not be disappointed. On any event, we loved it so I hope you do to.
Enjoy!
In this pictures you can see just the first steps. Getting the apples and the berries in the round 9 inch pan. On the right the sugar and nuts were already placed over the fruit and my little helper is mixing the ingredients away!
Final steps before placing the pie in the oven. I baked mine for about 55 minutes
Final result. Just divine. You can appreciate the sugary crust on top of the pie which makes it even better!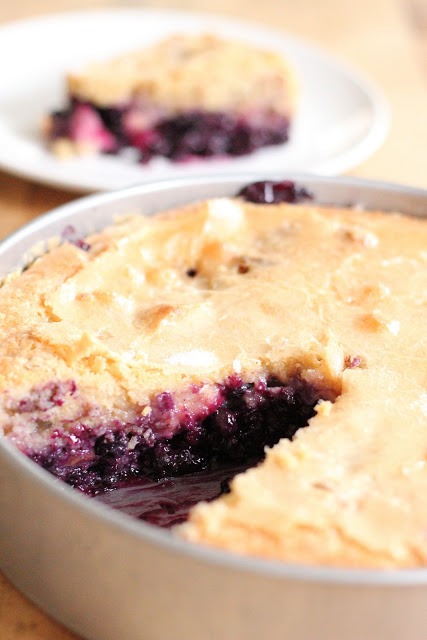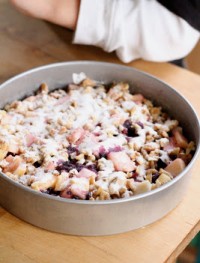 Easy Peasy Wild Blueberry and Apple Pie
Yield: 8 servings
Total Time: 70 minutes
Ingredients:
1 cup whole wheat pastry flour
3/4 cup unrefined sugar, reserve 2 tsp
1/3 cup olive oil or coconut oil
2 organic eggs
1/3 cup organic milk, any will do
1/2 cup walnuts or almonds, chopped
1 tbsp almond extract
2 - 3 cups organic blueberries,
2 apples, chopped
1 teaspoon arrowroot powder
Directions:
Preheat oven to 350 degrees.
Butter a 9 inch round cake pan. Add berries, apples and arrowroot powder, mix through. Sprinkle walnuts and 1/4 cup sugar over the top of the fruit. In a mixing bowl, with a whisk, combine flour, remaining sugar, oil, milk, eggs, and almond extract.
Pour batter over the fruit mixture and spread evenly. Sprinkle the two remaining teaspoons of sugar over the top. Bake for 50 - 60 minutes.
Adapted from the Pioneer Women