Easy crusty whole wheat bread
I am totally blown away at how easy and how good this easy crusty whole wheat bread turned out. By no means I am a bread expert but because I have been wanting to start making bread from scratch for the longest I can remember this wS just the perfect recipe to start with. Even my kids could make this it is so easy!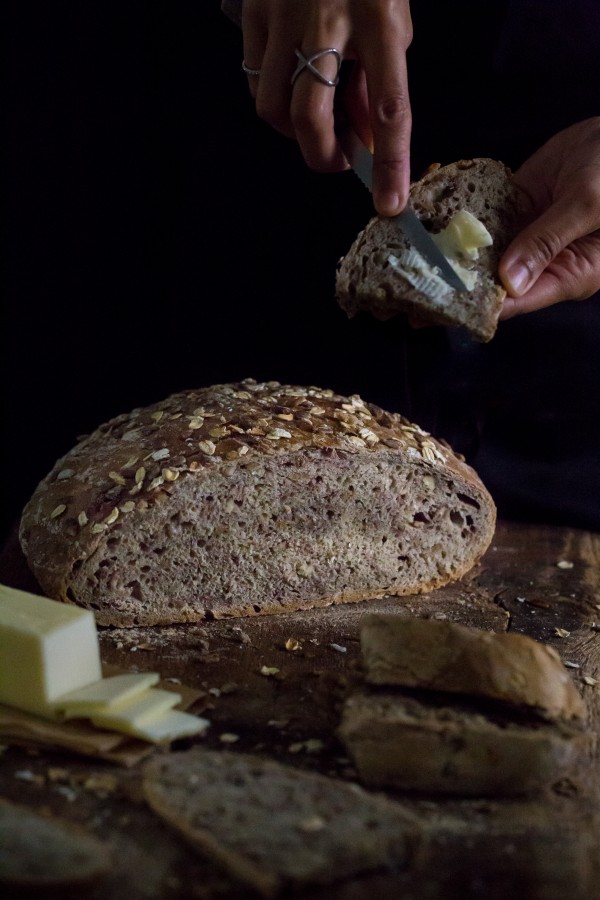 Literally, all you need to do is mix the ingredients in a bowl and let it rest. The next day you just knead it for like 1-2 minutes, just to basically shape it into a round loaf and you are done. Just bake it away and let the oven do its magic.
This was my first time making bread on my dutch-oven. This method is pretty much all over the internet so I thought, why not? Let me give it a try and see if it really works, and sure enough, it did.
This bread making method is just genius. I don't know who came up with it but I just love it. I don't know if the bread would actually turn good on any other type of baking pan, I guess I would have to experiment further!
Now as far as the flour ratio for this bread is concern, because this was my first time making it, I wanted to make sure it would come out OK. Next time I am just going to do 100% whole wheat and half the recipe just in case but for the purpose of this recipe, the ratio was perfect.
You can try and do 100% whole wheat when you make this, if you do, please let me know.
I really hope you get to make this easy crusty whole wheat bread. I will be making different flavors shortly. I love garlic so a garlic version I think it will be next.
Enjoy!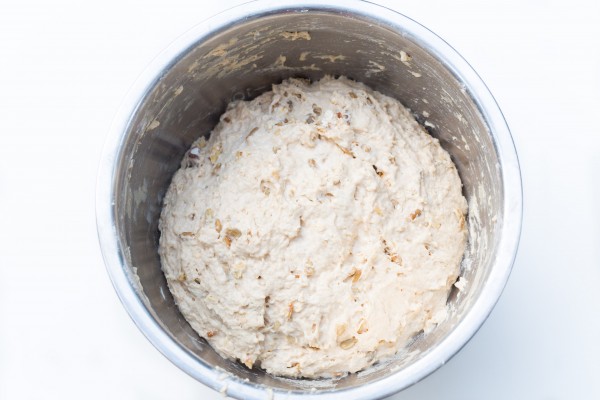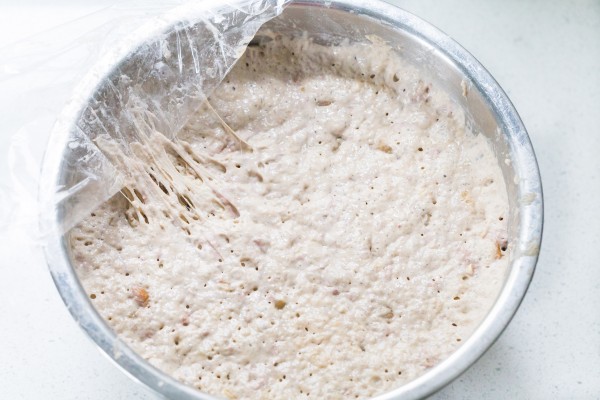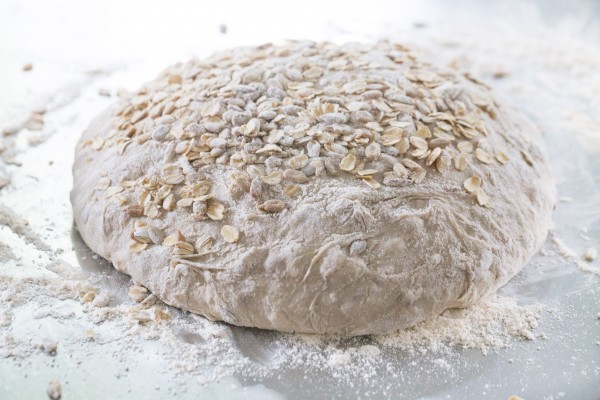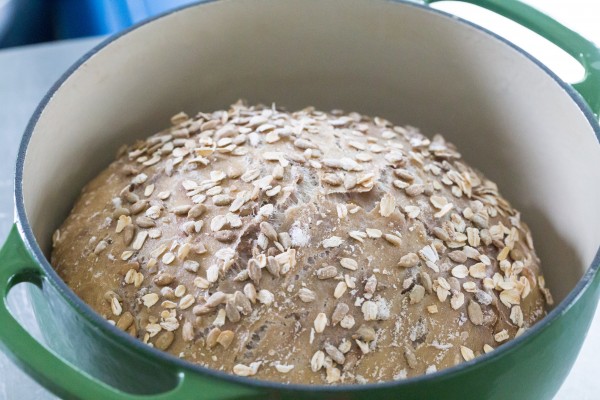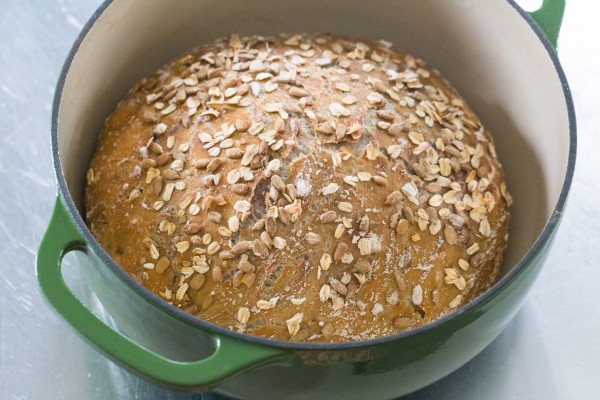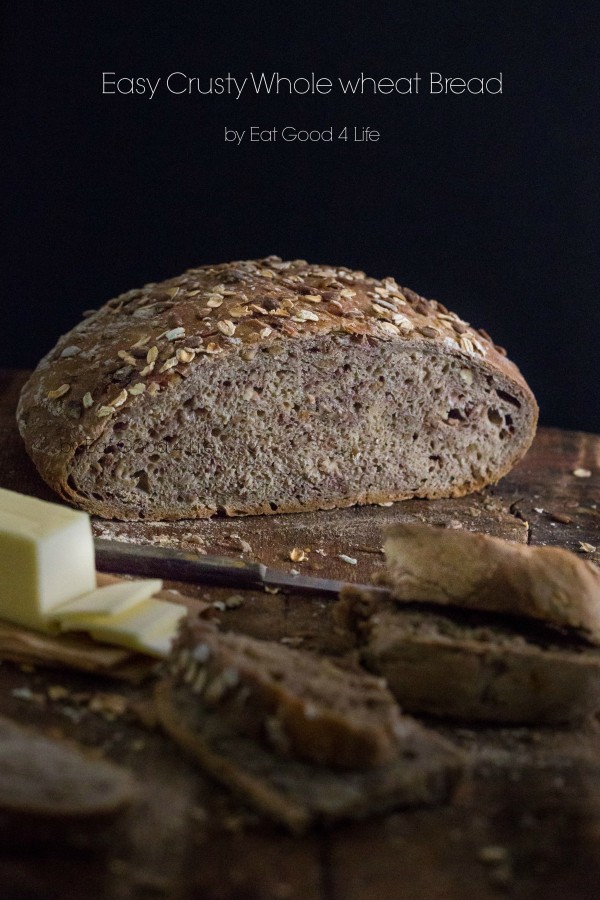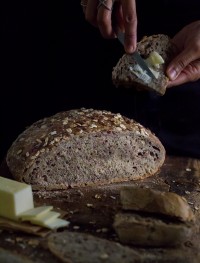 Easy crusty whole wheat bread
Yield: 12 servings
Total Time: 1 hour
Ingredients:
Directions:
In a mixing bowl add the flour, salt,  yeast, nuts, and sunflower seeds, (save about 1 tbsp of sunflower seeds and rolled oats for later). Stir to combine. Add the water and mix though until it is well mixed. I do this step with a spatula.
Cover the mixing bowl with plastic wrap and let it sit on your counter for 12 to 18 hours. I do this at night so the next morning when I wake up is when I bake the bread.
When you are ready to bake the bread, place your 6 qt dutch-oven (lid included) in the oven and preheat it to 450 F degrees. (You must preheat your dutch-oven to 450F)
Flour your work surface. Remove the dough from the bowl and shape it into a ball. Place the remaining sunflower seeds and rolled oats over the bread and press slightly. Carefully place the dough into the preheated dutch-oven. Cover the pot with the lid and place it back in the oven.
Bake for 35 minutes with the lid on. Remove the lid and bake for another 20-25 minutes until golden brown. The bread will keep for up to 2 days.
NOTES:
You can half this recipe.
This was my first time making this recipe, the flour ratio is not exactly what I would like it to be but I will keep experimenting with the ratios and make it 100% whole wheat!
Recipe slightly adapted from here