Easy Chick Pea and Spinach Indian Curry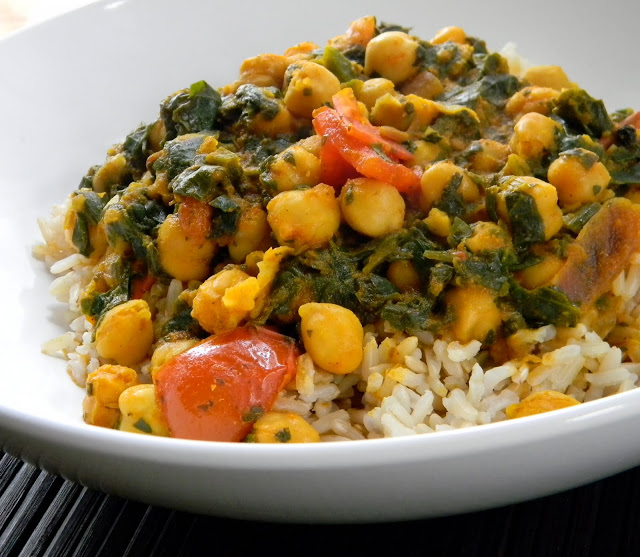 I love to eat Indian food and it has been a very long time since I have fixed some. I especially like it because of the unique flavors Indian food has to offer.
Depending on the recipe, you can find yourself spending a long time cooking in the kitchen but my recipe versions, what ever type of food it may be, will never keep you in there for too long, to much to do with 2 little kids, a house to take care of, studying, working out and so on….
For this recipe I added the spinach to give it a little bit more nutrition, I thought it was a clever addition, I think it complemented the chickpeas very well.
On any event, at best this recipe took me about 20-25 minutes since I used canned chickpeas and my rice cooker so for sure you can be done in under 30 minutes :-)
Enjoy!!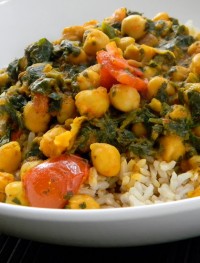 Easy Chick Pea and Spinach Indian Curry
Ingredients:
1 1lb can of chickpeas, also called garbanzo beans, drained.
2 tablespoons of olive oil
1 large onion
3 cloves of garlic
1 oz fresh ginger, chopped
1 medium tomatoes, chopped
4 oz tomato puree
2 teaspoons of turmeric
1 tablespoon garam masala
1 tablespoon coriander powder
10 dried cloves
15 peppercorns
Salt to taste
1 1/2 cup of water, if the sauce is too thick add more water
6 oz chopped frozen spinach, thawed and drained
Fresh coriander leaves for garnish, optional
2 cups of brown rice.
Directions:
Cook rice on a rice cooker or stove top, set aside.
In a large sauce pan, at medium heat, add the olive oil  followed by the onions, garlic and ginger. Cook for about 5 minutes or until onions are translucent. Add the spices over low heat and stir. Add the chopped tomatoes and cook for 2-3 minutes.
Increase the temperature to medium-high heat and add the chickpeas, tomato puree and water. Mix through and let it cook for about 5-10 minutes until the flavors are combined. Add the frozen spinach, salt to taste and cook further for 3-5 minutes.
Serve over the brown rice and sprinkle with the chopped coriander if desired.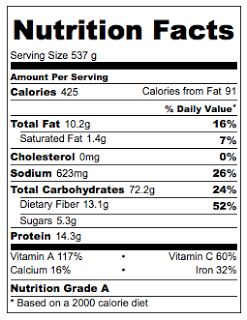 Nutrition facts calculated based on the recipe giving 4 servings. This is high in Vit B6, manganese, fiber, Vit C, Vit A