Easy avocado shrimp pasta
I love making pasta recipes. I think is one of the type of foods I get to prepare most because of how versatile and convenient it is. This easy avocado shrimp pasta is done in literally just 15 minutes so for me it is a huge win given my busy lifestyle.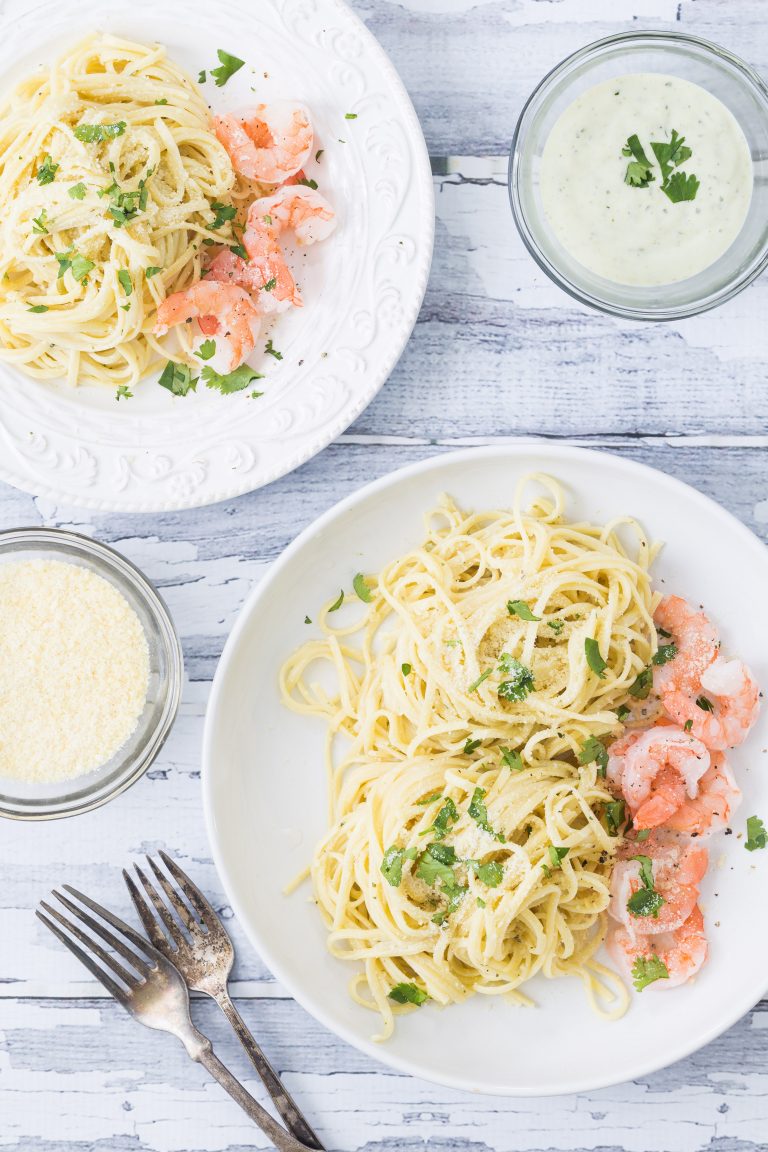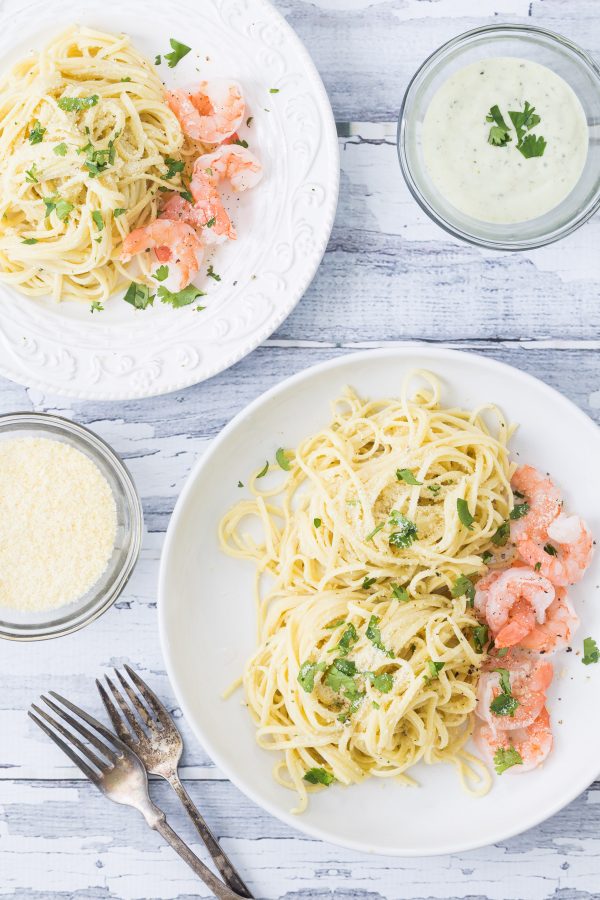 I am a huge fan of pasta recipes. Many people refrain from eating pasta because they are afraid that carbohydrates will make them fat. Carbohydrates always get a bad wrap and the reality is that carbohydrates should actually make up at least  55% of any regular diet. When eating good complex carbohydrates in place of simple carbohydrates as well as a variety of other foods there is nothing wrong with consuming them. So go ahead and it your pasta.
For this recipe you can use any type of pasta you like. You can even chose a gluten free variety, which I use often when making pasta recipes. Any type will work for this recipe so don't be afraid to choose your favorite type.
To make this recipe I also use Bolthouse Farms Cilantro Avocado Yogurt Dressing. It is pretty much all I needed to use to give this recipe tons of flavor. My daughter actually loved it so much she had second servings.
I love the fact that this is a recipe that I can easily make with my kids. I have been introducing my kids to cooking lately. I try to use easy, simple recipes that they could tackle on their own so when I got to make this recipe they were more than happy to help. They are only 7 and 10 years old but I think this is the perfect time to get them involved so that they can acquire a few cooking skills.
If you are like me and have very little time to spend in the kitchen this recipe would be the perfect dinner recipe for you. This easy avocado shrimp pasta recipe literally takes just about 15 minutes to put together. If you like to get creative you can even add any other type of protein and sliced avocados, anything goes.
I hope you get to make this easy avocado shrimp pasta and like it as much as we did.
Enjoy!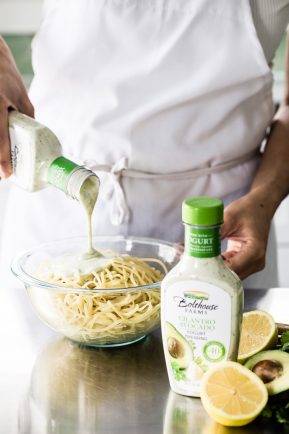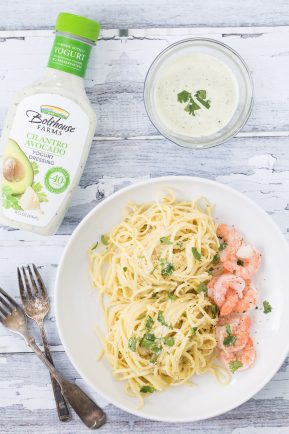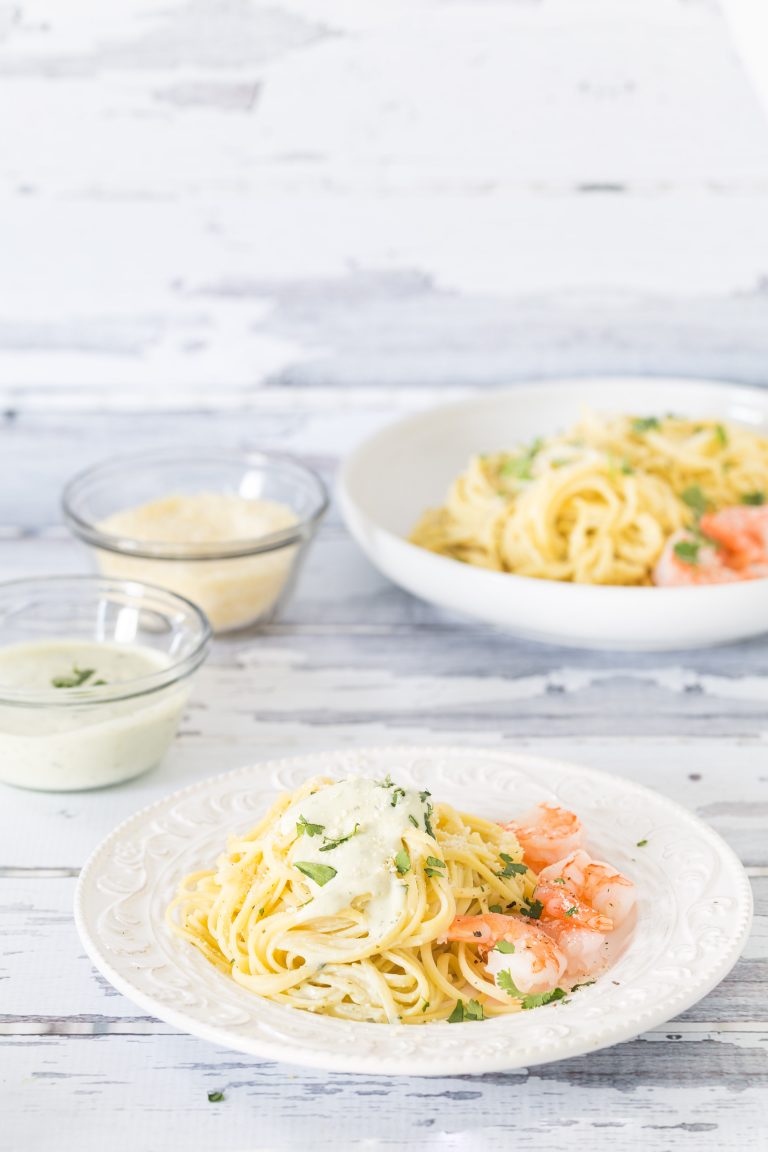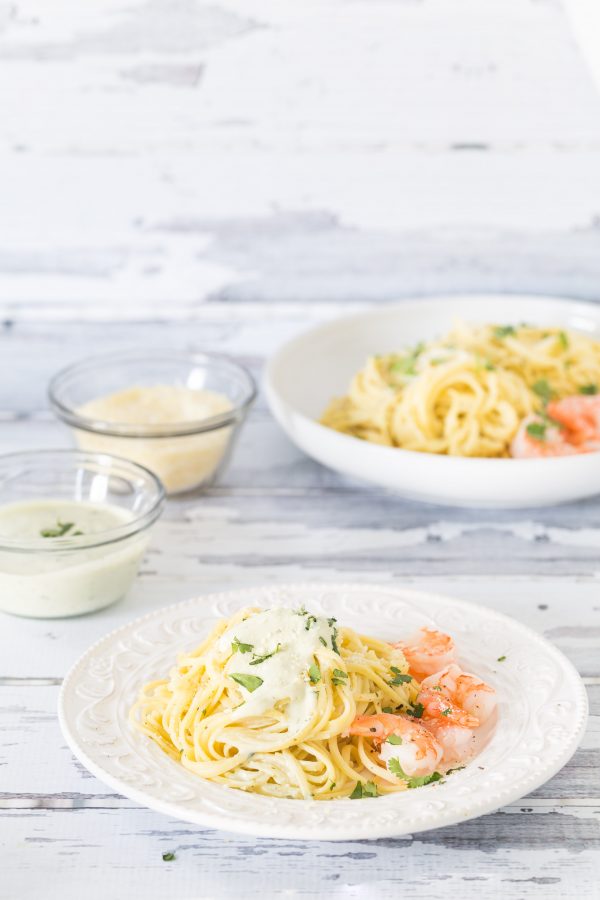 This is a sponsored post written by me on behalf of Bolthouse Farms. The opinions and text are all mine. The end!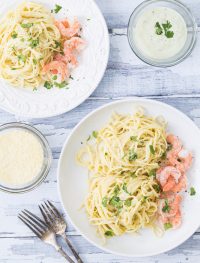 Easy avocado shrimp pasta
Yield: 4 servings
Total Time: 15 minutes
Ingredients:
1 lb whole wheat spaghetti
1 lb cooked shrimp, at room temperature
1/3 cup grated Parmesan
Red pepper flakes, optional
Chopped fresh cilantro, optional
Directions:
Cook pasta according to package instructions.
Transfer the pasta to a large mixing bowl and add the rest of the ingredients. Combine well making sure the pasta is coated with the dressing.
Serve with extra parmesan cheese and chopped cilantro if you like.