Double Chocolate Giant Cookie/ Round 2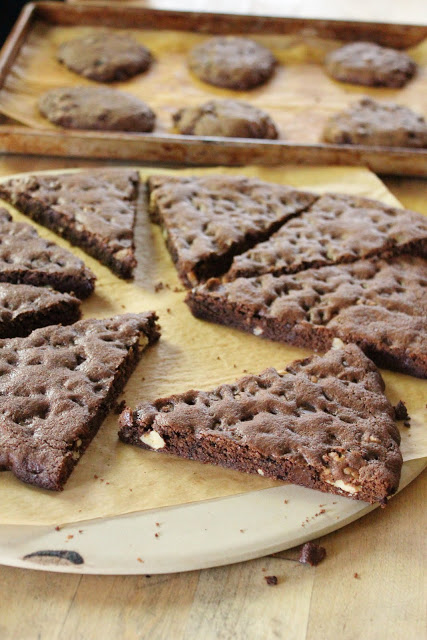 So here it is…….again……the giant cookie. This time I just slightly changed the recipe. You can see the other version here
Just substituted some of the flour with cocoa powder and I think it was a super huge hit!!
I took some of the cookies with me to a play date my son had and the kids loved them. They said it tasted it like a brownie cookie. I thought that was very sweet and a very good compliment since kids tend to be brutally honest sometimes ;-)
I think the cocoa powder really intensified the chocolate flavor, I really can't decided which one was better :-) Oh yeah and I added some salt which I really don't tend to do much on my baking!!
Enjoy!
This recipe is a two in one kind of thing. On the right picture you can see that I actually got to make regular size cookies, since I doubled the batch. I took these to my son's play date and they were a huge success with the kids ;-)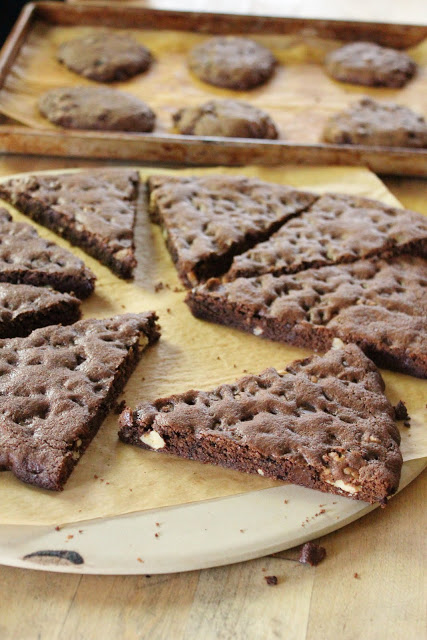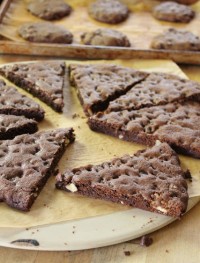 Double Chocolate Giant Cookie/ Round 2
Ingredients:
3 tablespoons butter, room temperature
4 tablespoon olive oil, canola oil will work as well
1/2 cup packed light brown sugar
1/4 cup sugar
1 egg
1 teaspoon vanilla extract
1 whole wheat pastry flour
1/4 cup cocoa powder
1/2 teaspoon baking soda
1/4 teaspoon salt
1/2 - 1 cup dark chocolate chips, I put about 1/2 cup
1/2 cup walnuts, chopped
Directions:
Preheat oven to 350 F. Line a pizza pan with foil (I used a pampered chef pizza stone lined with parchment paper but I have use the foil method when doubling the batch which is pretty much all the time)
In a bowl mix sugar, oil and butter. (I do this with my hands :-)
Add egg, vanilla and mix well (I do this with a rubber spatula or whisk).
Stir in the flour, cocoa powder, baking soda, salt, walnuts and chocolate chips and blend well. Shape dough into a bowl and pat down onto the prepared pan until you obtain a giant cookie, just like in the picture. I do this with my hands.
Bake cookies for 22-26 minutes. Cut into wedges 2-4 minutes after getting out of the oven, it is easier this way.