Double Chocolate cupcakes with chocolate ganache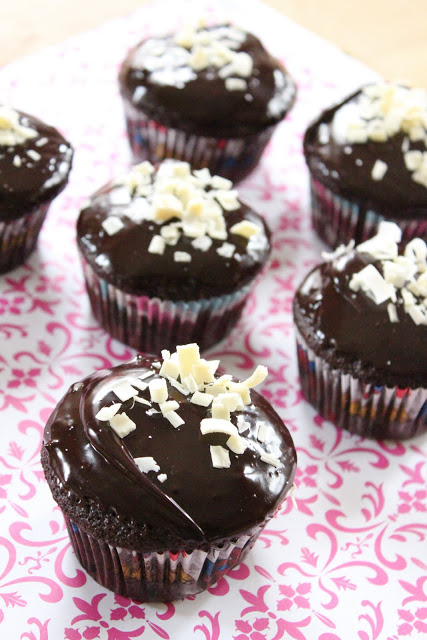 Fancy some out of this world chocolate cupcakes? Well you have come to the right place!!
These are the double chocolate cupcakes I made for my son's bday party using the Guinness chocolate cupcakes made a couple of days ago but with some modifications.
The modifications I made to the recipe were awesome. It gave the cupcakes a much more chocolate depth of flavor, which is never bad, right?
I will not elaborate any further, you just have try these for yourself pretty much so if you do let me know what you think.
Enjoy!!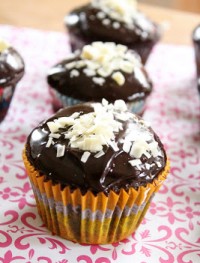 Double Chocolate cupcakes with chocolate ganache
Yield: 20 cupcakes
Total Time: 40 minutes
Ingredients:
1/2 cup organic milk
1/2 cup chocolate syrup
1/2 cup olive oil
2 eggs
2/3 cup low-fat plain yogurt
3/4 cups unrefined sugar
3/4 cup unsweetened cocoa powder
2 cups whole wheat pastry flour
1 1/2 teaspoons baking soda
1 teaspoons instant coffee granules
Ganache
1 cup heavy cream
1/2 cup dark chocolate chips
1/2 teaspoon instant coffee granules
Directions:
Preheat oven to 350 F. Line cupcake pan with cupcake liners and set aside.
In a mixing bowl, with a wire whisk, mix first 6 ingredients. Add flour, cocoa powder, coffee granules and baking soda and combine. Fill cupcake liners 3/4 of the way and bake for 22-28 minutes. I baked mine for 24 minutes. Cool on a wire rack.
For the ganache, in a sauce pan bring heavy cream to a light boil. Turn heat off and add chocolate chips whisking until chocolate chips melt. Incorporate the coffee granules.
Dip each cupcake in the ganache. You can leave cupcakes as is or decorate using anything you desire. I decorated cupcakes with some white chocolate shavings using a potato peeler.
Tip: I normally freeze half of the cupcakes in a ziplog bag to use in the future. They freeze rather good ;-)