Dark chocolate black bean brownies
I am in love with these Dark chocolate black bean brownies. It is my first time baking with black beans but for sure it will not be my last.
Why haven't I made these Dark chocolate black bean brownies before? OH MY….these are just sensational. I will tell you that the texture may be a little bit different from the real brownie counterpart but nonetheless nothing that can not be handle. I will be making these for years to come, I am glad I got multiple cans of black beans :-)
Now I must worn you. I found two things that you have to be aware off when making these Dark chocolate black bean brownies:
1. Make sure you grease and flour the 8×8 baking pan really well. These brownies stick to the pan like crazy. Mine did and it was not fun taking them out. Use parchment paper instead of the butter and flour to make sure your brownies don't stick. It works much much better!!
2. Make sure you cut the brownies and get them out of the pan when they are completely cooled down. I didn't wait and the brownies crumbled quite a bit. Not that I cared much, they got eaten either way!!
Now, after making these I want to improve my own chocolate brownie version and make them healthier. Will see what I can come up with.
Anyhow, I highly suggest you try these Dark chocolate black bean brownies. Next time I will add a 1/4 teaspoon of baking powder and see how that affects the spongy consistency of the brownies.
Enjoy!!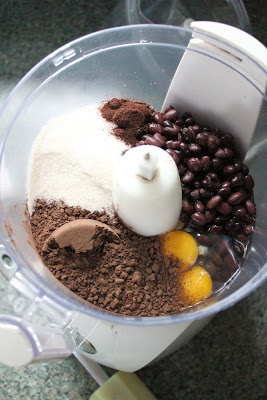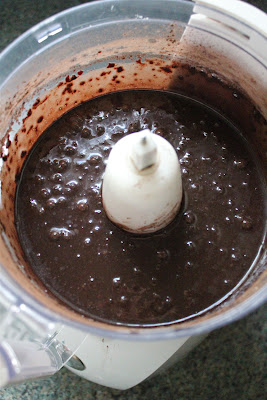 You just need to place all of the ingredients, except chocolate chips and walnuts in the food processor and you are good to go. Just make sure you super duper grease and flour the baking pan so that you can remove the brownies easy. Mine got stuck up a bit even though I did greased and floured the pan :-(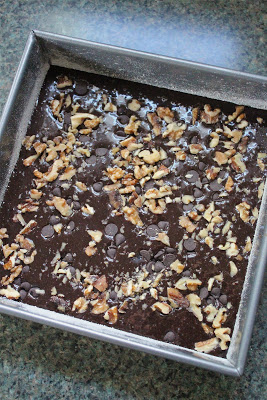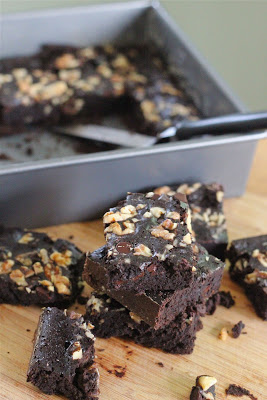 According to my husband these are the best brownies I have made so far. Now I feel bad and I want to improve my own brownie chocolate version :-)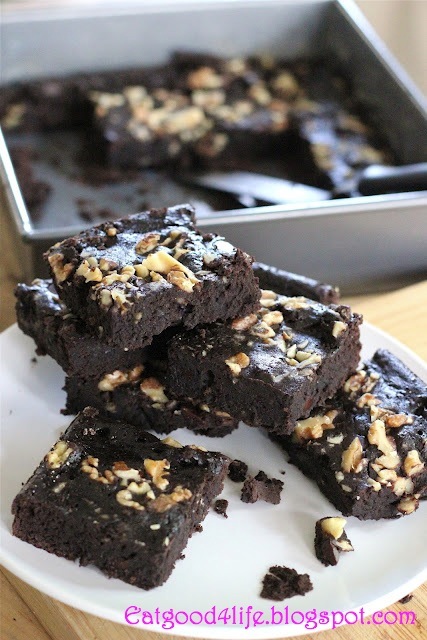 These are moist, taste like chocolate, and not black beans, and are a lot better for you than many versions out there :-) I am so glad I made these!!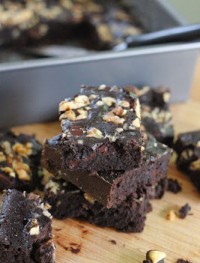 Dark chocolate black bean brownies
Yield: 10-12 servings
Total Time: 45 minutes
Ingredients:
1 15.5 oz. can black beans, thoroughly rinsed and drained
1/2 teaspoon aluminum free baking powder
1/2 cup + 1 tablespoon unrefined sugar
1/4 cup dark cocoa powder
3 eggs
3 tablespoons olive oil
1 teaspoon vanilla
1 teaspoon instant coffee granules
1/4 cup walnuts, chopped, optional
1/3 cup dark chocolate chips, more if you like
Directions:
Preheat oven to 350 degrees F. Place parchment paper in the bottom of an 8×8″ baking pan. Grease the parchment paper. This will be your security blanket to make sure the brownies don't stick to the pan!!
Place all the ingredients except chocolate chips and walnuts in a food processor or blender and pulse thoroughly until smooth and well combined.
Pour batter in the baking dish. Top with nuts and chocolate chips. Bake for 30-35 minutes or until the top is dry and edges begin to pull away from the baking dish. Cool completely before cutting.
Adapted from all recipes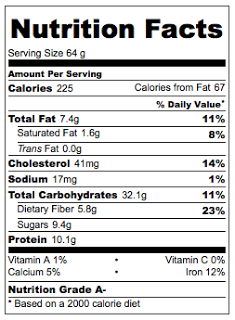 Nutrition facts calculated based on the recipe giving 12 servings. It does give a bit more :-)