Curried Tuna with Ginger and Yogurt
I am truly a sucker for curries and this curried tuna with ginger and yogurt is just plain sensational. Not only it is delicious but you will be done in just about 20 minutes. You can also use any other protein of your choice so if you don't like tuna use chicken or whatever firm fish you prefer.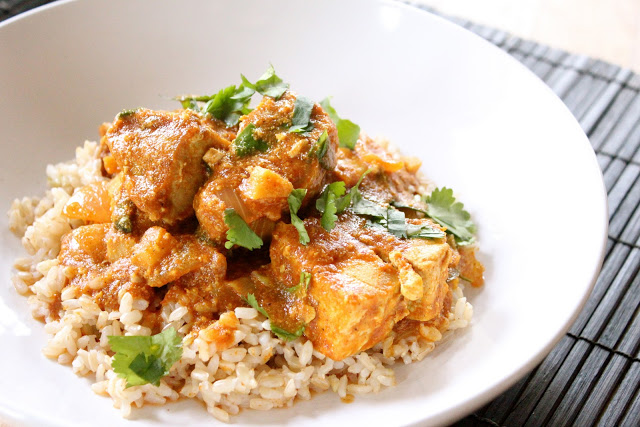 What can I say about this dish, this curried tuna with ginger and yogurt is JUST delicious.
This is my first time using curry powder and I really don't know what I was waiting for. Well better later than never right?
What to love about this curried tuna besides the flavor? Well it is really simple and easy to put together. I also love the fact that you can use what ever protein you like. I bet it works really good with shrimp and chicken and if you are a vegetarian using an array of different veggies will perfectly work as well.
Next time I make this recipe I will use it with shrimp. If you like curry, this is a must try.
Enjoy!!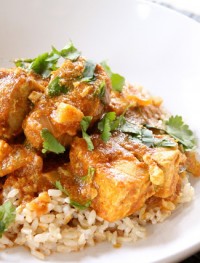 Curried Tuna with Ginger and Yogurt
Yield: 4 servings
Total Time: 25 minutes
Ingredients:
1/3 cup tomato paste
2  garlic cloves, chopped
2 tablespoons ginger, chopped
2 tablespoons curry powder
1 teaspoon cumin powder
1 medium onion, chopped
2 lbs fresh tuna steaks cut into chunks
1 cup plain Greek yogurt
1/2 cup water
1 tablespoon coriander leaves, chopped
Salt to taste
Brown rice to serve
Directions:
In a large skillet add 1 tablespoon of olive oil, garlic, ginger and onion and cook for about 2-3 minutes. Add tomato paste, curry powder, cumin powder and water. Combine and let it cook for another 2 minutes.
Add protein and cook for about 10-15 minutes (if you are using frozen shrimp make sure it is thawed out and if you use chicken you may need more than 15 minutes depending on how big the pieces are).
On the last minute of cooking add the yogurt, salt to taste and combine. Sprinkle coriander leaves over the top.
Serve over rice.