Curried Shrimp and Vegetables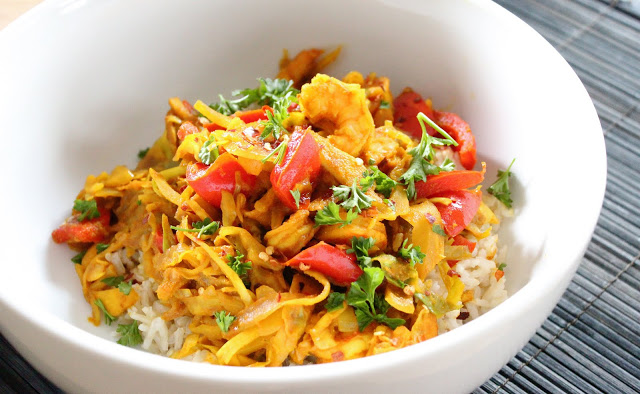 I made this recipe for my son's birthday party, besides pizza and sandwiches of course ;-) This one was intended to be for the adults. It was a huge success and I actually didn't anticipate running out of it so soon.
For the birthday party I used Mahi Mahi instead, great choice, but today I had shrimp and other veggies. This dish is extremely versatile so you can replace any veggies of your choice as well as choose any protein you may like. It works well either way ;-)
Well, I am posting this one more for my friends that anything, but my followers will benefit as well because this one is an extremely tasty, fast and easy recipe to whip in no more than 20 minutes.
Enjoy!!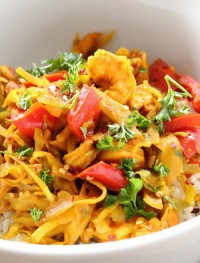 Curried Shrimp and vegetables
Ingredients:
1/3 cup tomato paste
2  garlic cloves, chopped
2 tablespoons ginger, chopped
1 tablespoon cumin powder
1 tablespoon coriander powder
1 teaspoon turmeric
1 onion, chopped
1 red pepper, chopped
1 8 oz bag shredded coleslaw
1 lb shrimp, Chicken breast or thighs, fresh tuna, Mahi Mahi or just veggies of your choice will also work fabulously
1/2 - 1 cup water, depending on how thick you want the sauce
1 tablespoon coriander leaves, chopped
1 teaspoon pepper flakes, optional
Salt to taste
Brown rice to serve
Directions:
In a sauce pan add garlic, onion and pepper and cook for about 2-3 minutes. Add tomato paste, coriander, cumin and turmeric powder, pepper flakes if using and cook further for another minute. Add water and combine ingredients. Let it cook for another 2 minutes.
Add protein and coleslaw and cook for about 8 -10 (if you are using frozen shrimp make sure it is thawed out and if you use chicken you may need more than 10 minutes depending on how big the pieces are).
On the last minute off cooking add salt to taste and combine. Sprinkle coriander leaves over the top.
Serve over rice.