Curried coconut and carrot soup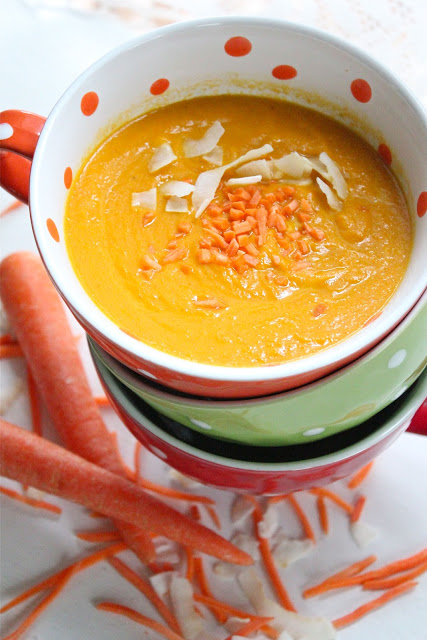 Remember I posted something on facebook about having an amazing carrot and coconut soup? Well this is it. It is one of the best soups I have ever had.
This curried coconut soup is super simple to put together, which I love, and extremely tasty and nutritious. I have actually doubled the batch every time I have made it it is that good. You can even freeze it for future consumption which makes this very convenient.
If you like soups this is a must try. I am not a big soup person but once in a while a do make them. This for sure is going to be one of my to go soups.
This coconut soup has giving me a chance to use my recent kitchen toy purchase, a new immersion blender that I had actually purchased for this reason. To be able to blend soups with it. It was very inexpensive, $29.99 at the time, and so far so good. I really love it :-)
Anyhow, when winter time comes along I will be making many other soup variations so stay tuned….
Enjoy!!
Here you can see the soup before it got blended and also a picture after adding the coconut milk. This is a very creamy and comforting soup.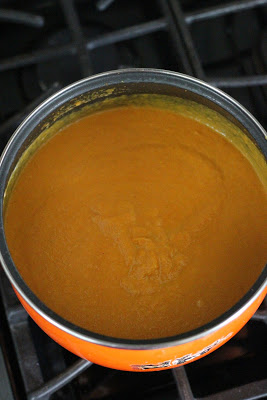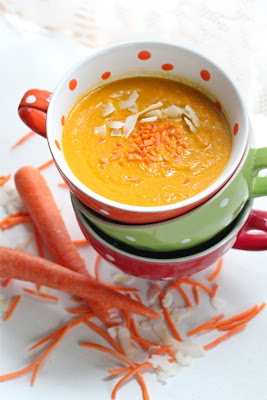 Feel free to add some shredded cooked chicken to it or even eat it cold. Either way this soup is great.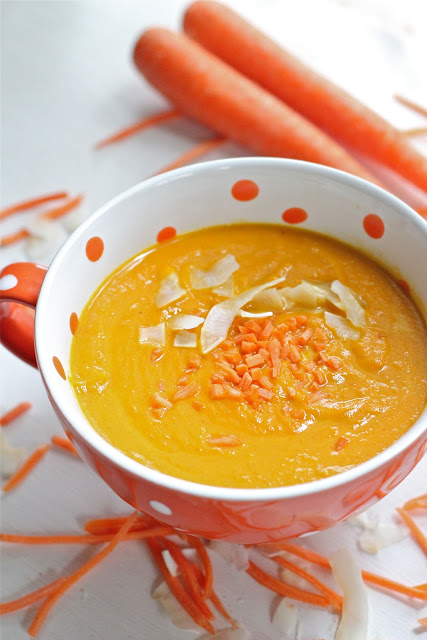 I always double the batch every time I make this soup it is that good.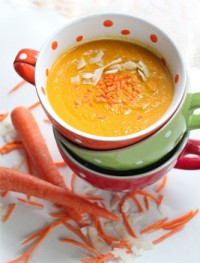 Curried coconut and carrot soup
Ingredients:
2 tablespoons olive oil
1 pound of carrots, sliced
2 teaspoons curry powder
1/2 onion, chopped
2 bay leafs
1 garlic clove
1 teaspoon celtic salt
2 1/2 cups low-sodium vegetable broth (or chicken broth)
1/2 cup coconut milk
Directions:
Add olive oil to a 3qt dutch-oven and heat on medium to high heat. Add garlic, and sauté until fragrant.
Add the carrots, onion, curry powder, bay leafs, salt and cook for about 3-5 minutes. Add vegetable broth (or chicken broth), and bring mixture to a boil. Reduce the heat, and simmer until carrots are softened.
Allow the soup to cool for about 15 minutes. Remove bay leafs and with an immersion blender blend until smooth (alternatively you can use a regular blender and blend the soup in batches, using an immersion blender makes things a lot easier).
Stir in coconut milk and serve.
Adapted from Season with spice.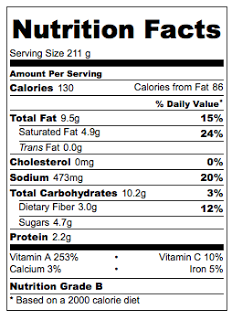 Nutrition facts calculated based on the recipe giving 6 servings. This is really high on Vitamin A.