Crustless Asparagus and Tomato quiche
Para poder ver el contenido en espanol pinche al traductor que ahi en la derecha de la pagina seleccionando el idioma correcto.
To be able to see the content in Spanish, click on the translator on the right side of the page, selecting the correct language.

This recipe is sponsored by the American Heart Association and the American Diabetes Association®. The opinions and text are all mine. The end.
I love making crustless quiches because it does not involve the work of having to do the dough like a conventional quiche pie does. Not only it is time consuming having to prepare the dough, but avoiding the crust you can save the highly processed carbohydrates.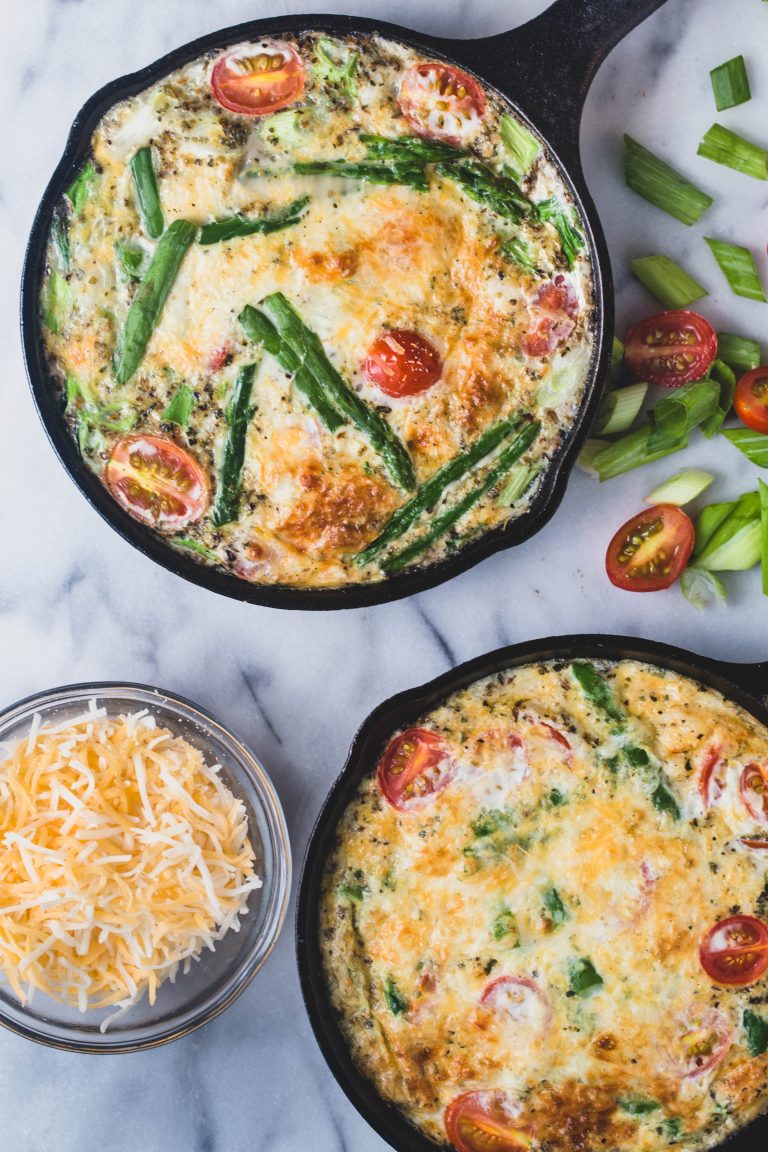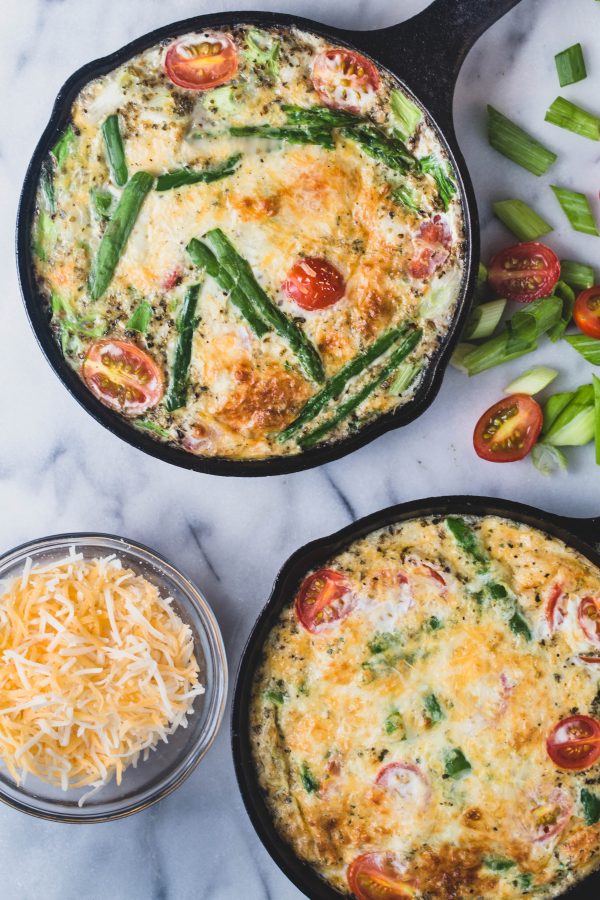 It is very important to avoid highly processed carbohydrates when it comes to preventing diabetes. Simple carbohydrates are stripped of their nutritious germ and fiber. Unhealthful diets often contain too many carbohydrates processed into concentrated forms (corn syrup) that provide calories and little else. The bottom line: when you fill up with carbohydrates, like complex carbohydrates such as whole grains.
For this recipe I also made the preparation shorter. No need to sauté the veggies since in the oven they will cook evenly. I am always for saving time while cooking, since we all know how busy families are nowadays.
I am working with the American Heart Association and the American Diabetes Association to bring you recipe ideas. This crustless asparagus and tomato quiche is heart healthy and great for people living with diabetes.
Whole grains, starchy vegetables, beans, soy foods, green vegetables and fruits–foods served as nature grew them–are the carbohydrates that pack the highest nutritional octane. They're rich in compounds that support good health, including fiber, nutrients, and phytochemicals. A dietary pattern based on these foods lowers the risk of heart disease, stroke, diabetes and many major cancers.
In addition, people living with type 2 diabetes are two times more likely to develop and die from heart attacks, heart failure and strokes than people who do not have diabetes. But it doesn't have to be that way, reduce your risk.
It's time to prioritize your health—do it for yourself and those who love you.
Time to cut your risk of heart disease and stroke and fight for the amazing life you've made for yourself. To get started, visit DiabetesdeCorazon.org, to check out even more recipes and resources. Then talk to your doctor to learn how to lower your risk.
You're ready to say, "Now I know, and now I'm changing my story." It's time to change your story and reduce your risk.
Visit DiabetesdeCorazon.org for more information on how to lower your risk for heart disease and stroke.
Do You Know the 4 Questions to Ask Your Doctor?
It is very important to ask the following questions to your doctor to be able to take care of yourself the best way possible.
https://diabetesdecorazon.org/recursos/4-preguntas/
¿Qué cambios debo hacer para cuidarme el corazón?
¿Qué debo hacer antes de mi próxima cita?
¿Cómo sé si los cambios que he hecho están teniendo efecto?
¿Qué recursos tengo para aprender más?
Los adultos con diabetes son 2X más propensos a sufrir un ataque cardíaco o cerebral que las personas sin diabetes.
Con una sola conversación puedes empezar a reducir el riesgo.
I hope you are able to use this information. Having the right information is key. You can also start your healthier you in the kitchen with heart healthy recipes like this crustless asparagus and tomato quiche.
Enjoy!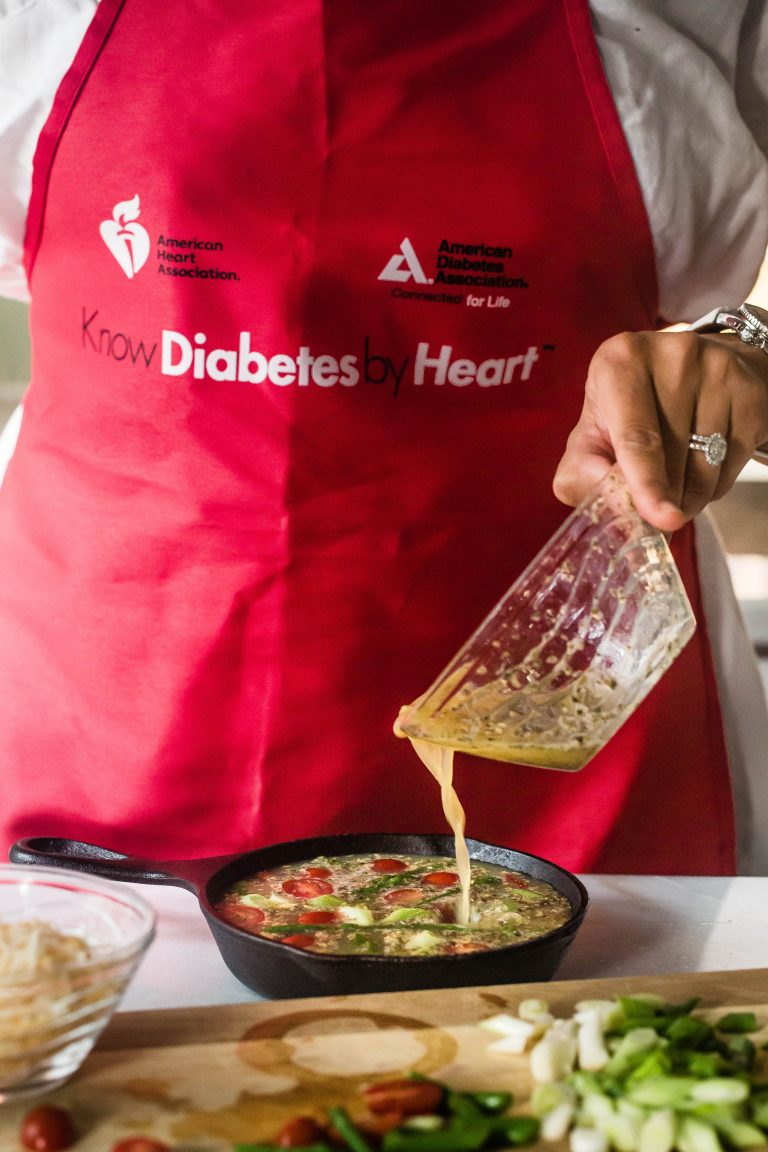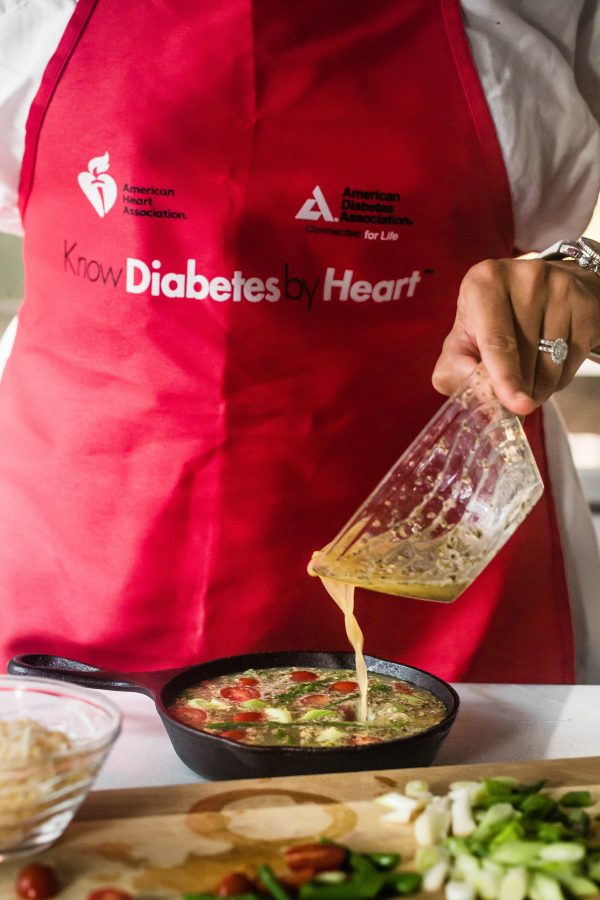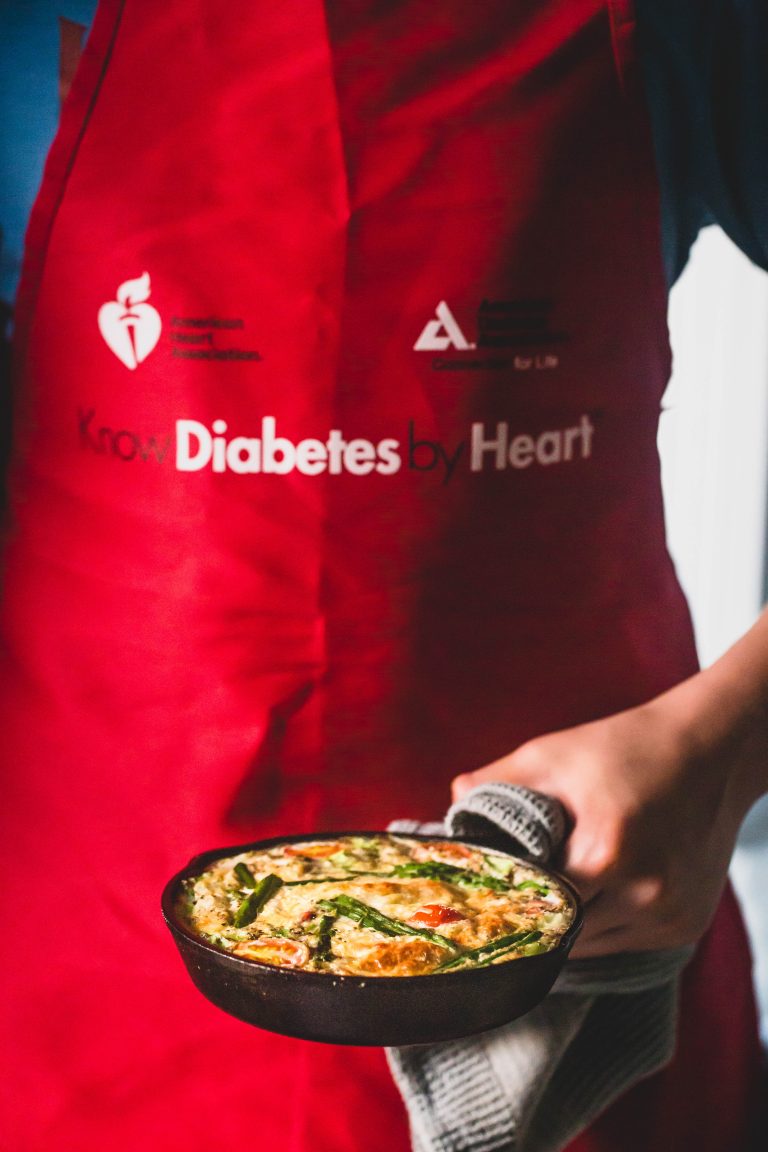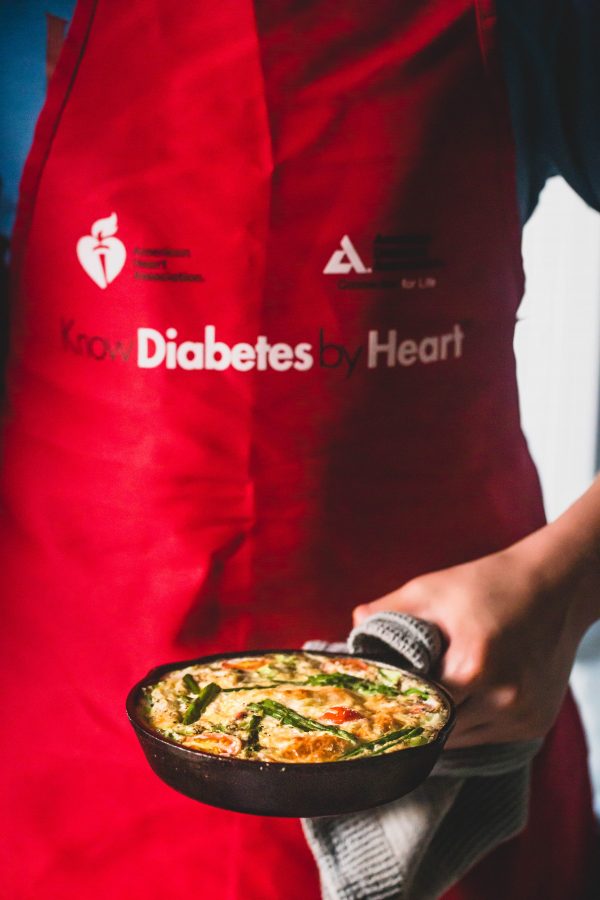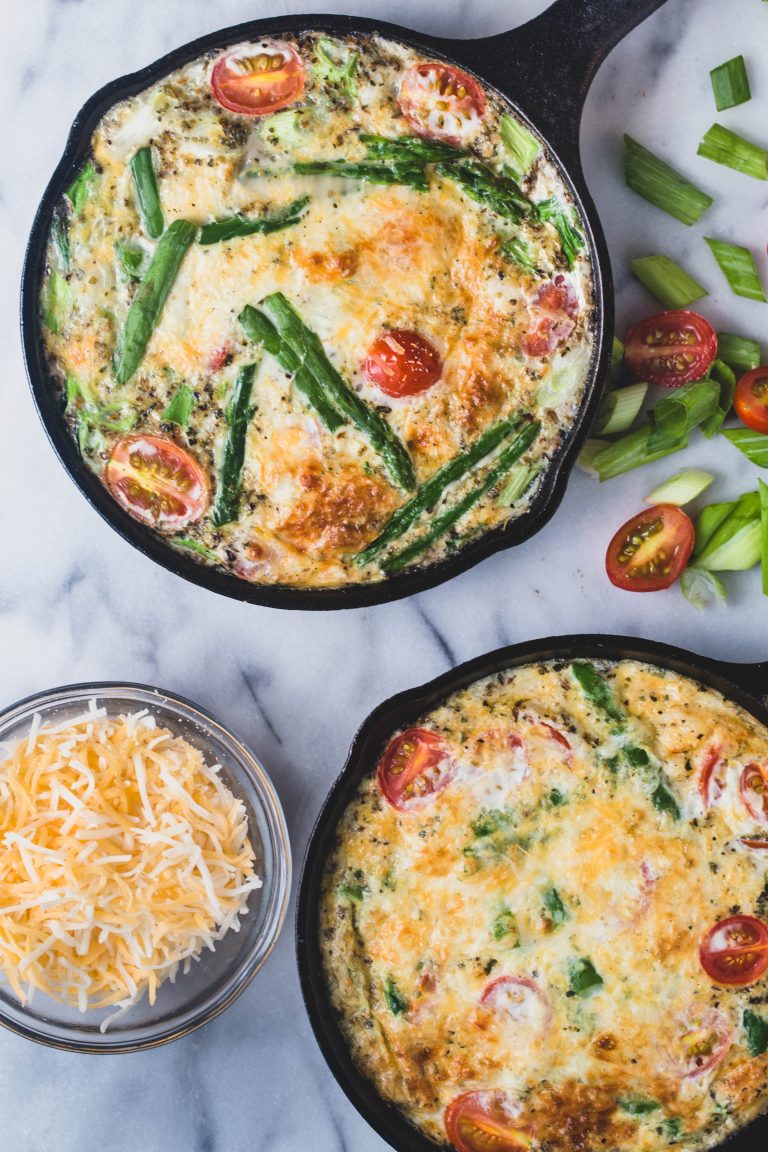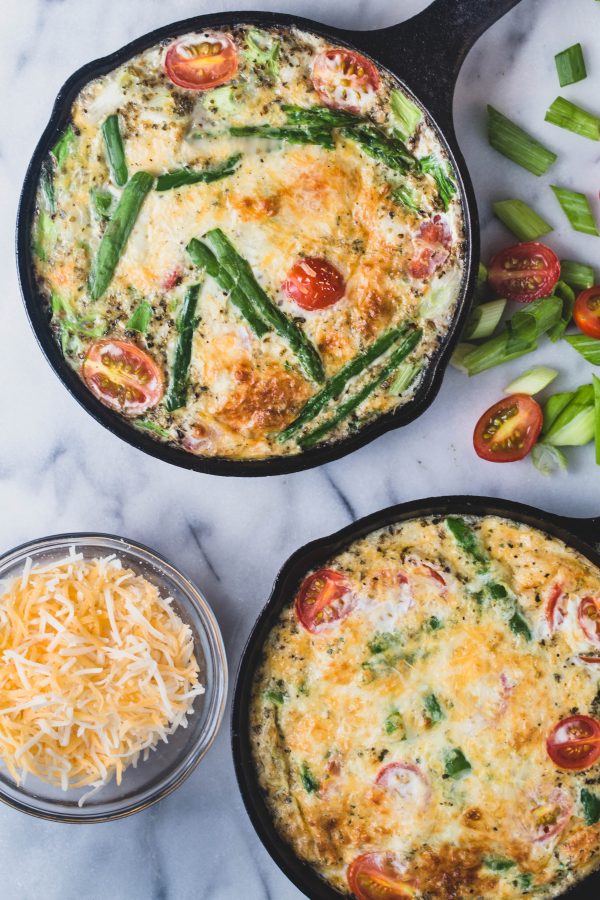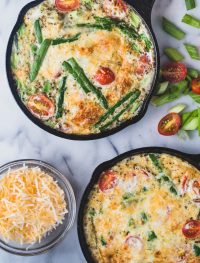 Crustless Asparagus and Tomato quiche
Yield: 4 servings
Prep Time: 10 minutes
Cook Time: 20 minutes
Total Time: 40 minutes
Ingredients:
Cooking spray
10 ounces asparagus, trimmed and cut diagonally into 2-inch pieces
4 medium green onions, chopped
12 grape or cherry tomatoes, halved
4 large egg whites
2 large eggs
2 teaspoons Dijon mustard (lowest sodium available)
1 1/2 teaspoons chopped fresh thyme or 1/2 teaspoon dried thyme, crumbled
1/4 teaspoon pepper
1/2 cup shredded or grated low-fat cheddar or Colby cheese
Directions:
Preheat the oven to 350°F. Lightly spray a 9-inch glass pie pan or 4 individual 3 inch pie pans with cooking spray.
In a medium bowl, whisk together  egg whites, large eggs Dijon mustard, thyme and pepper. Set aside.
Divide the asparagus, green onions and cherry tomatoes between the 4 pie pans. Pour egg mixture over 4 pie pans.
Bake for 20, or until a knife inserted in the center comes out clean. Sprinkle with the cheese. Let the quiche cool for about 10 minutes before slicing.