Creme de Cacao and Mint Chocolate Brownies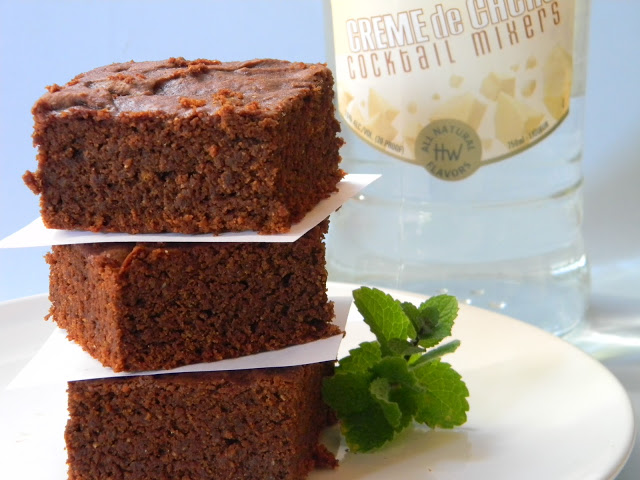 The name of this dessert says it all.
I did run out of coffee, if you can believe it, so I made the liquid substitution with two different types of liquors, creme the menthe and creme the cacao. The combination was just superb. I yet to try another substitution. You can use Kahlua liquor as well, which I am sure it will also be really good, or just the 1/2 cup of dark coffee the recipe calls for instead of using the liquors.
This brownies had the perfect hint of mint and a lot of the chocolate flavor. I will be making these pretty soon since this batch last it less than a day :-)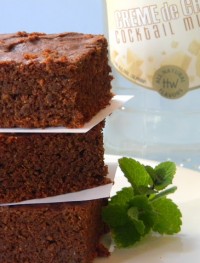 Creme de Cacao and Mint Chocolate Brownies
Ingredients:
2 eggs
3/4 cup sugar, 1 cup if you have a really sweet tooth
1/4 cup olive oil
1 1/2 cup dark chocolate chips
1/2 cup pumpkin puree
1/4 cup cream de cacao
1/4 cup creme de menthe
1/4 teaspoon baking powder
1 cup whole wheat pastry flour
Pinch of salt
Directions:
Preheat oven to 350 degrees F. Butter and flour 8-inch square baking pan.
Put chocolate chips, creme the cacao, creme the menthe, in a sauce pan over low heat. Stir once in a while until chocolate is melted ( I normally turn off the heat before almost melted) Let cool slightly. 
Whisk together oil, sugar, pumpkin, and eggs. Add melted chocolate to the egg mixture. Beat until combined. Add flour, baking powder, and salt. Beat scraping down sides of bowl until incorporated.
Pour batter into prepared pan; smooth top with rubber spatula. Bake for about 40-45 minutes or until inserted tooth pick in the center comes out clean. Let cool in pan. Cut into squares and serve.
TIP: You could also use 1/2 cup of chopped walnuts which works really good!