Cream cheese pumpkin muffins
This are by far the best cream cheese pumpkin muffins I have made in a while. These are not so bad for you and are super easy to whip together.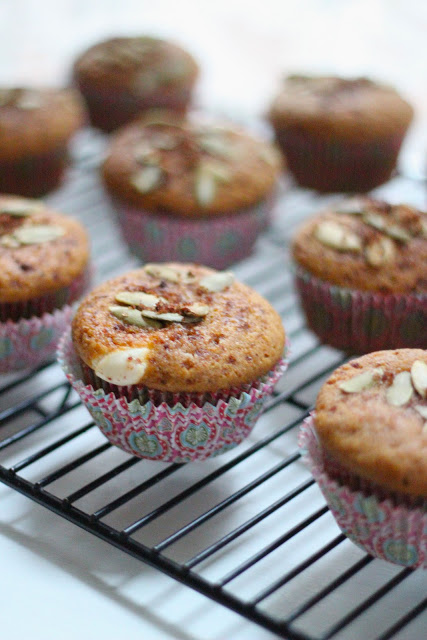 It is fall season so what better than to use pumpkin, cinnamon and nutmeg flavors?
I have just finished baking these muffins and they were awesome. I kept the sugar on the low end since I don't like desserts to sweet, I like to taste the other flavors involved.
These cream cheese pumpkin muffins are pretty much straight forward. If you like you can skip the cream cheese filling and you will be done making these in no time however I suggest not skipping this step. The cream cheese filling adds a nice touch!
Well, nothing much I can say about these muffins so…
Enjoy!!
Here you can see how I placed the cream cheese inside the muffins and then had them sprinkled with the cinnamon sugar and pumpkin seeds :-)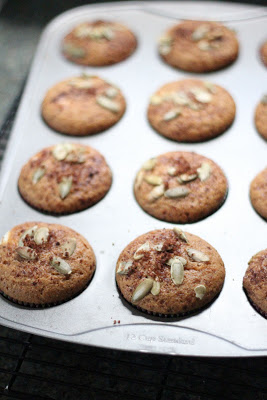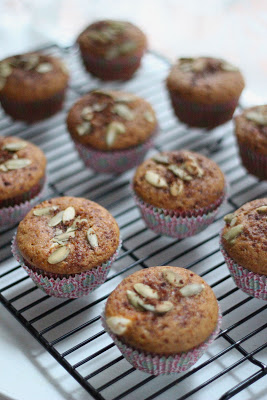 Right after been baked. They were awesome!!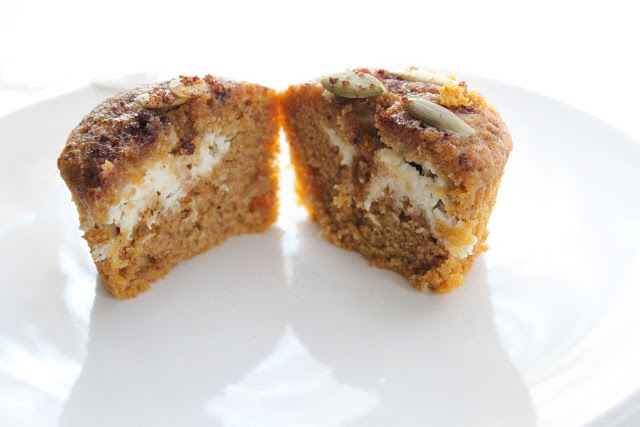 Here you can see the cream cheese layer…..just divine :-)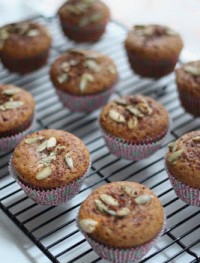 Cream cheese pumpkin muffins
Yield: 12 muffins
Total Time: 40 minutes
Ingredients:
2 organic eggs
1/2 cup unrefined sugar, more if you like
1 cup pumpkin puree
1/4 cup milk, I used soy milk
1/2 cup olive oil
1 1/2 cup whole wheat pastry flour
1/2 teaspoon aluminum free baking soda
1/2 teaspoon cinnamon
1/2 teaspoon ground nutmeg
1/2 teaspoon ground ginger
1/4 teaspoon ground clove
TOPPING
2-3 tablespoons pumpkin seeds
2 tbps unrefined sugar mixed with 1/2 teaspoon cinnamon
FILLING
4 ounces cream cheese, I used 1/3 less fat, room temperature
1/3 cup maple syrup or honey
Directions:
Preheat oven to 350 F. Line muffin pan with muffin liners.
In a bowl mix filling ingredients and set aside. I used a hand mixer to do this.
In another bowl beat eggs, sugar, pumpkin puree, milk and oil until well incorporated. Add the the rest of the ingredients and combine.
Next fill each muffin with about a tablespoon or so of batter, just enough to cover the bottom of the liner. Place a little bit of the cream cheese mixture on top of each muffin. Divide the remaining pumpkin batter among the muffin cups, placing on top of the cream cheese to cover completely.
Sprinkle a small amount of the topping mixture over each of the muffins and bake for 20-25 minutes. Let muffins cool for about 2-3 minutes in the muffin pan, then remove muffins from the muffin pan and transfer to a wire rack to cool completely.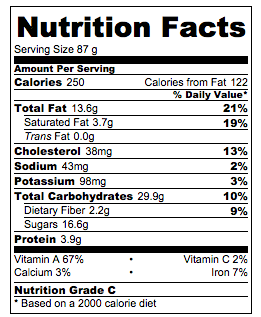 Nutrition facts calculated based on the recipe giving 12 muffins and using 3/4 cup sugar for the batter.