Cranberry pistachio chocolate bark
I have been wanting to post this cranberry pistachio chocolate bark for a few days now. I have been so busy this week I couldn't wait for the week to be over but today I have found a few minutes to post the recipe for you guys so I hope you like it.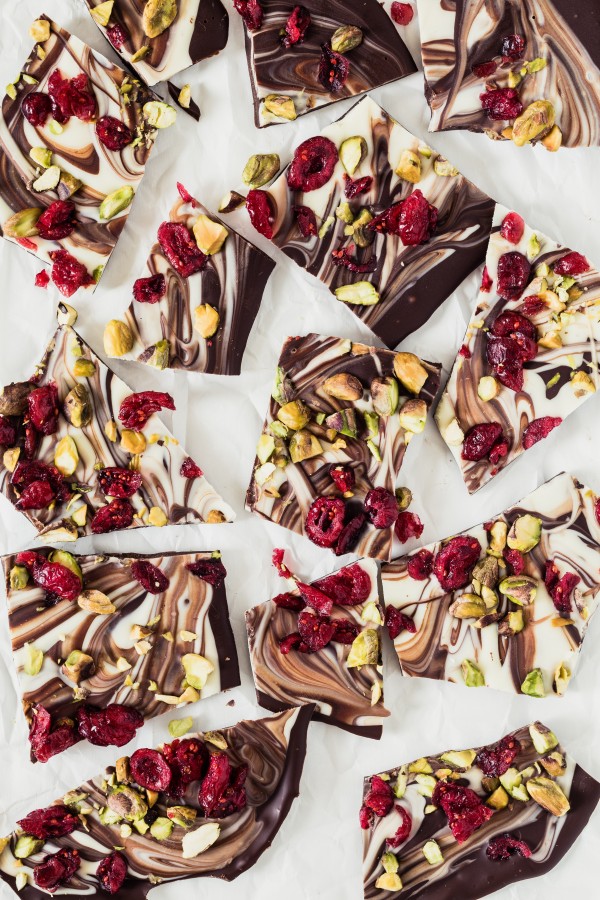 This cranberry pistachio chocolate bark is so easy to make it would take you just about 5 minutes. It is a very simple dessert to make and extremely versatile, as you can add any toppings of your liking. I chose to use pistachios and cranberries given the holiday season but anything goes.
I also wanted to make the bark prettier so I use two different types of chocolate, dark chocolate and white chocolate. You can make just with dark chocolate if you like or if you are vegan just use vegan chocolate. I just wanted to get a bit more creative and have a marble effect in the bark to make it prettier so that is why I used the white chocolate.
This cranberry pistachio chocolate bark is perfect for the holidays ahead. It is great for gift giving or to have as a dessert. Of course a little goes a long way so don't over due. Someone on one of my social media channels mentioned that what sort of exercise regime would I need after eating something like this. Well a very simple answer will suffice, no exercise regime need it what so ever.  Just don't eat the entire batch in one sitting and simply moderate your servings. If you can't do that then I guess this isn't the dessert for you!
Anyhow, indulging is part of life and with the holidays I am sure I will be indulging some. I work pretty hard during the year eating right and exercising, As a matter of fact I have most of my life so when ever I feel like I want to eat something a bit more naughty, I will. Balance is key…
I hope you like it. You can see the video recipe to really appreciate how easy this is to make.
Enjoy!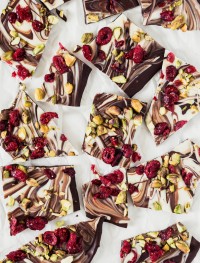 Cranberry pistachio chocolate bark
Yield: 25 servings
Total Time: 5 minutes
Ingredients:
Directions:
Line a baking cookie sheet with aluminum foil. Chopped the white chocolate and melt it in a microwave at 30 second intervals stirring in between until completely melted. Do the same with the dark chocolate.
Spread the dark chocolate onto the prepared baking sheet. Drop the white chocolate over the dark chocolate and with a work spread it over to give it a marble effect. Sprinkle the pistachios and cranberries over the chocolate and freeze for 30 minutes.
Once the chocolate has solidified just cut into pieces with your hands.