Cranberry cheesecake brownies
I am in love with these Cranberry cheesecake brownies. I think I am in love with cranberries as well. I love their tartness and flavor and mixed in with the cheesecake and brownies it is just superb.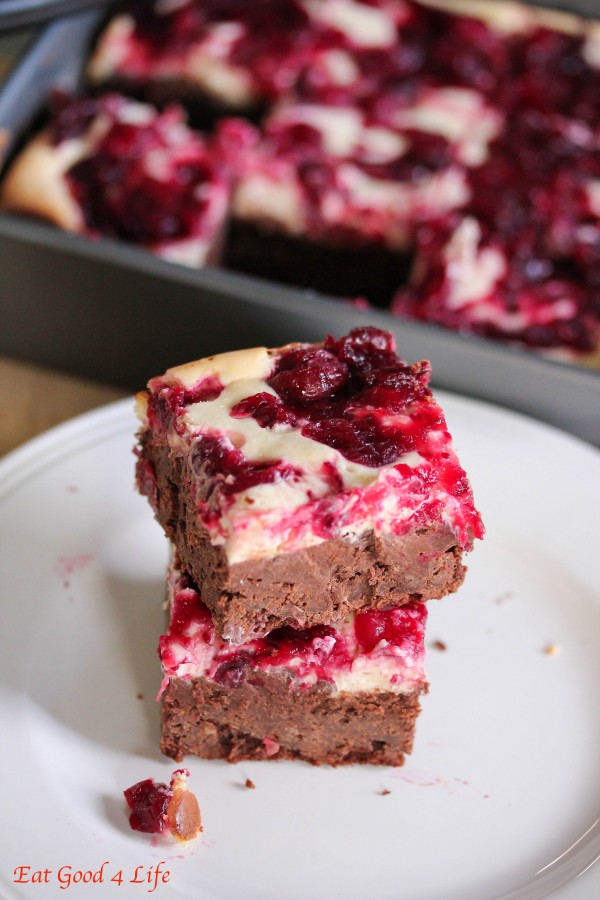 I was going to wait until next week to post these Cranberry cheesecake brownies however I thought it would be better that I post them today and don't make you wait. After all, they are to die for.
The tartness of the cranberries went extremely well with the brownies. Even though they are not that sweet I still enjoyed the tartness of the cranberries.
I used my brownie recipe that I made a while back. It is rather good but this time around I skipped the 1/2 cup of dark coffee and I added almond milk instead. It was still great but I preferred it with the coffee.
I baked my Cranberry cheesecake brownies for 50 minutes, however, 40 minutes would have been more than enough. I think the brownie batter was a bit dried due to the extra 10 minutes I baked it.
One tip I would suggest once you have made this recipe is to keep the cheesecake brownies refrigerated and leave 30 minutes prior to eating at room temperature. I don't like them completely cold, but that is just my preference.
I have still more cranberries to use so I am sure you will find a few more cranberry recipes in the next few days to come.
Enjoy!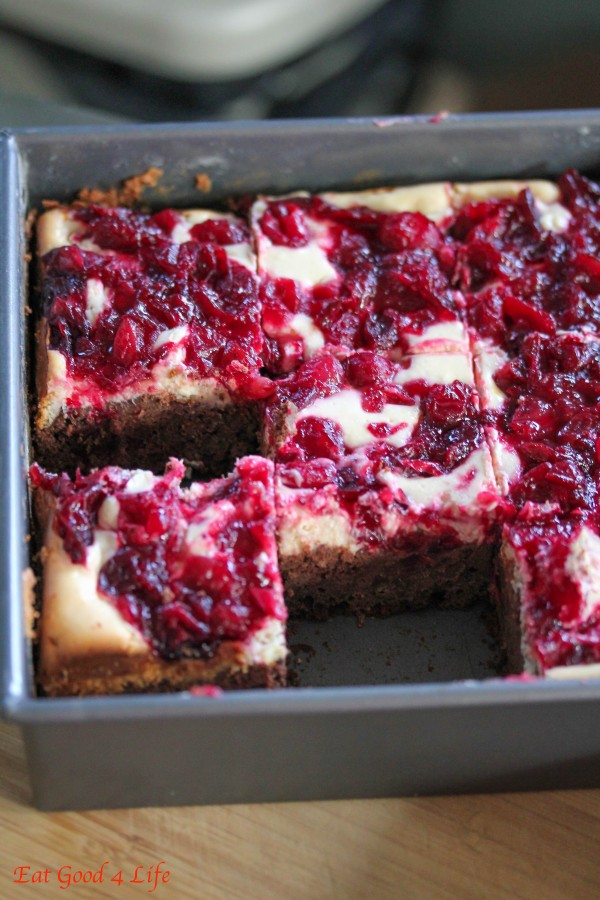 I think I over baked my brownies by 10 minutes so just make sure that you don't. I think no more than 40 minutes should be the baking time to be able to enjoy moist brownies!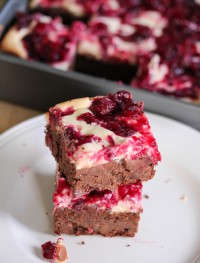 Cranberry cheesecake brownies
Yield: 18 servings
Cook Time: 40 minutes
Total Time: 1 hour
Ingredients:
Brownie batter
Cheesecake batter
1 organic egg
1 tsp vanilla extract
8 oz low-fat cream cheese, room temperature
1/4  cup unrefined sugar
Cranberry topping
8 oz fresh organic cranberries
1/4 cup maple syrup
Directions:
Preheat oven to 350 F. Grease and flour a 8x8 square baking pan and set aside.
In a medium sauce pan add cranberries and maple syrup over medium to low heat. Cook for about 5-10 minutes until cranberries have soften stirring occasionally. Set aside.
For the cream cheese mixture, in a mixing bowl, with a hand mixer, beat the cream cheese mixture ingredients and set aside.
For the brownies, in a mixing bowl, with a wire whisk, whisk first 5 ingredients. Add flour and baking powder and incorporate well.
In a bowl place chocolate chips and microwave on high for 1 minute. Stir well. Continue microwaving in 30 second intervals, stirring in between, until chocolate is melted and mixture is smooth.
Incorporate melted chocolate into the batter and mix through. Pour batter into prepared pan. Spread brownie batter evenly over the baking pan. Add the cream cheese mixture and with a spatula spread it evenly over the brownies until all of it is covered. Drop tablespoons of the cranberry mixture over the cream cheese mixture and carefully swirl it with a knife. I truly didn't do this much. I liked it more lumpy.
Bake the cheesecake brownies for 30-40 minutes. Make sure you don't go over the 40 minutes otherwise the brownie bottom will get dried. Cool brownies before storing in the refrigerator.
Keep cheesecake brownies covered in your refrigerator. Before serving allow brownies to come to room temperature for at least 15 minutes.