Whole Wheat Cranberry and Pistachio sugar cookies
Did every one had a good Christmas? We sure did.
For me Christmas is not about gift giving but being together with family and friends. My kids actually didn't get that many gifts. They got a few desired items but nothing extravagant!
I actually got a roasting pan, among other kitchen gadgets, that I had my eye on for a while, and can't wait to use.
They had the very popular All-Clad brand, but the price was more than double and the reviews were a lot worse than the one I got. I am glad I decided to get the more economical one.
Does anyone have a favorite recipe they use in their roasting pan? Please do tell.
Anyhow, these cookies come from my sugar cookie recipe. I always use this one however this time around I decreased the sugar content even further and it was perfect.
For next time I am going to substitute some more of the butter for oil. I think it will also work but will see.
With this recipe you can use any flavoring of your choice and turn the cookies into something different. I think a hazelnut type of cookie will be rather good as well as a lemon or lime ones. Just saying :-)
Well I hope you like these cranberry and pistachio cookies. Let me know if you try them.
 Here you can see the cookies being cut with a cookie cutter and placed in the cookie sheet.
…and here they are, right after baking. They will take about 12 minutes at 350F.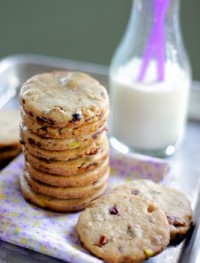 Whole Wheat Cranberry and Pistachio sugar cookies
Ingredients:
2 cups whole wheat pastry flour, next time I will try to add some shredded coconut to the mix
1 stick of butter, at room temperature
1/4 cup coconut oil, you can also use olive oil
1/2 cup unrefined sugar
1/2 cup raw pistachios, chopped
1/2 cup dried cranberries
1 egg
1 teaspoon vanilla
1/2 teaspoon baking powder
Directions:
Beat butter and sugar until fluffy, about 2-3 minutes. Beat in egg, oil and vanilla. Add flours, and baking powder and combine until you have a homogeneous dough formed.
Divide dough into two and flatten out with a rolling pin like in the pictures. Chill dough for at least 2 hours.
Preheat oven to 350F and line two baking cookie sheets with parchment paper.
Roll out the dough to about 1/4 inch thick and stamp out rounds using a cookie cutter (I roll out the dough in between plastic wrap which I find very easy to do. You can use any other cookie cutter shape you like as well).
Bake cookies for 10-12 minutes. Cool on cookie sheets for 2-3 minutes and transfer them to a wire rack and cool.
Tip: Dough can be chilled for up to 5 days or frozen wrapped in a double layer of plastic wrap for up to 1 month. If frozen, thaw dough in the fridge before using
Nutrition facts calculated based on the recipe giving 30 cookies. 1 serving = 1 cookie.