Valentine's Day Coconut Cookies
These Valentine's Day Coconut Cookies are super awesome. I know they might not be as healthy as you may want but indulging once in a while is just fine.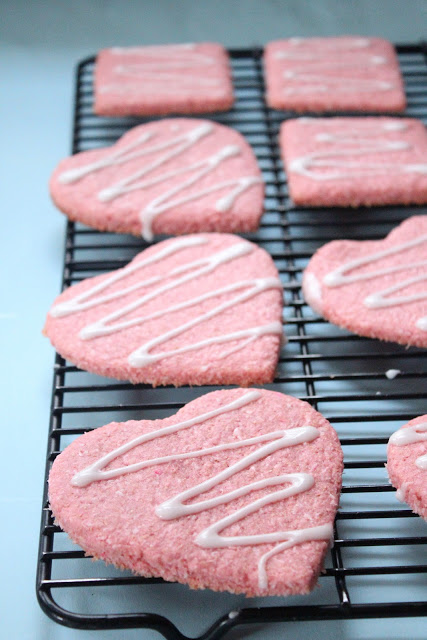 Valentine's Day is just around the corner so I thought I would post some easy to do cookies that could very well work for such occasion. These Valentine's Day Coconut Cookies have butter, so no can do as a substitution for that, sorry coconut oil will work just fine….but having one or two would do for a serving. Just don't go wild consuming these :-)
I was able to use whole wheat pastry flour for these cookies, since I hardly ever use all purpose flour, no nutritional value whatsoever. Granted the texture may be slightly better using all purpose flour, but who cares. I think nourishing yourself better is far more important than obtaining a perfect texture, or at least it is for me and my family, and to be honest, you can hardly tell anything about the texture :-)
I turned the dough for this Valentine's Day Coconut Cookies pink using pink food coloring but you don't have to. I just did it because my son wanted to have them colored and plus I figured they would be a little bit more festive for this occasion.
Enjoy!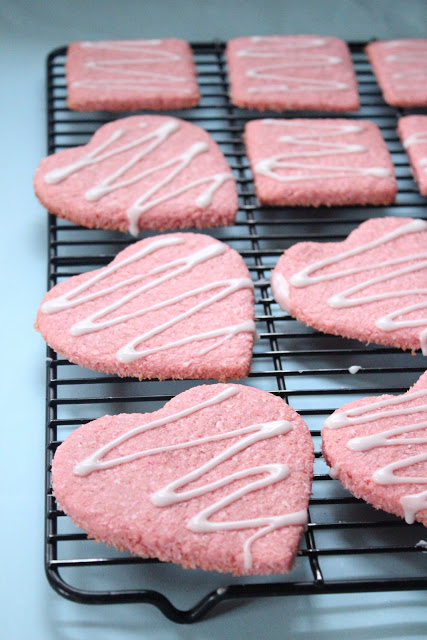 These cookies are awesome, not too sweet at all and the coconut hint flavor its superb!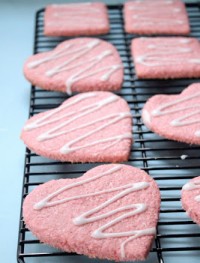 Valentine's Day Coconut Cookies
Ingredients:
Directions:
Preheat oven to 350F. Line two cookie sheets with unbleached parchment paper.
In a mixing bowl, with your hands mix flour and butter until it resembles fine bread crumbs. Add sugar, coconut, milk, coconut extract and food coloring. Mix until you form a soft dough.
With a rolling pin, roll out the dough to about 1/4 inch thick and stamp out hearts using a cookie cutter (I roll out the dough in between plastic wrap which I find very easy to do also you can use any other cookie cutter shape you like).
Bake cookies for 14-17 minutes, depending on cookie cutter size. Transfer them to a wire rack and cool.
To decorate cookies mix frosting ingredients and drizzle it over the cookies.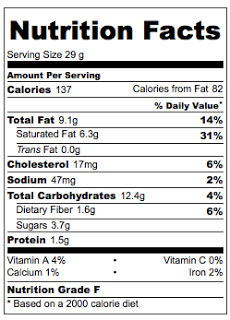 Nutrition facts calculate based on the recipe giving 22 cookies. 1 cookies = 1 serving