Coconut and Honey Frozen Yogurt
This coconut honey frozen yogurt is the bomb. One of my favorite simple frozen treats that we enjoy all summer round.

So for the first time I made coconut honey frozen yogurt. Pretty easy I must say. If you have an ice cream maker it is pretty much straight forward. After obtaining the ice cream from the machine freeze to desired firmness. You can also have any flavor that you want such as lemon, vanilla, mix will fresh fruit pieces, (any type of fruit) etc. You can add more sugar if you desire as well since my version was not that sweet.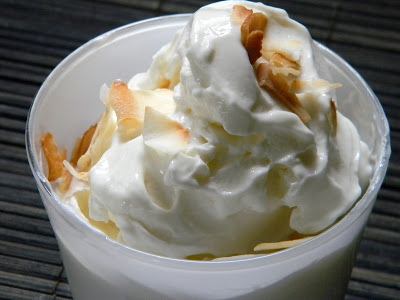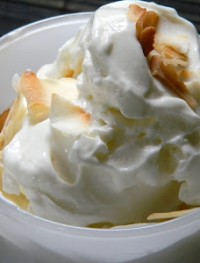 Coconut and Honey Frozen Yogurt
Ingredients:
Directions:
Mix together the yogurt, coconut extract, and honey. Refrigerate 1 hour.
Freeze in your ice cream maker according to the manufacturer's instructions.
Alternatively you can add these to popsicles molds and freeze as popsicles or if you don't have an ice cream maker just place in a freezer safe container and freeze stirring a couple of times before solidifying.
TIP: I also added some toasted coconut chips which gives it a nice touch. Also you may want to add more honey since my version wasn't too sweet.