Coconut and Pineapple Cake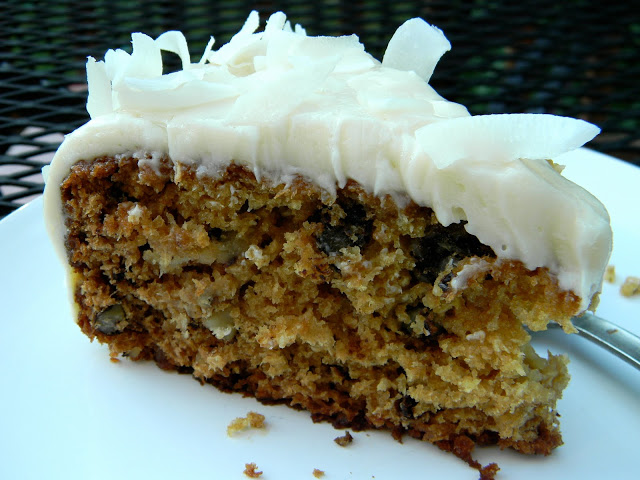 This coconut and pineapple recipe was given to me from my mother in law. It was also passed onto her by a friend. Originally it was called Mexican cake.
She brought it with her up to NJ for one of her visits for us to try. It was really good so I had to give it a go. She tweak the recipe to make it healthier and I tweak it even further :-).
It is really good I must say and super easy to whip together. It is going to be one of my regular cakes not only because is super yummy but also because it is extremely simple to make.
When decorating the cake, you can toast the coconut chips in the oven before decorating the cake, it probably looks better, maybe I will do it next time. I hope you try this cake and if you do let me know what you think.
Enjoy!!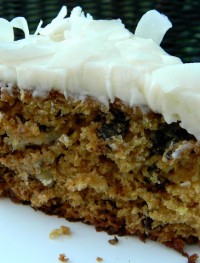 Coconut and Pineapple Cake
Ingredients:
For an improved healthier recipe click here!!
2 cups whole wheat pastry flour
1 cup of sugar, I use 3/4 cups
1 20 oz can of crushed pineapples with it's own juice
2 teaspoons baking soda
1 teaspoon baking powder
1 cup of unsweetened shredded coconut
1 cup chopped walnuts or pecans
2 eggs
1 tablespoon of coconut extract, I am sure you could also use coconut liquor
Frosting
1 1/2 packages of 1/3 less fat cream cheese at room temperature
2 1/3 cups of powdered sugar, I use 1 3/4 cups
1 tablespoon coconut extract
1 cup coconut chips to decorate cake, you can also use chopped nuts instead to decorate
Directions:
Preheat oven to 350 F. Greased a springform pan and dust with flour half way up the sides as well. In a bowl mix pineapple with juice, sugar and eggs.
Add shredded coconut then flour, baking powder and baking soda. Add chopped walnuts. Bake for 40-50 minutes. Cool in pan for about 20 minutes and remove from pan. Cool completely before frosting.
For the frosting mix ingredients. You may add more sugar if you want the icing to be thicker. Frost cake and decorate with coconut chips.