Cinnamon Whole Wheat Pretzels
I love pretzels but when consuming them I always making them myself. These cinnamon whole wheat Pretzels were the absolute bomb. I wish I had double the batch because between all of us they didn't last that long.

I can't believe I have just made these cinnamon Whole Wheat Pretzels. Love, love, love them. They are just a little bit on the small size but that is even better for me. I guess I don't feel as bad when I eat one, two or three!
I must say that these are not an easy fix. I mean, it will take a while before you can dig your teeth into them as you will have to leave the dough rise for about 2 hours, then boil them for a minute and then bake.  Nevertheless, it is not a hard process, just a little bit involved.
I did use instant yeast, which is my new favorite thing. I bought a 1 lb bag which will last me for a while. It is much more economical than buying individual yeast packages at the regular store. If you normally use yeast I suggest you turn to instant yeast, you will not regret it.
After making this today for sure I will be making them more often. Next time I will double the batch though.
Enjoy!
The left picture shows the dough rising which took me about 2 hours. On the right picture you can see the little pretzel creations. Not shaped perfectly but nevertheless delicious.
Here you can see the final result. I choose to dip them in melted butter followed by cinnamon sugar. They were just superb. They were gone in one day :-)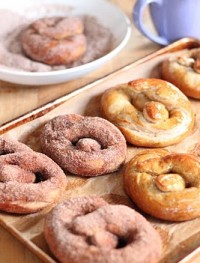 Cinnamon Whole Wheat Pretzels
Yield: 14-16 large pretzels
Total Time: 2 hours
Ingredients:
1 3/4 cups whole wheat pastry flour
1 cup water plus 3 tablespoons
2 tbs melted butter
1 1/2 cup bread flour
1 tsp instant yeast
1 tsp gluten, you can add one more tsp of instant yeast if you don't have gluten
1 tbs honey
1 tsp cinnamon
1 egg beaten
Water bath
8 cups water
2 tsp aluminum free baking soda
Glaze
Directions:
In a m large mixing bowl ,mix whole wheat flour and water and let sit for 20 minutes to soften the gluten. Add remaining ingredients except the egg. Knead dough for about 6 minutes until elastic (I do it by hand). Cover and let sit for about 1 1/2 to 2 hours until double in size.
Divide dough into 8 equal pieces and roll each piece into a rope. (You can divide into 6 pieces if you like them bigger). Form each into a pretzel shape (form a U-shape, then holding the ends of the rope, cross them over each other and press firmly onto the bottom of the pretzel). Place on a baking sheet previously lined with parchment paper. (For this process you may have to flour your work surface although I didn't have to. If you do try to use as less flour as possible)
To make the water bath, boil the water, add the baking soda and add two pretzels at a time. Boil for about 1 minute until they expand dramatically. When you are done doing this brush them with the beaten egg. (You can sprinkle with seeds or kosher salt. I didn't do this because I used the cinnamon glaze)
Bake on a 425F preheated oven for 12-15 minutes or until golden brown. Cool for 5 minutes.
Mix sugar and cinnamon. Brush each pretzel with melted butter and dip into the sugar mixture.