Chocolate Valentine's Cookies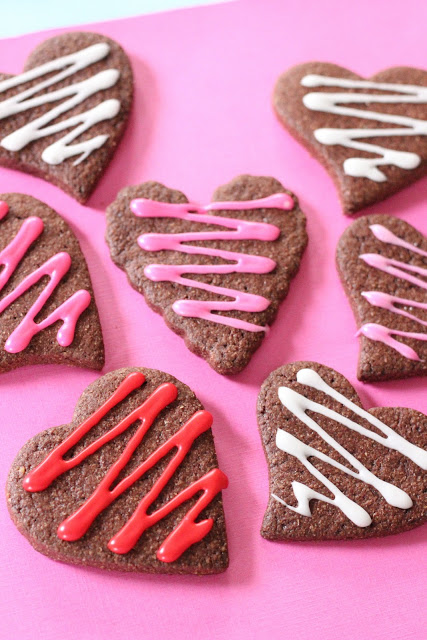 Tomorrow is Valentine's day so I figured I would post something indicative of the day.
These cookies are not bad at all, well or at least they aren't for me. I must say they are not that sweet at all, since they entire batch only contains 1/4 cup of sugar, NOT BAD….but if you are looking for something really sweet this may not be for you. You can notice these are healthier than regular versions, FINE WITH ME :-)
Anyhow, I opted for decorating these cookies in a rather simple way. Just some sugar, water and food coloring. You can be much more elaborate but for us they worked good this way.
If you try this recipe just to let you know, the batch doesn't yield too many cookies, especially if you use a big cookie cutter. I doubled my batch so I could get more, just saying!!
Enjoy!!
On the left picture you can appreciate my little work station. Make sure when frosting cookies that they are cool completely, mine weren't…..also you can be much more elaborate with the decoration but for us this way worked good, I just kept mine very basic with the sugar glaze :-)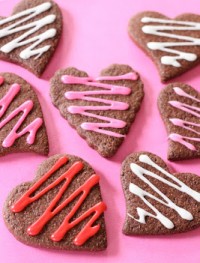 Chocolate Valentine's Cookies
Ingredients:
1 cup whole wheat pastry flour
1/4 cup unsweetened cocoa powder
1 stick butter, at room temperature
1/4 cup sugar
1 egg
Glaze:
6-7 tablespoons confectioner's sugar (depending on desired consistency, you may have to add more)
2-3 tablespoons water
2 Drops of food coloring of choice
Directions:
In a bowl beat the butter and sugar until light and fluffy. Beat in the egg until combined. Stir in the flour and cocoa. Shape the dough into a disc and wrap it in plastic. Place in the fridge for 2 hours or until firm.
Preheat oven to 350 F. Prepare a cookie sheet with parchment paper.
Roll out dough in between plastic wrap and cut out as many cookies as possible using heart shaped cutters. Re roll and cut out more cookies.
Place cookie on a baking pan and bake 10-14 minutes. Cool on a wire rack and frost/decorate as desired.