Chocolate quinoa cake-gluten free
This chocolate quinoa cake is truly sensational. Who would have thought you could use quinoa to make a cake. I am blown away about this recipe. It is simply genius.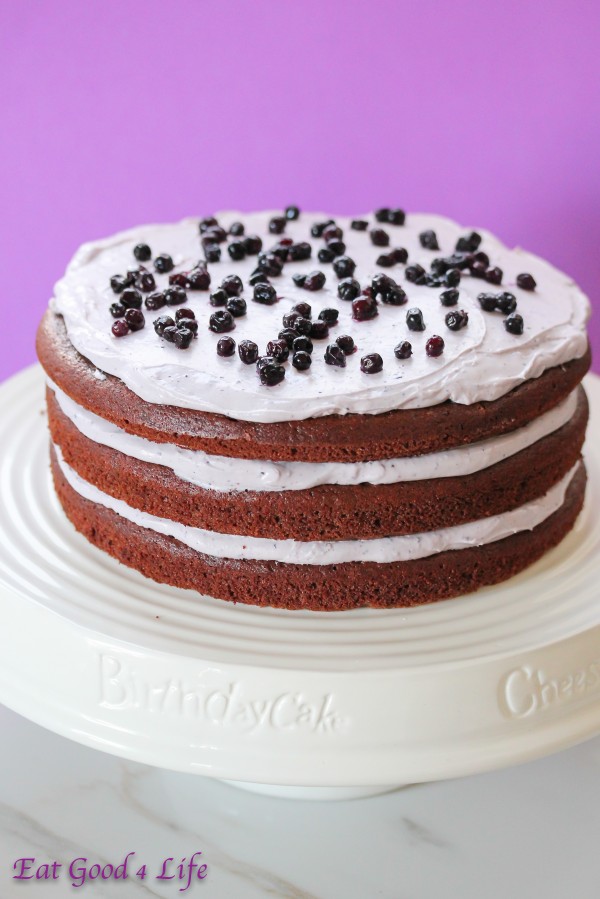 Believe me when I tell you you won't be able to taste the quinoa in this chocolate quinoa cake at all. I was a little bit skeptical at first but because I love quinoa I thought to give this cake a go.
My kids and husband really enjoyed this cake. Now all I want to do is to keep experiment with quinoa in my baking.
I have made some minor changes to the original recipe. For sure I cut down the sugar content, when using baking recipes I normally use half of what the recipe calls for as far a sugar is concerned. I really can't imagine how sweet this cake must be using the original amount the recipe calls for. I also used olive oil instead of butter, a much better option as olive oil has higher quality fat than butter.
For the frosting I used a cream cheese based frosting. I added some frozen organic wild berries which made the frosting a light purple. I loved it. You can use any other type of berries you like or even omit them all together. You can really use whatever frosting of your choice you prefer. It is a chocolate cake so anything goes.
Well I leave you with this sensational quinoa cake recipe that if for sure going to knock  your socks off…or so I hope!
Enjoy!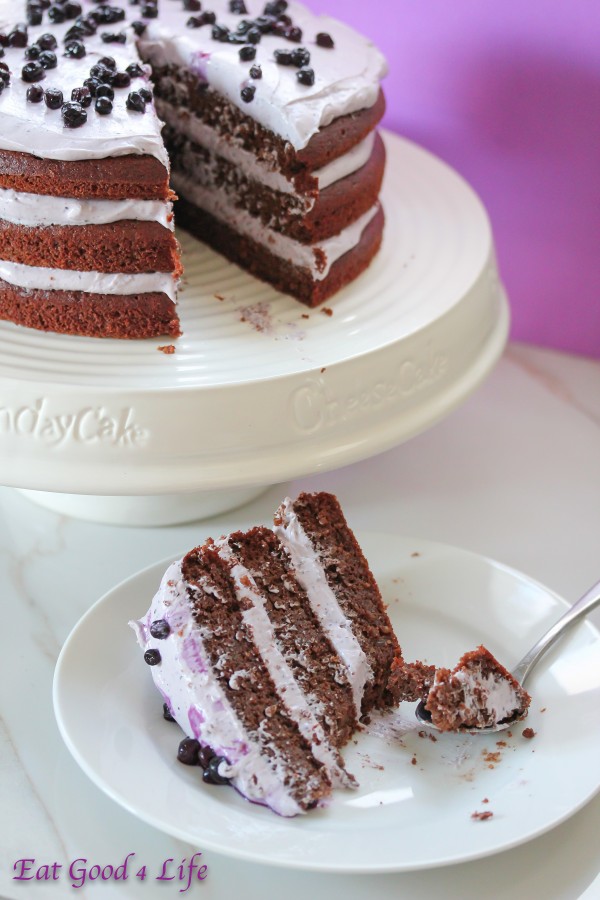 This is truly a must taste quinoa chocolate cake. You will not be able to tell this cake is made with quinoa at all. The coffee granules gives this cake a more intense flavor as well so I hight recommend using it.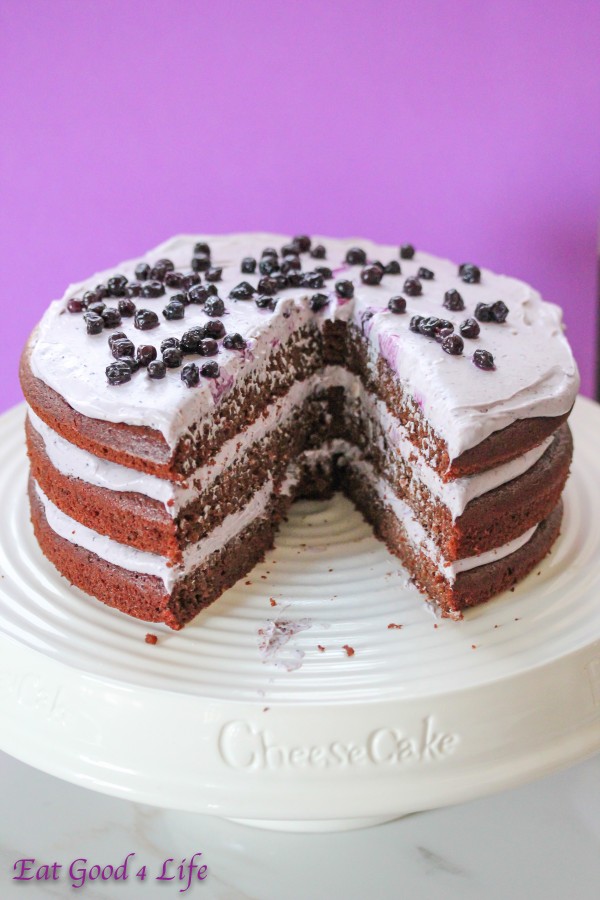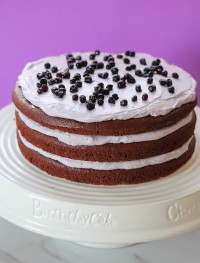 Chocolate quinoa cake-gluten free
Ingredients:
Frosting
16 oz low fat cream cheese, room temperature
11 oz white chocolate chips
1/4 cup +1 tbsp wild blueberries, frozen and thawed out (You can use blueberries too)
Alternative Frosting
2 15oz canned coconut cream
1/4 cup maple syrup
1/4 cup wild blueberries
Directions:
Preheat your oven to 350F. Grease three 6-inch round cake pans and line with unbleached parchment paper. Don't skip this step if you want the cakes to come out of the pans. Alternatively you can use two 8-inch cake pans instead of three 6-inch ones.
Add the eggs, milk, oil and vanilla to your food processor and pulse until smooth. You can also use a blender. Add the quinoa and sugar and combine. Incorporate the remainder of the ingredients and pulse until all of the ingredients are mixed together. This step shouldn't take long, 30 seconds at most.
Divide the batter between the 3 cake pans and bake for 20-22 minutes or until a cake tester comes out clean. Let the cake cool in the baking pans for at least 20 minutes. Invert them onto cooling wire racks, remove the parchment paper and let the cakes cool completely.
For the frosting, in a safe microwave plate, place the white chocolate chips and melt in 45 second intervals stirring in between until the chocolate has melted. Place the cream cheese and wild berries, reserve the 1 tbsp, into your food processor and pulse until combine. Add the melted chocolate chips to the food processor and pulse until all of the ingredients are mixed together. Place the frosting in the fridge for about 30 minutes while the cakes are cooling down to set up the frosting.
To assemble the cake. Place one cake layer onto your desired serving dish and top with on third of the frosting spreading it evenly to the edge of the cake. Place another cake layer over the frosting and spread another one third of the frosting over the cake in the same manner. Place the last cake layer over the frosting and use the reaming frosting to frost the last layer. Arrange the reserved wild berries over the frosting.
If using alternative frosting instead blend the coconut cream and maple syrup and refrigerate until firm. About 1 hour. Spread over cake layers like instructions above and arrange the reserved wild berries over the frosting.
You can keep the cake refrigerated for up to 4-5 days.
Recipe adapted from Mel's Kitchen originally from Quinoa 365