Chocolate Cupcakes with Chocolate Mousse Frosting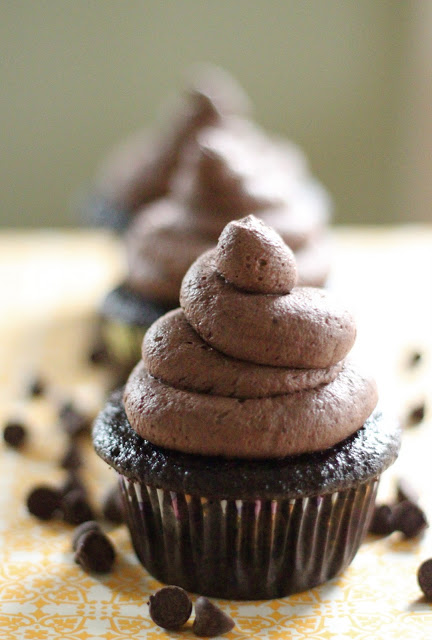 Chocolate…….oh chocolate……….
what can I really say about how good chocolate can be to the soul? Well not much right?
I just love chocolate, but who doesn't?
Anyways, I am trying to come up with the ultimate chocolate cupcake recipe. I have yet to experiment with more batters but for now this one was not bad at all.
The only thing I disliked about these cupcakes was the fact that they were very spongy and fluffy, although I think that this shouldn't really be a problem, or should it be? I got the batter recipe from White Chocolate Mousse Cake 2 that I made a while back. I am thinking of using the Triple Chocolate Whole Grain Donuts batter recipe as this one holds itself much better. Not as crumbly as the chocolate mousse cake batter.
Either way, I think they are both good batters but lets see which one I like best. I love to experiment with recipes :-)
Enjoy!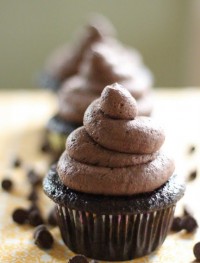 Chocolate Cupcakes with Chocolate Mousse Frosting
Ingredients:
2 cups whole wheat pastry flour
1 3/4 cup sugar, you can substitute some of the sugar for honey
3/4 cup cocoa powder
1 1/2 teaspoons baking powder
1 1/2 teaspoons baking soda
1 cup reduced fat milk, I normally use soy milk
1 cup strong brewed coffee
1 teaspoon chocolate extract, you can also use vanilla extract
1/2 cup olive oil
2 eggs
Mousse Frosting:
1 1/2 cup heavy cream
1/3 cup cocoa powder
1/2 cup powdered sugar
Directions:
Preheat oven to 350 F. Line cupcake pan with cupcake liners.
In a bowl mix all the wet ingredients. Add dry ingredients to the bowl and combine with a spatula. Pour batter into cupcake liners and bake for about 25-35 minutes or until tester comes out clean.
Remove cupcakes from pan and let them cool on a wire rack completely.
For the mousse. In a bowl beat the cream until foamy and gradually pour in the sugar. Fold in the cocoa powder. Decorate as desired. I used my 16 inch piping bag with a decorative tip.