Chocolate Chip and Cream Cheese Pound Cake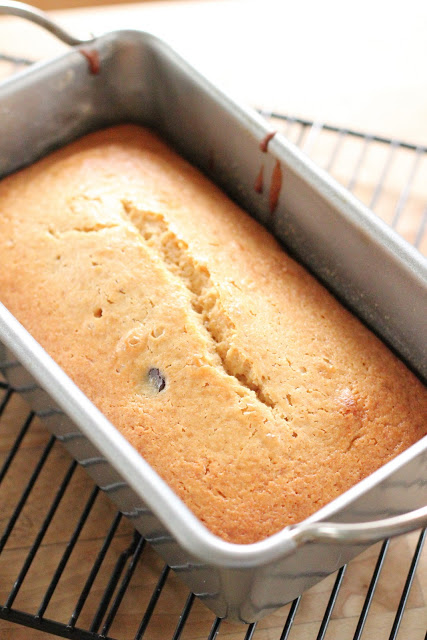 Have I said anything before about having no fuss, simple baked goods on many of my baking postings?……..
I think I have, and plenty right?…….well…..yes…….this is another extremely simple  cake. There is no fuss whatsoever and in as little as 5 minutes you can have it going in the oven. Now, I am going to be making this one often but I am going to be changing the flavor, perhaps some lemon, orange, cranberries etc.
By the way if you haven't noticed there is not 1lb of butter, sugar or flour in this one :-) NOT BAD right?…
One thing I didn't like is that my chips dropped to the bottom of the cake. I think because they were quite big chips. Perhaps mixing them with a little bit of flour before mixing into the batter would work. I have never tried that trick before but sure I have seen it plenty on the food network :-)
Anyhow, enjoy!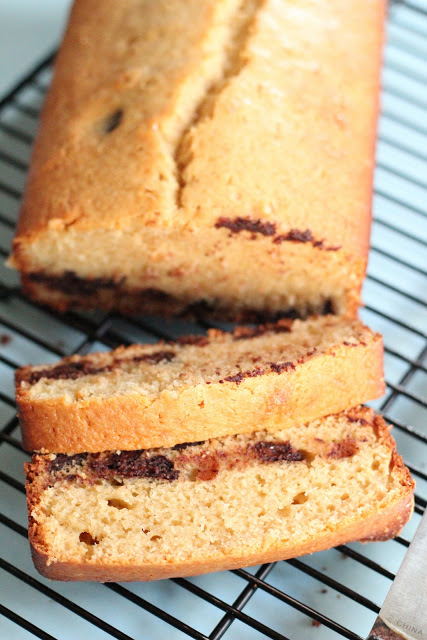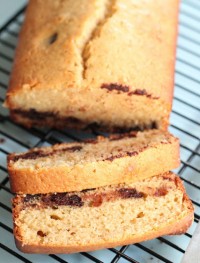 Chocolate Chip and Cream Cheese Pound Cake
Ingredients:
4 oz low fat cream cheese
1/4 light olive oil
1/4 cup plus two tablespoons low fat milk
2 eggs
3/4 cup sugar
1 teaspoon vanilla extract
1 cup whole wheat pastry flour
1 teaspoon baking powder
1/2 cup dark chocolate chips
Directions:
Preheat oven to 325F. Grease and flour a 9 inch loaf pan.
In a bowl, with a mixer, combine cream cheese and sugar. Add eggs and combine. Add oil, milk, and vanilla. Blend in flour, baking powder and chocolate chips. Pour batter into the prepared loaf pan and bake for 45-55 minutes.
Cool 10 minutes and remove from pan to a wire rack to cool completely.