Chipotle chicken pizza
Whole wheat pizza is standard in my house and this chipotle chicken pizza version was a nice change from the original plain one.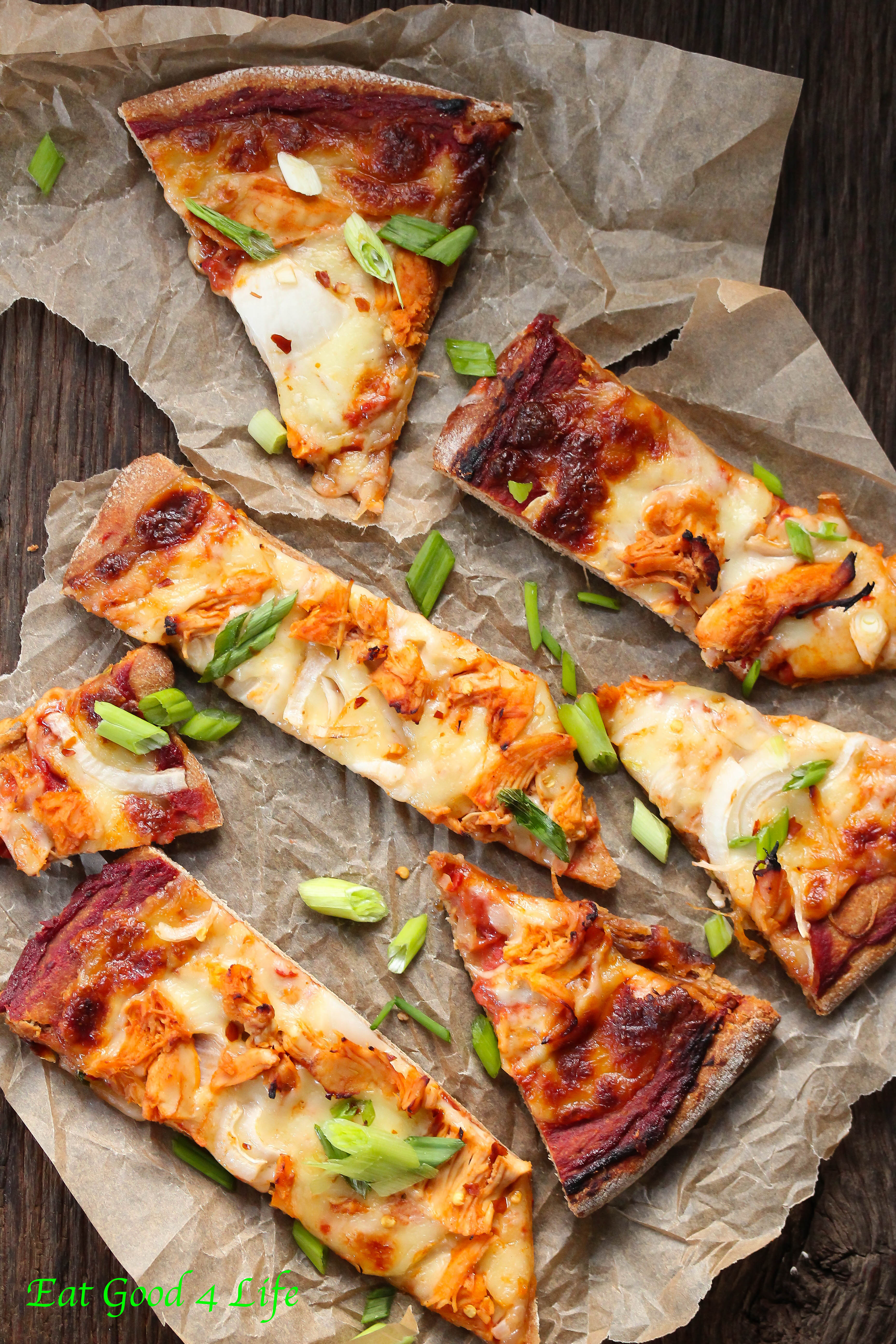 Have you ever made your own whole wheat pizza dough? It is extremely easy and better for you than a white flour counterpart. Granted I sometimes buy the whole wheat pizza dough from my supermarket but choosing to have a whole grain kind is better.
This chipotle chicken pizza was extremely easy to put together. I bought chipotle sauce from a TN store when we went there over spring brake. We go there at least 3 times a year, as we have a condo in the mountains and the kids love going for the many activities they can do.
I used chicken breast for this chipotle chicken pizza which I microwaved for a few minutes until almost cooked. It was not cooked all the way, as I knew it would get thoroughly get cooked in the oven. You can boil your chicken if you like as well but the microwave worked faster for me.
If you don't have chipotle sauce you can make your own very easily. Just place a few chipotles in adobo sauce in your food processor or blender and pulse until smooth. That is it! I am going to make my own from now on, as it is way more economical and I can alter the recipe to meet my needs.
On another note, I am going to try to make a cake tomorrow to be able to post for my 4th year of blogging. May 6th is my birthday blog. I can't believe it has been 4 years since I starting blogging. I have learned a lot and met some wonderful and not so wonderful people, but that comes with the territory I guess :-)
Anyhow, I leave you with this easy chipotle chicken pizza version which you can add some veggies if you like. I was in a hurry so this time around I didn't.
Enjoy!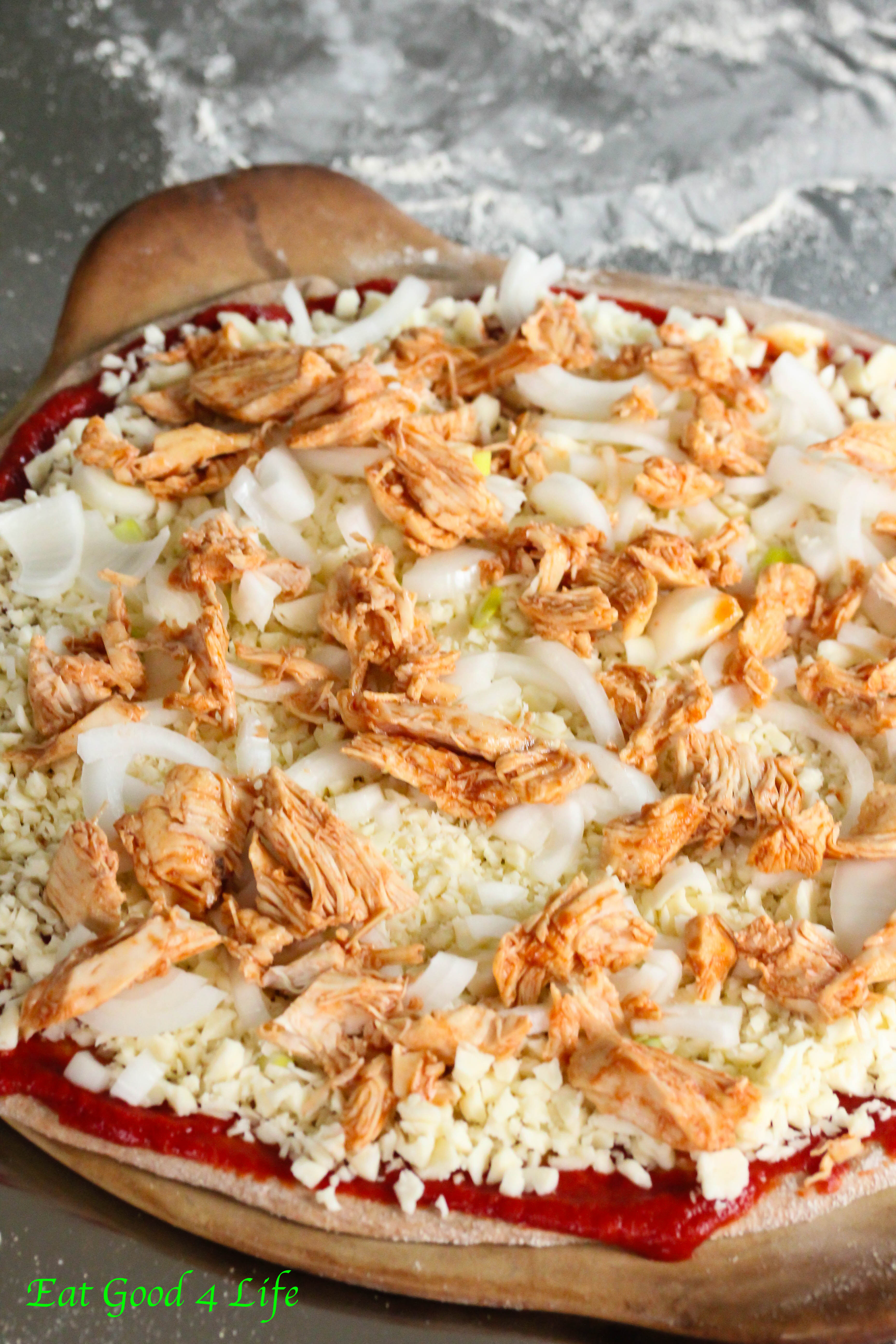 This is the pizza right before baking. I use a pizza stone, which makes my crusts a lot crispier and better!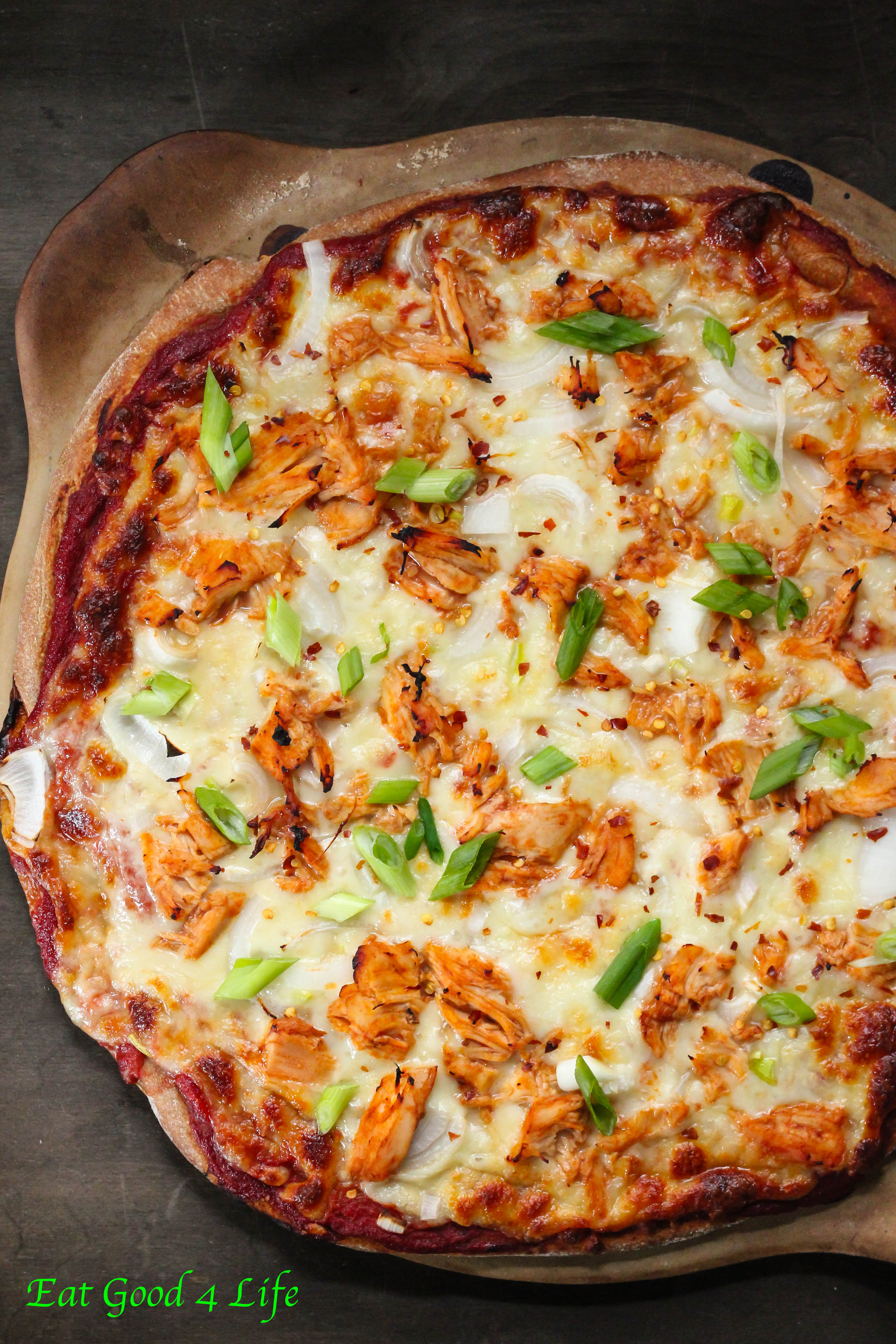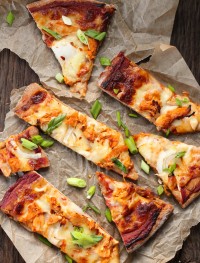 Chipotle chicken pizza
Yield: 2 pizzas- 16 servings, 2 pieces each
Total Time: 30 minutes
Ingredients:
2 lbs organic chicken breast
3/4 cup chipotle sauce, divided, see note below
2 lbs shredded mozzarella cheese
2 prepared whole wheat pizza dough, or store bought
1 large onion, sliced
6 oz tomato paste
2 green onion, chopped
Red pepper flakes, optional
Directions:
Preheat your oven to 425F.
Place the chicken in a microwavable plate and microwave for 6-8 minutes or until almost cooked. It will get throughly cooked in the pizza don't worry if you see some raw pieces. Shred the chicken and mix with 1/4 cup of the chipotle sauce. Set aside.
On a flat surface, like your kitchen counter, place some whole wheat flour to prevent the dough from sticking. Roll out your pizza dough with a rolling pin.  Place the pizza dough onto the pizza stone making sure you reach the edges. You can also use a pizza baking sheet or a cookie sheet. Repeat this with the second pizza dough.
In a small mixing bowl, add the tomato paste, chipotle sauce, and 1/3 cup water and mix until combined. Divide the sauce among the two pizzas making sure to spread the sauce to the edges. Divide the shredded mozzarella cheese between the two pizzas and top with the chopped onions and chicken.
Bake the pizzas in the preheated oven for 18-22 minutes. When baked, top the pizzas with some chopped green onion and red pepper flakes if desired.
NOTE: You can make your own chipotle sauce by placing chipotles in adobo sauce in your blender. If you use this make sure you add a bit less of it because it will be more concentrated. 1/3-1/2 cup of the sauce, depending on how spicy you want your pizza, should be sufficient.