Kung Pao Chicken
I have just made this Kung Pao Chicken a couple of days ago and it was just super sensational.
Not only this Kung Pao Chicken recipe was super good but it just took me less than 20 minutes to get it together. Lately I am on a roll with winner recipes.
You can make this Kung Pao Chicken with whichever protein you desire. Extra firm tofu for a vegetarian version, as well as just with veggies will still be awesome.I originally got the sauce recipe from my Cauliflower Kung Pao recipe I made a couple of week ago. I think next time I make that recipe I am not going to dip it in the marinade as this will save me sometime.
If you are looking for a quick, delicious, Asian inspired recipe look no further. This Kung Pao Chicken recipe will not disappoint. My family enjoyed it a lot and my husband couldn't get enough of it. I had very little leftovers which I actually saved for myself…that's right, whenever there are leftovers and the recipe is awesome I get to the have another serving. I am first in line…after all it was me that made the dish.
On another note. Can you believe my Mac Book Pro has crashed in the past month twice? The darn thing is not even a year ago. I wanted to smash the thing up so bad last night…I hope this is the last time I have to fix it.
Anyhow, I was still able to post this Kung Pao Chicken recipe for you tonight. I hope you get to try it. It is a super winner recipe sure to satisfy any Asian food lover.
Enjoy!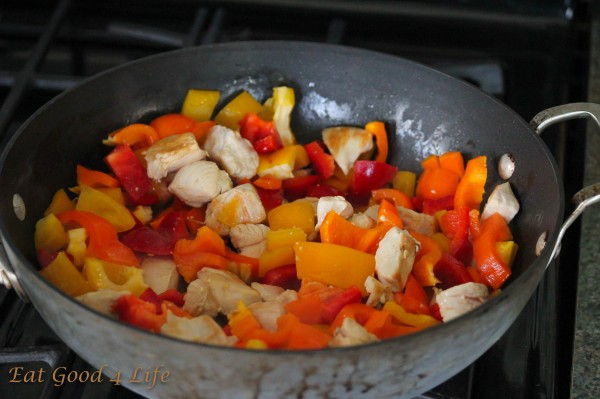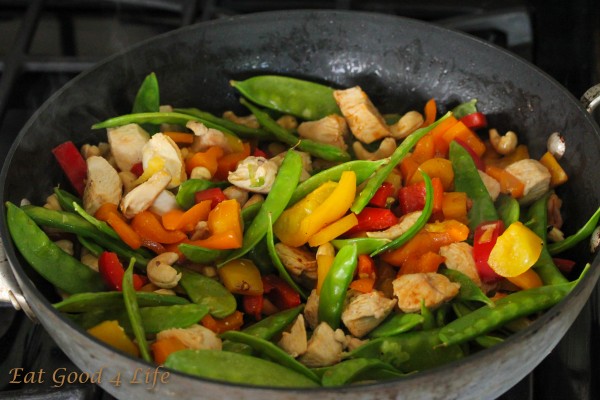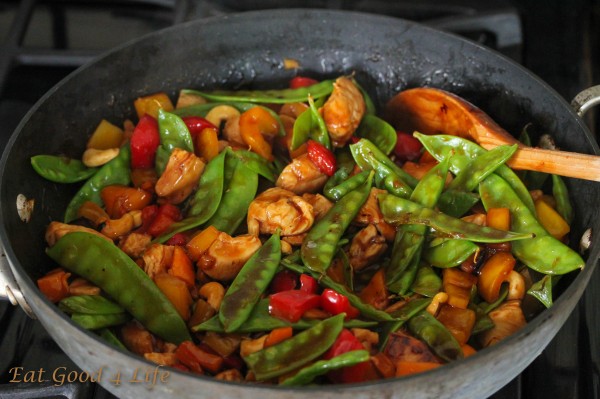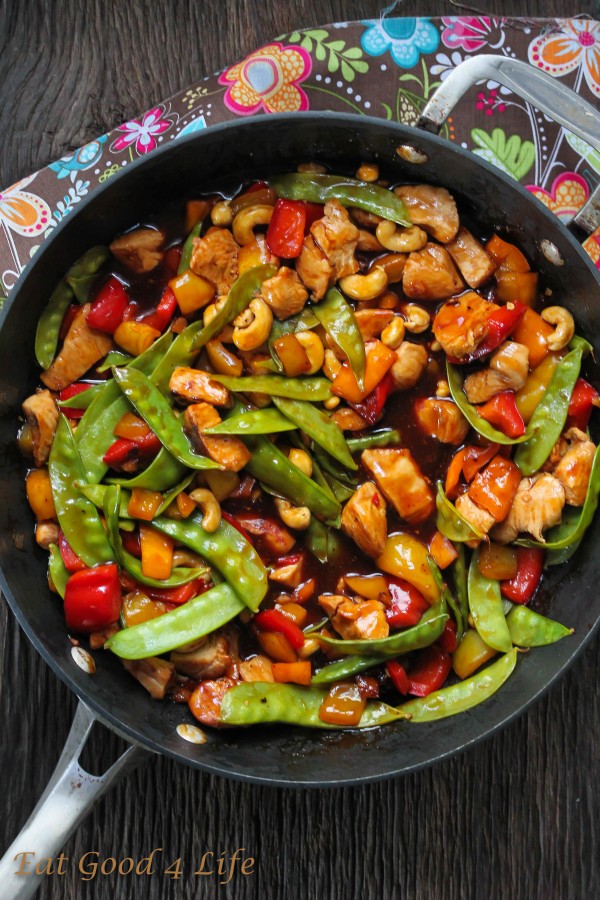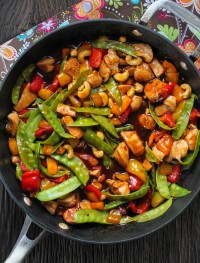 Chicken Kung Pao
Yield: 5 servings
Total Time: 20 minutes max!
Ingredients:
1 1/2 lb organic chicken breast, cut into chunks
1 red organic pepper, diced
1 yellow organic pepper, diced
1 orange organic pepper, diced
9 oz snow peas
1 tbsp ginger, minced
1/3 cup raw cashews
1 tsp pepper flakes, optional
2 tbsp olive oil
2 cups uncooked brown rice
For the sauce
2 tbsp rice wine vinegar
2 tbsp tomato ketchup
4 tbsp soy sauce, gluten free
2 tbsp unrefined sugar
1/4 cup water
3 tsp arrowroot powder, or cornstarch
Directions:
Cook brown rice according to package instructions. I do mine in a rice maker which you can use for quinoa too. Mix the sauce ingredients in a small bowl and set aside.
In a large non-stick skillet place the olive oil over medium to high heat. Add the chicken and cook for 5-6 minutes. Add the peppers and ginger and cook stirring occasionally for another 5 minutes until everything is almost cooked. Add the snow peas and cook for another minute.
Add the cashews and sauce to the skillet and cook for 1 minute over high heat until the sauce thickens. Serve over the brown rice while still warm.
Recipe adapted from here