Chicken coconut curry
I have just got done making this amazing chicken coconut curry that was nothing but sensational and full of flavor. I know that curries are a very popular dish so I tried making this recipe quick and simple for those starting to venture into cooking, besides, we all know how busy most of us are nowadays.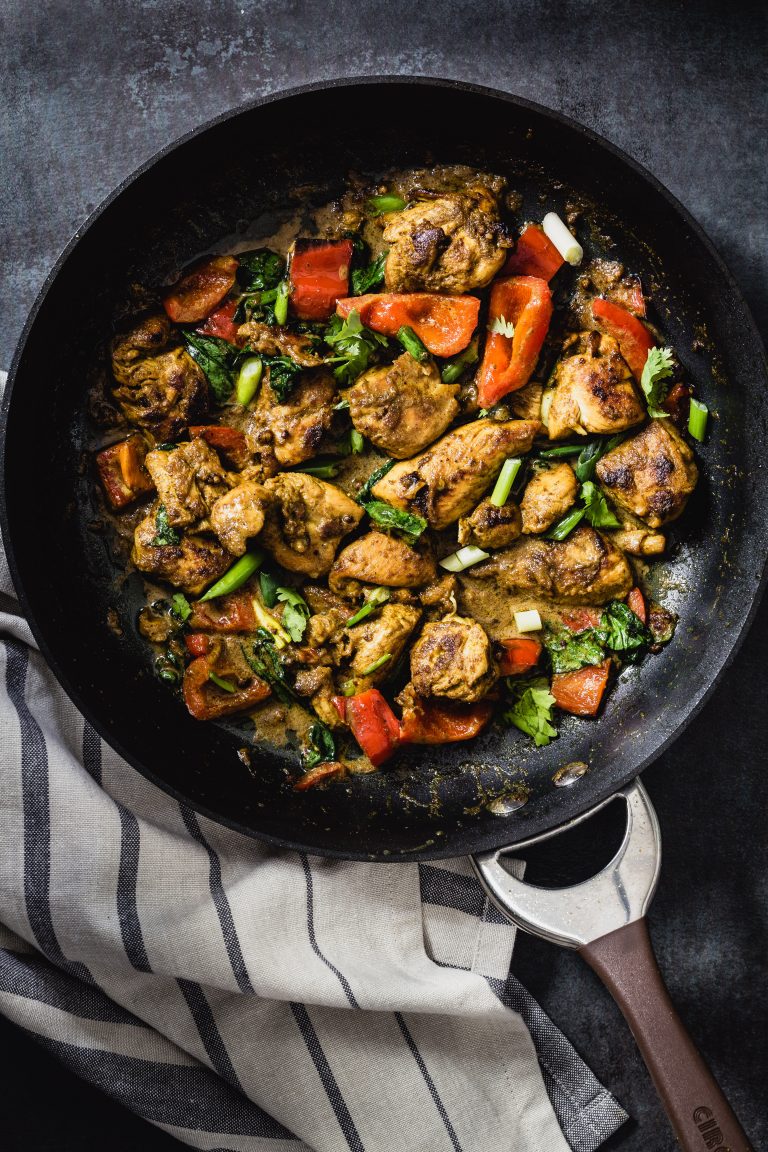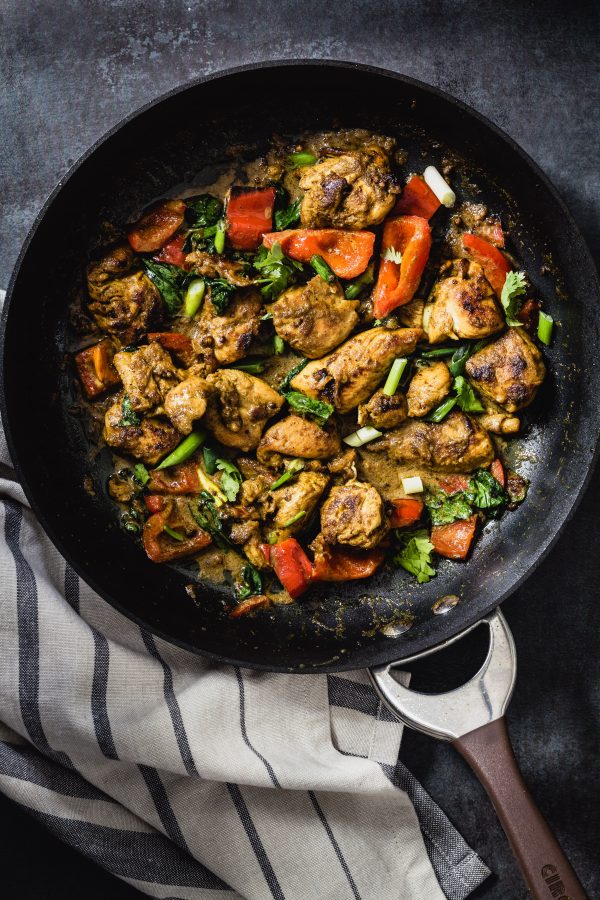 For this chicken coconut curry I was able to use my new Circulon® 11″ French skillet. What a wonderful skillet to have. It is one of those pieces of kitchen equipment that would make your cooking a lot easier and more confortable when using.
Some characteristics of Circulon cookware are:
Circulon's unique circle surface is combined with premium metal-utensil safe nonstick for superior performance that lasts
Heavy-duty hard-anodized construction is twice as hard as stainless steel
Dishwasher safe for convenience
Induction suitable = versatility for your kitchen today, tomorrow and in the future
Metal utensil safe nonstick on the pan interior and exterior = quick & easy to clean
I think Circulon kitchen ware makes a great gift for newly engaged couples. Their products are solution oriented, innovative, effective and straight forward to use. A wedding means starting a new home with new essentials. Circulon can easily get her kitchen in order, and just like her marriage, their cookware will last a lifetime.
Retailers where you can register Circulon at – are Macy's, Kohl's and Target.
Onto the recipe. As you know, this recipe is very versatile. If you like you can use any type of protein. Using shrimp as well as extra-firm tofu will work for those that want to keep it vegetarian.
It also freezes rather well so if you are like me and like to make double the batch and save some for the future this is a great recipe to do that with. It comes really handy when you are super busy and don't have time to prepare dinner.
You can also use quinoa in place or brown rice to serve this with or even Naan bread. I always have quinoa and brown rice in my pantry so I normally alternate between the two.
GIVEAWAY, Closed
I am pleased to inform you that Circulon is giving away a "Starter Pack" to Eat Good 4 Life readers. Items included in the giveaway ($150 retail value!):
– 4.5 Qt. Chef Pan: $39.99 Retail Value
– 11″ French Skillet: $39.99 Retail Value
– 3.5 Qt. Covered Straining Saucepan: $59.99 Retail Value
– 10″x15″ Cookie Pan: $9.99 Retail Value
Rules:
You must be 18 yrs old to enter
I will announce the winner 6/3
All you have to do is comment below and let me know how you would be using the pans. Super easy to enter right? so good luck.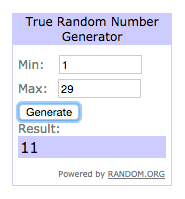 Elizabeth Bigelow you are the winner of the pan set, Congrats!!
Well I hope you like this versatile and super simple and easy chicken coconut curry recipe. Like I mentioned before, you can also use any type of protein of your choice and keep this vegetarian if you like, so get creative.
Enjoy!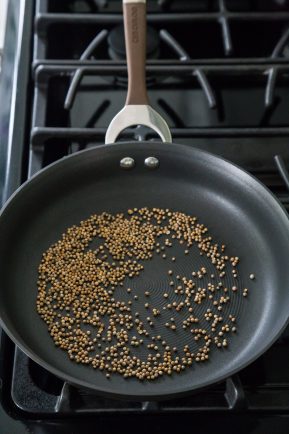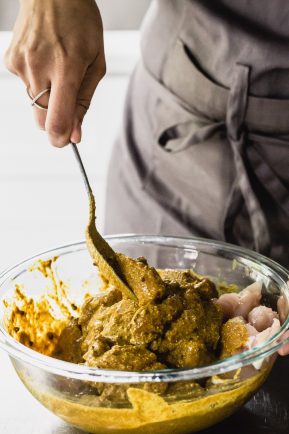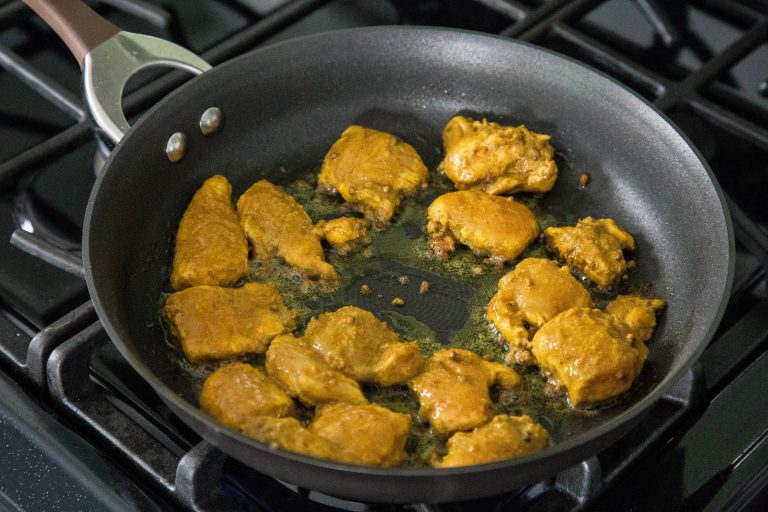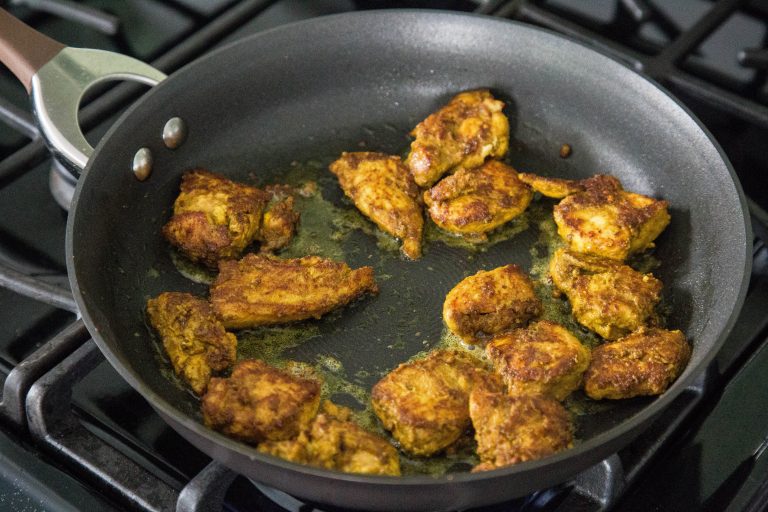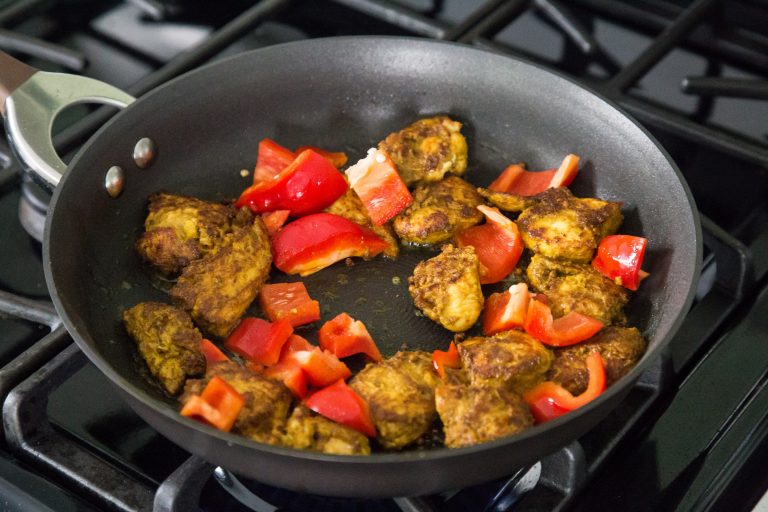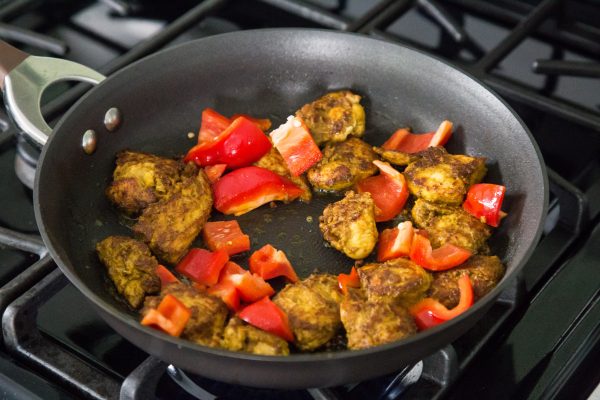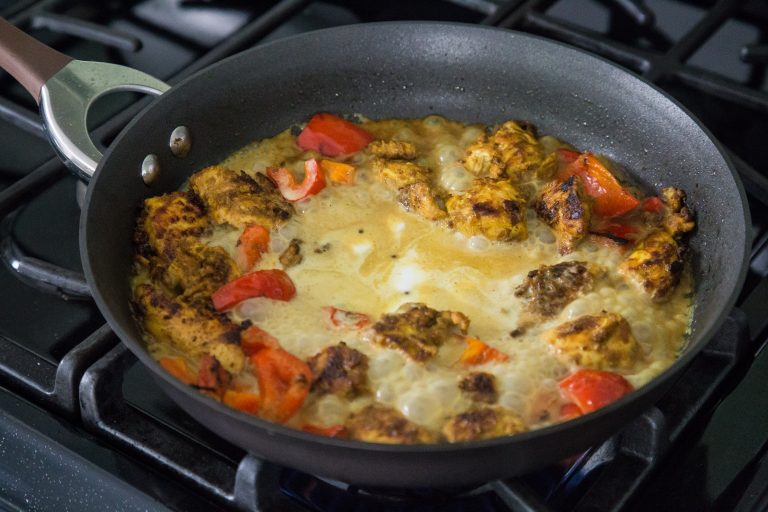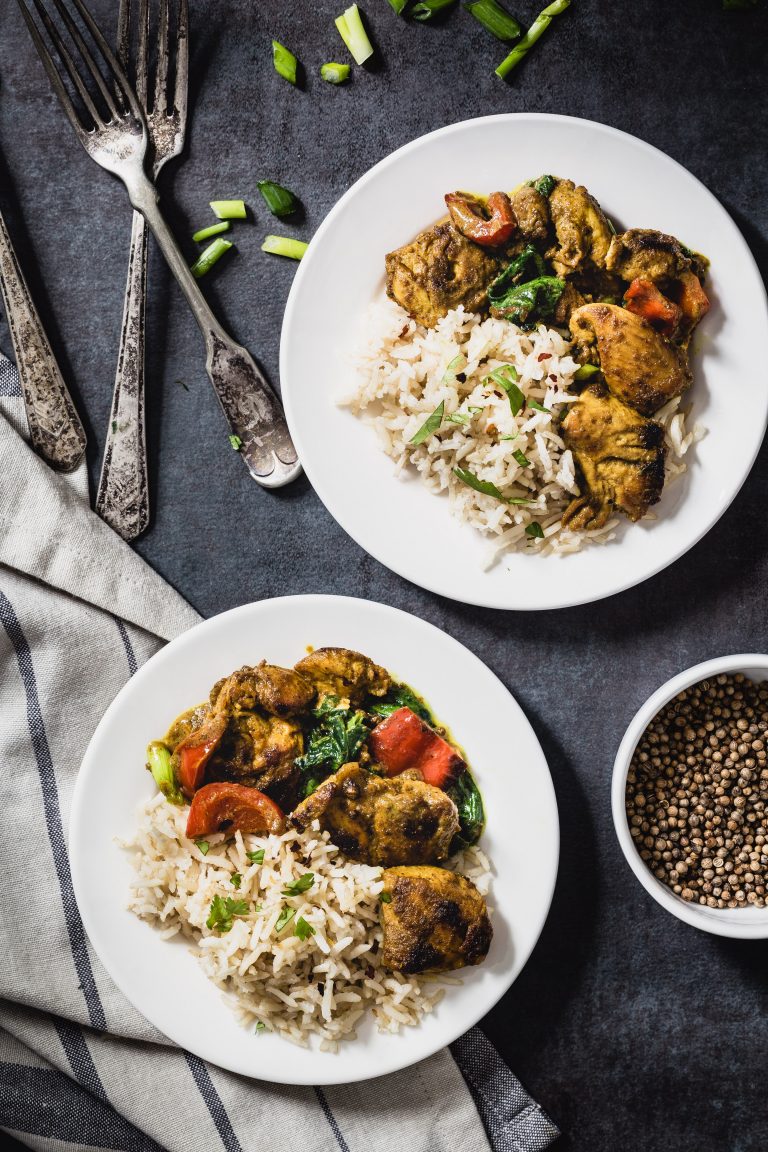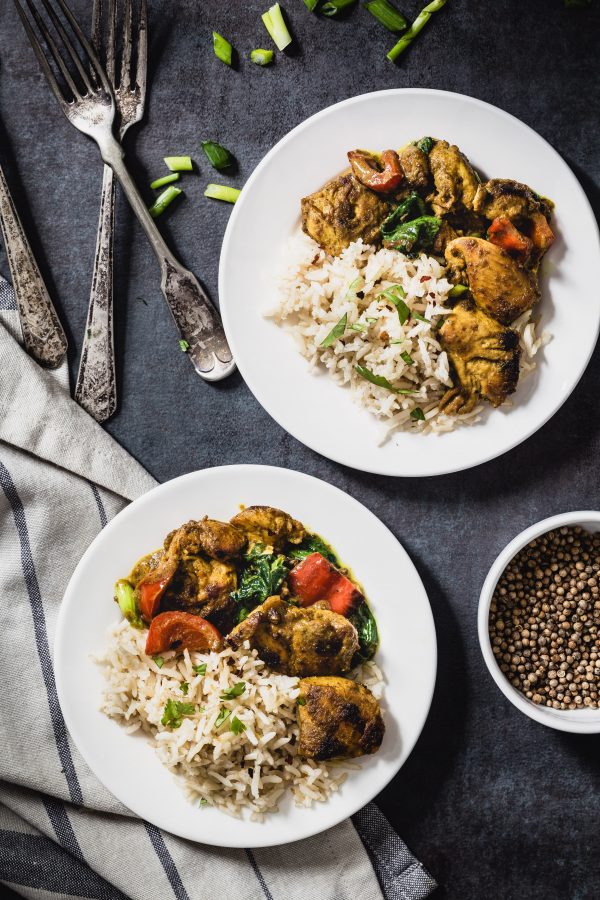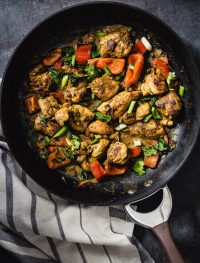 Chicken coconut curry
Yield: 4 servings
Total Time: 20 minutes
Ingredients:
1 lb chicken breast, diced
1 red pepper, roughly chopped
5 oz fresh spinach
6 oz coconut milk
2 tbs olive oil
1/2 tsp celtic salt
2 scallions, chopped
Fresh cilantro
Marinade
Directions:
Over medium to high heat, place the coriander seeds in the skillet and roast until fragrant. About 2 minutes. Transfer them to a mortar and pulverized. Alternatively, you can place the cooled seeds in a zip log bag and pound them with a rolling pin.
Place the powder in a bowl together with the rest of the marinade ingredients. Add the chicken and mix through until all the chicken is coated. Marinade for 30 minutes.
Over medium to high heat place the olive oil in the skilled and at the chicken. Cook on one side for about 3-4 minutes. Turn the chicken over and add the red pepper. Cook the chicken and peppers further for another 3 minutes. Add the coconut milk, salt and cook until the sauce reduces. About 2 minutes.
Turn the heat off and add the scallions, spinach and chopped cilantro. Serve with brown rice or quinoa.
NOTE: You can double the batch and freeze leftovers. You can also use any other protein of choice such as shrimp or extra-firm tofu.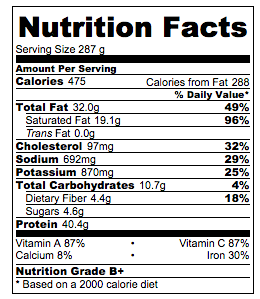 This is a sponsored conversation written by me on behalf of Circulon. The opinions and text are all mine.