Chicken caesar sandwich
I am not much of a poultry eater but when ever I venture to eat chicken it has to be prepared by me. This chicken caesar sandwich was nothing but absolutely amazing. I think one of the best sandwiches I have made to date.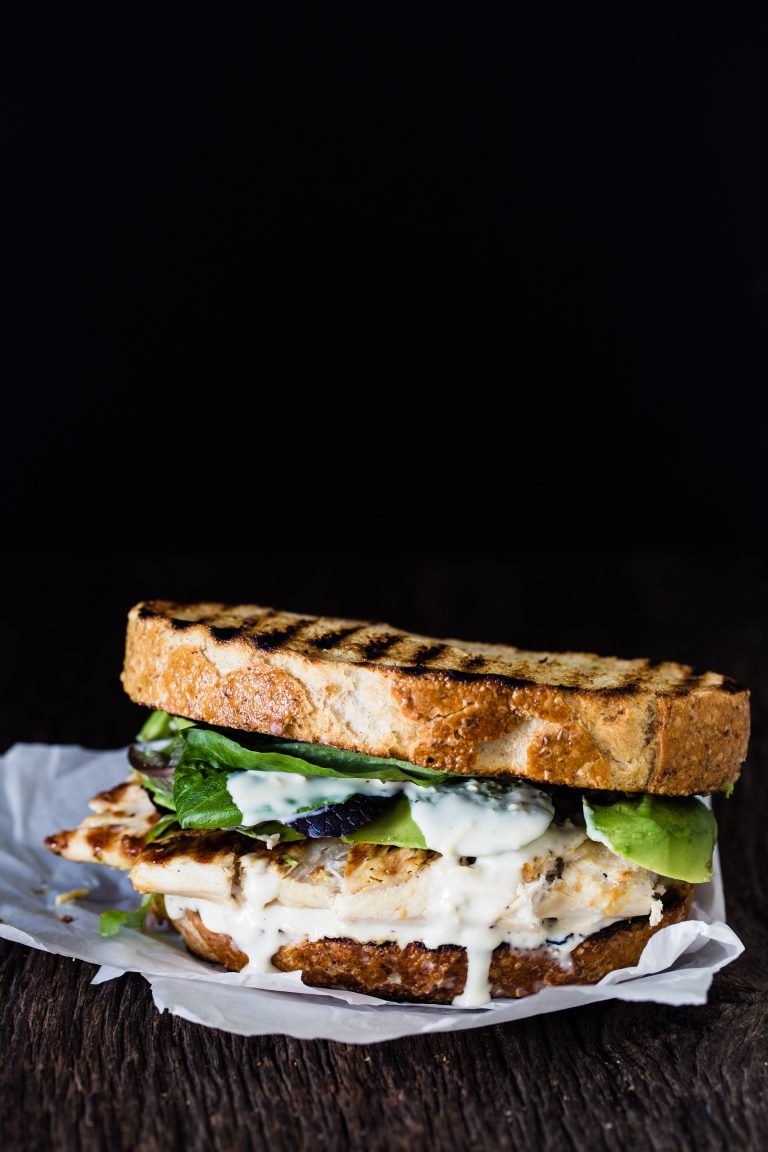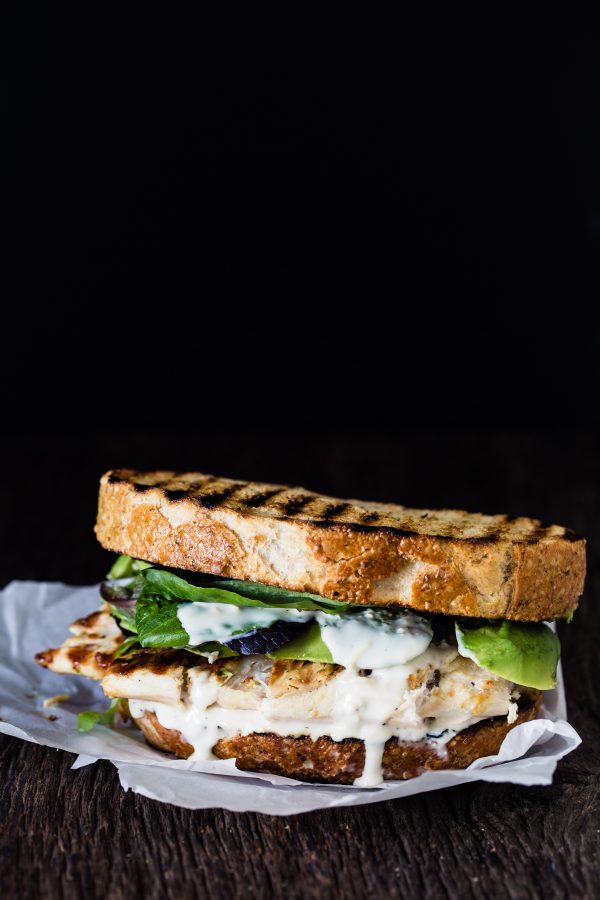 I love making sandwiches especially because they are so convenient and easy to make. Today I wanted to change things up and make something more elaborate and substantial so I decided to make these chicken caesar sandwiches.
These chicken caesar sandwiches came out so good my family wanted me to make them again the following day. I always make sure I keep my recipes on the healthy side and this sandwich was an example. This sandwich was full of protein, fiber, vitamins and minerals. Using Bolthouse Farms Caesar Salad Dressing allowed for the sandwich to be packed with flavor. In addition, by using their products you can lighten up your favorite meals and snacks with these simple swaps. A win win situation.
These sandwiches are also great to pack on the go. They would make an awesome lunch, a healthy meal for a post workout or a light dinner.
The chicken can be prepared two different ways. You can grill it or cook in a saute pan, thus if you don't have a grill pan you can always use a skillet and cook the chicken breasts 3-4 minutes on each side.
You can also use any type of vegetables you like. I used avocado, and fresh greens by you can't go wrong with using your own combo and getting creative.
I know I will be making these chicken caesar sandwiches for time to come. A great quick healthy recipe that I am sure you will like.
Enjoy!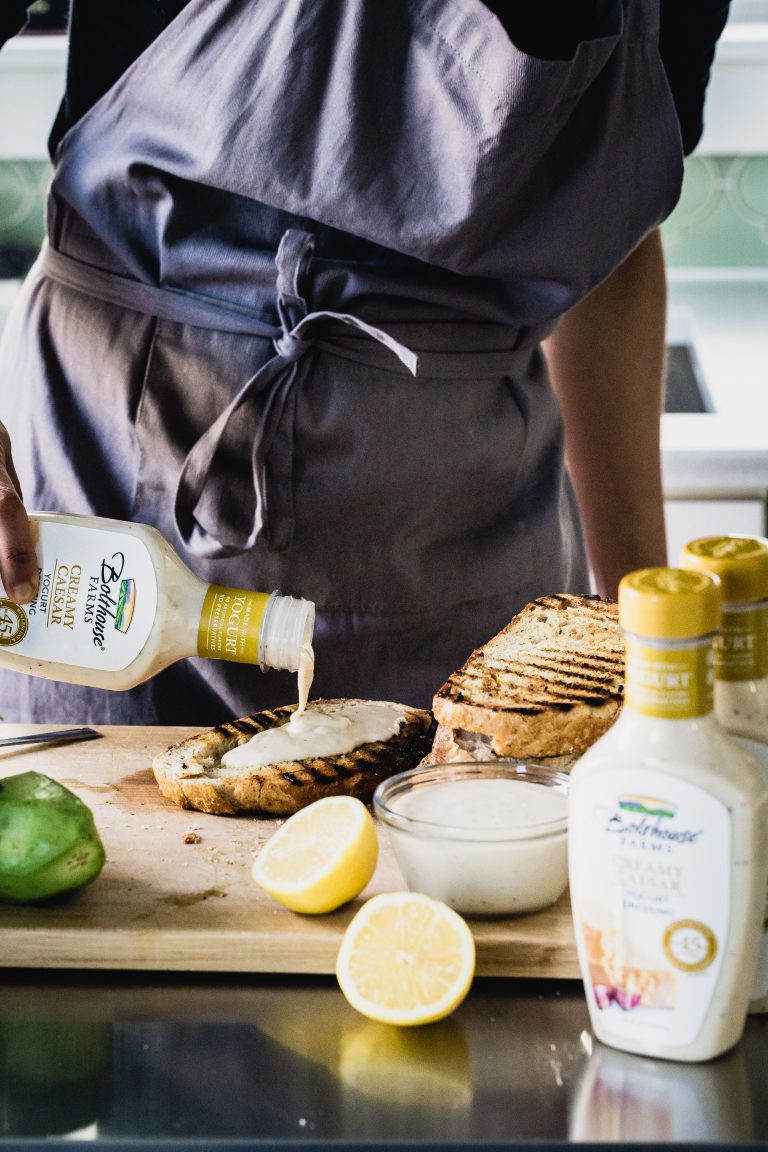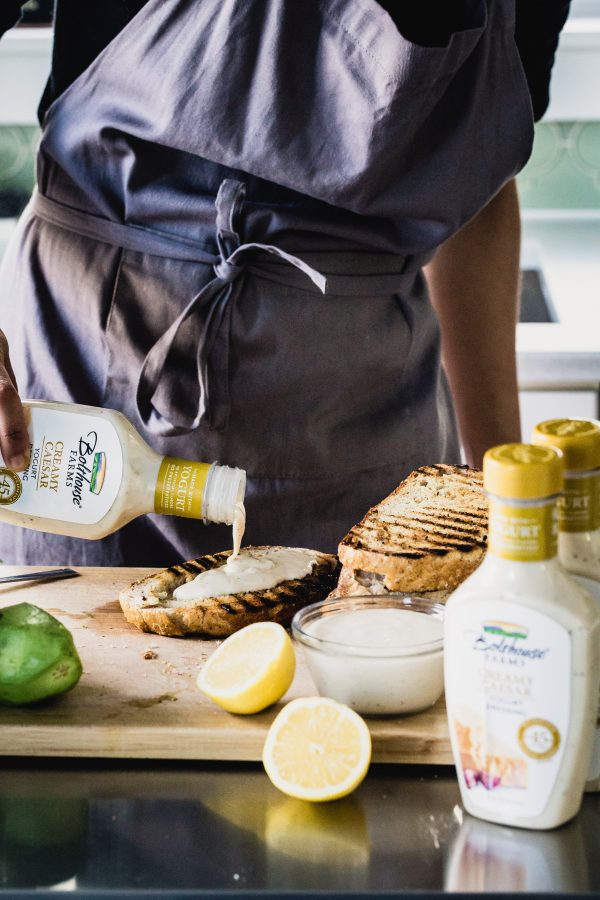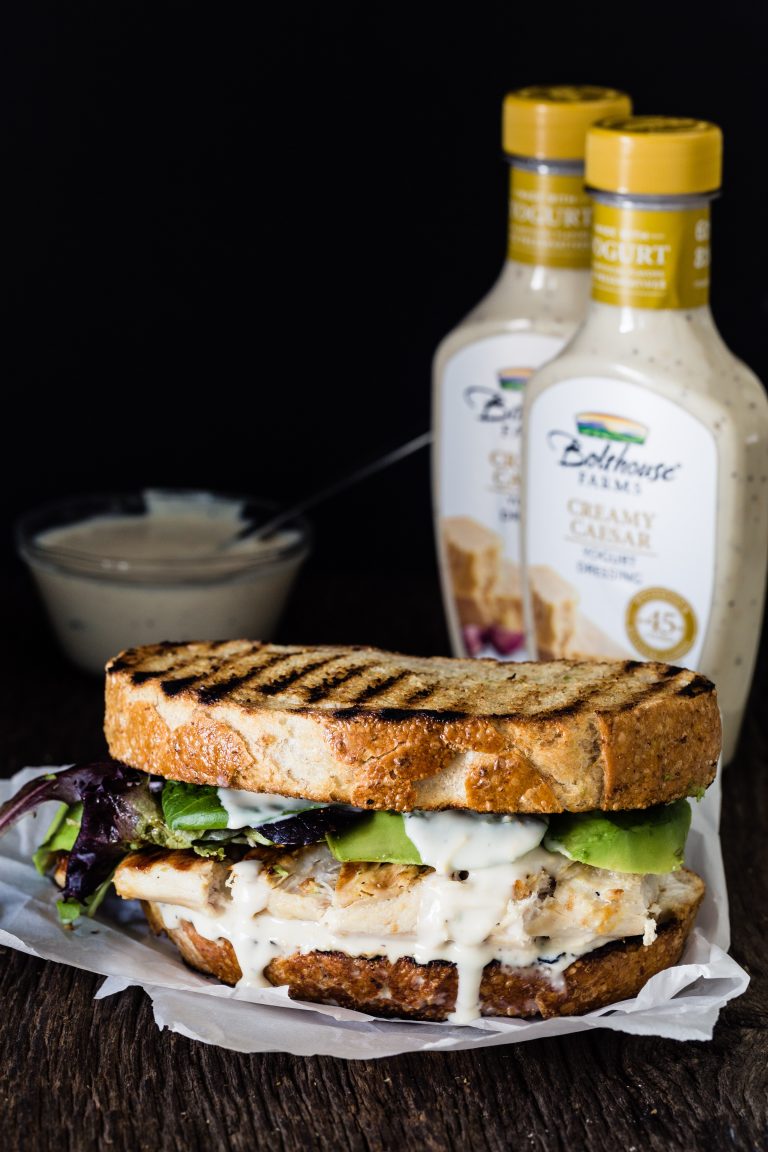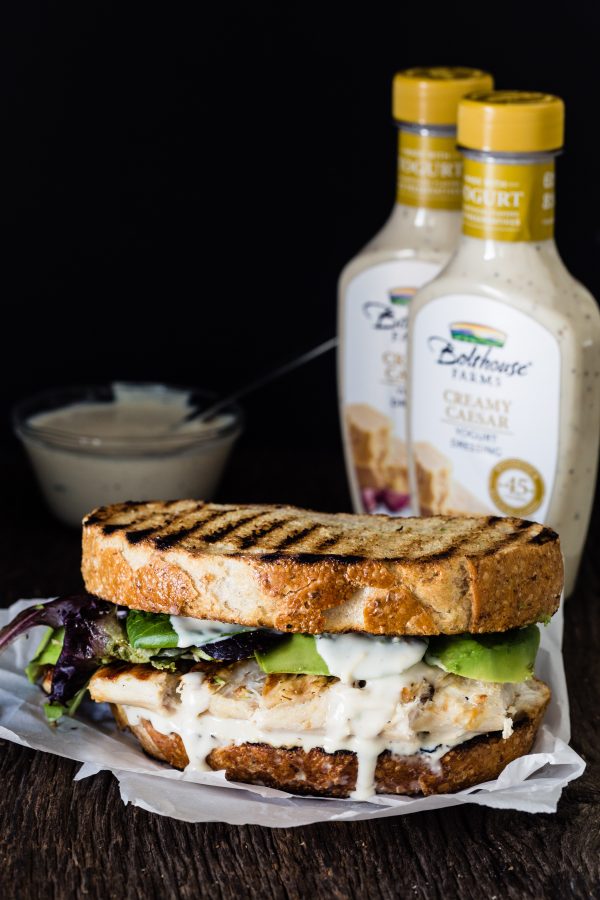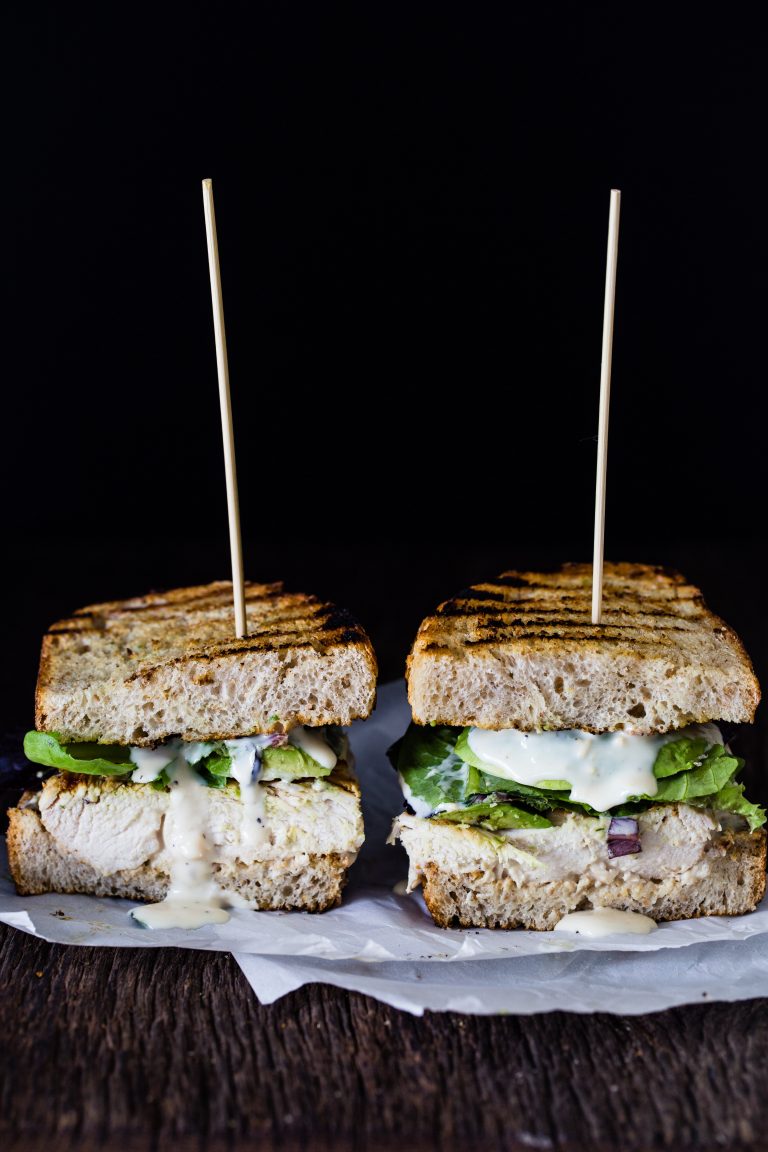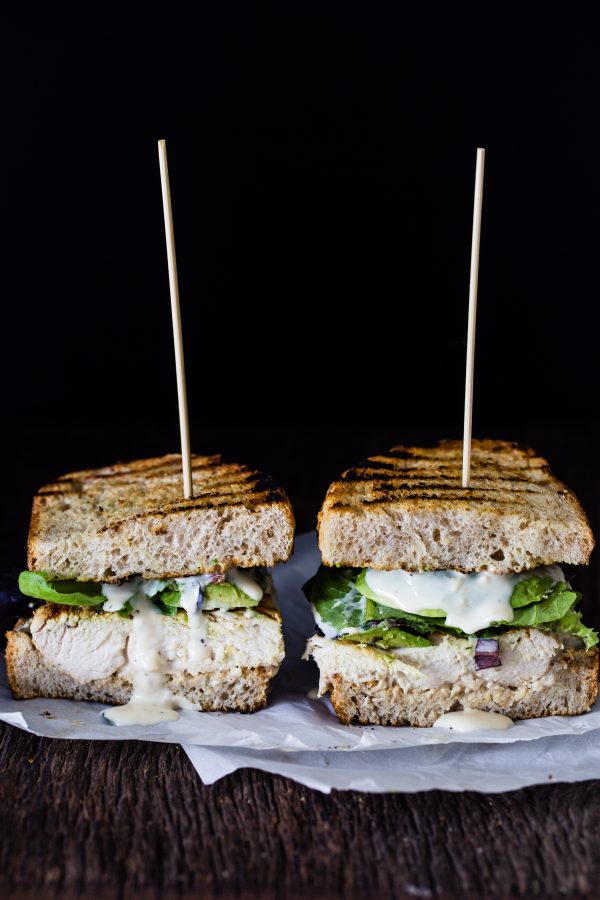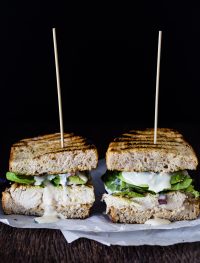 Chicken caesar sandwich
Yield: 4 sandwiches
Total Time: 20 minutes
Ingredients:
4 chicken breast
1/3 cup Bolthouse Farms caesar salad dressing
2 oz fresh green
2 avocados
8 slices whole grain bread
1 tbsp olive oil
Directions:
Preheat your grill pan. Brush 1 tbsp olive oil over each side of the chicken breast. Grill the chicken breast 3-5 minutes on each side depending on thickness. Alternatively you can heat 2 tbsp of olive oil in a medium skillet over medium high heat and cook chicken flipping once, until cooked through.
Let the chicken rest 5 minutes before slicing across the grain.
On the meantime, grill the bread on each side until you see grilled marks and the bread is toasted. Spread 2 tbsp of caesar dressing over one slice of bread. Arrange chicken breast, avocados and greens over 4 slices of bread. Add more caesar salad dressing if desired over the greens and place the other slice of bread.
Serve.