Carrot cake breakfast oatmeal
I love to have oatmeal for breakfast and this carrot cake oatmeal is healthy, gluten free and vegan.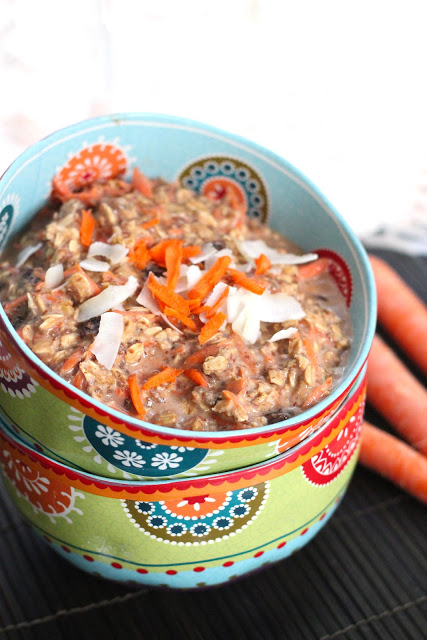 Once again…..another oatmeal breakfast variation…this time, a carrot cake oatmeal, which by the way….IT. IS. AWESOME!!
Anyhow, my son has been asking me to keep making oatmeal for him and since the plain oatmeal won't cut it any more after making the dark chocolate and peanut butter  and apple pie oatmeal, I figured I try a new version.
I have been wanting to make a mix berry oatmeal version as well but the carrot cake variation won so this later one will come to the blog very soon as well, so stay tuned.
There is not much I can elaborate on this carrot cake oatmeal version. You can add more or less of the spices, more or less nuts, more or less raisins etc. This is a very versatile recipe so go ahead and get creative.
I just hope you try to make this because it is truly another sensational variation to a boring plain oatmeal option.
By the way, in case you are wondering, I used my oatmeal recipe from the dark chocolate and peanut butter version and made the necessary adjustments.
Enjoy!!
Here you can see some of the ingredients you will need to make this oatmeal. I think there are a couple missing he he…. but you get the point right?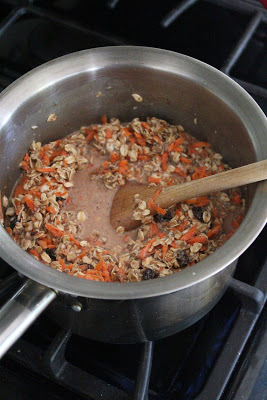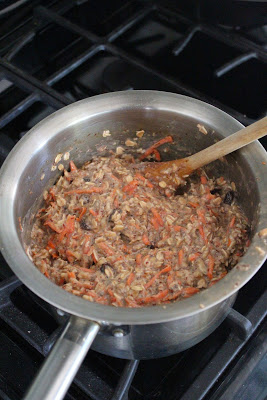 Here you can see the oatmeal before and after being cooked. It took approximately 8 minutes. Make sure you stir in between so that the oatmeal doesn't stick to the pan in the bottom!! You think you like carrot cake? well you better try this carrot cake breakfast oatmeal, you will be blown away!!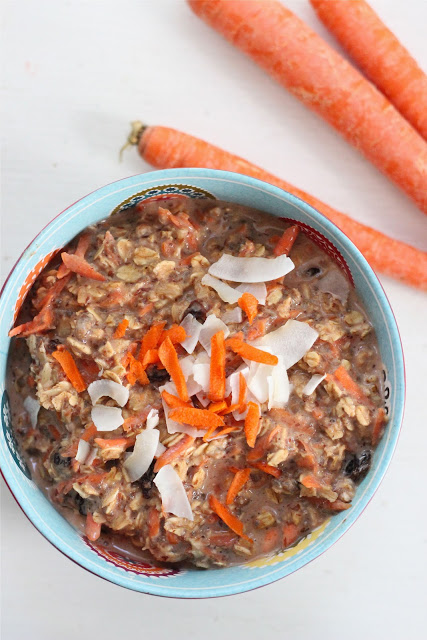 This is simply the best!! Have I said that already? 
If you don't have any chia seeds you can omit them and if you want you can also use honey, brown rice syrup or maple syrup instead of sugar. The oatmeal wasn't that sweet at all so you can make changes according to your taste buds!!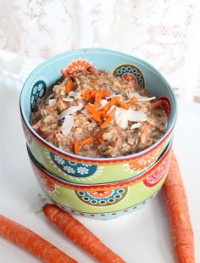 Carrot cake breakfast oatmeal
Yield: 4-6 servings
Total Time: 10-15 minutes
Ingredients:
2 1/4 cups old fashioned oats
3 cups almond milk, regular cow's milk is good as well
1/4 cup coconut milk, if you don't have any use regular milk
4 tbsp maple syrup
1 1/2 cup carrots, grated
3 tsp cinnamon, more if you like
1 tsp ground nutmeg
1/2 tsp ground ginger
1/3 cup raisins
1/3 cup walnuts, chopped
1/4 cup flax seed meal, optional, wheat germ or oat bran will also work well
1 tbsp chia seeds, optional
1 tbsp coconut chips, optional
Directions:
Place all of the ingredients, except coconut chips, in a heavy saucepan and cook over medium to high heat, stirring frequently until it boils. Reduce heat and simmer for 5-10 minutes, or until milk has been absorbed and the oats have softened.
Sprinkle coconut chips over the oatmeal and serve. You may also need a bit more milk.
I have not tried making this in a microwave but I am sure it will also work well as long as you stir in between.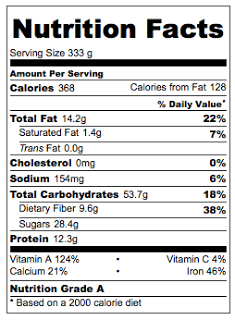 Nutrition facts calculated based on the recipe giving 5 servings. This is high in vitamin A, manganese, fiber and iron.