Caramelized tofu arugula salad with tahini dressing
I have just gotten back from Spain where I spent a week with family searching for my dream land. Upon returning home from traveling I always crave salads and smoothies so yesterday I made this caramelized tofu arugula salad with tahini dressing that was nothing but sensational.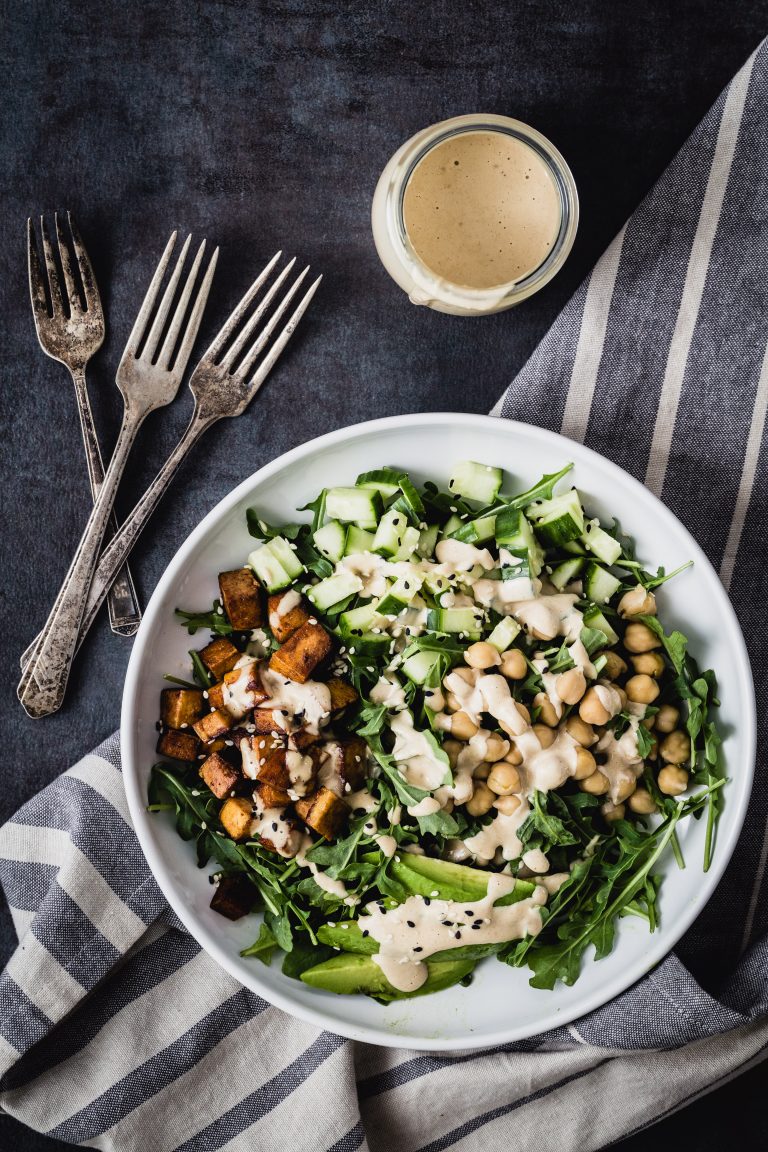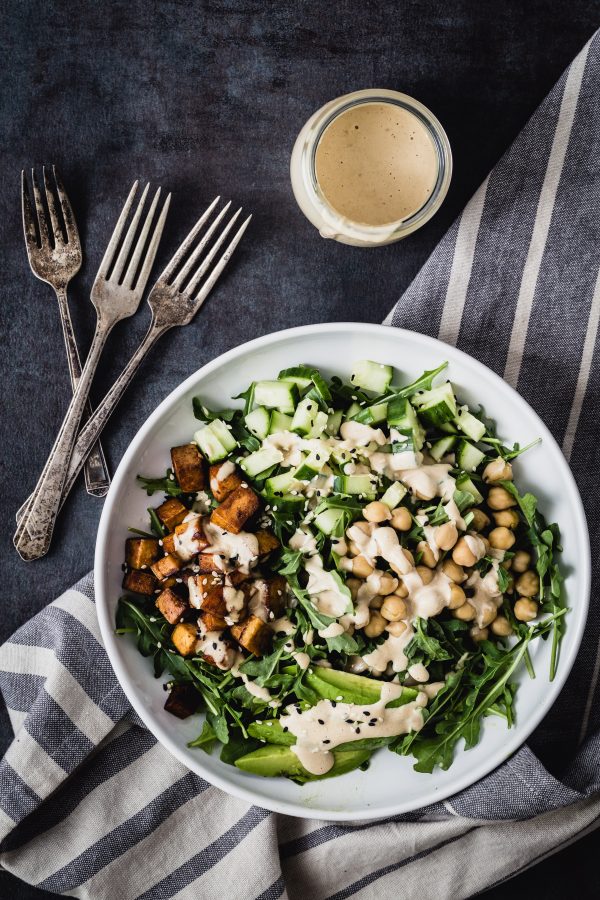 This time, my trip to Spain had a specific purpose. I actually went there to solidify a dream that I have had for quite some time. I actually purchased a piece of land to eventually be able to built a home and retire to my beloved Spain.
I am really proud and extremely thankful to have been able to do this. I have been working really hard for a long time and to be able to do something like this really brings me and my family joy since we all love Spain so much.
Soon I am going to post the beautiful area where I always when I visit Spain. It is an area extremely popular for its wine, food and culture so if you go to Spain I really recommend visiting this region.
Anyways, onto the recipe.
This caramelized tofu arugula salad with tahini dressing was really refreshing and unique. I have had these two huge jars of tahini that I have been wanting to use for ever. Yesterday I was able to make the most simple, tasty dressing with the tahini and in my opinion it was sensational.
I have heard many times how people hate tofu. For me, the trick is to buy extra firm tofu where the consistency is not soft and mushy at all. This allows me to caramelized or saute the tofu prior to adding any other veggies or protein to make it crispy. This my friends makes a huge difference.
For this caramelized tofu arugula salad with tahini dressing you can add any veggies you may like. I love the combo I provided but if you would like to add shredded carrots, onions etc anything goes.
I am excited to get back to my kitchen and keep providing wholesome recipes to you all. I am hoping my second year of PA school is not as hectic.
Anyways, I hope you try this caramelized tofu arugula salad with tahini dressing, if not, the dressing can be used for any other salad recipe of your choice so I hope you get to make it.
Until my next recipe…
Enjoy!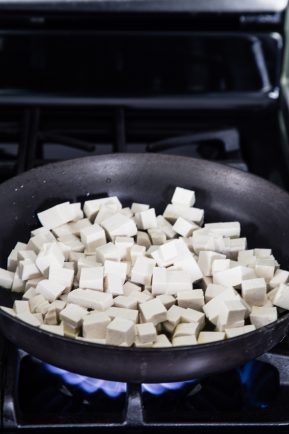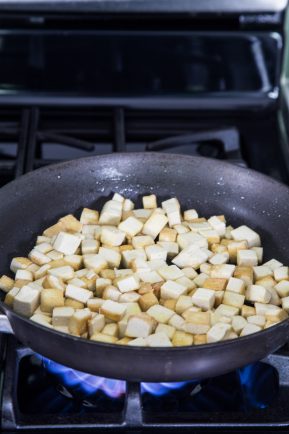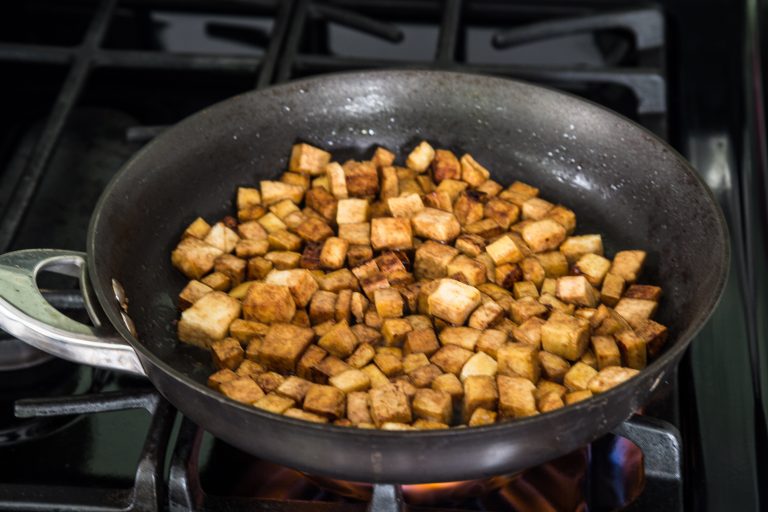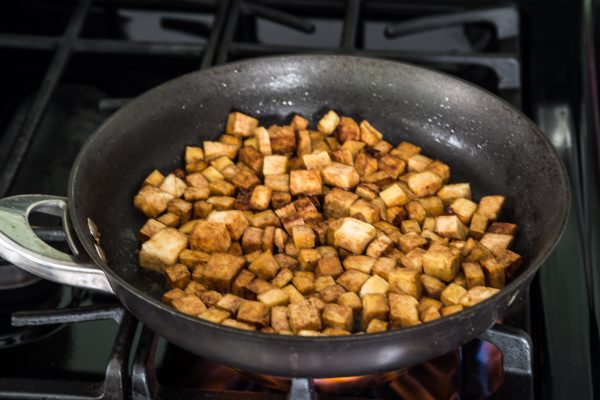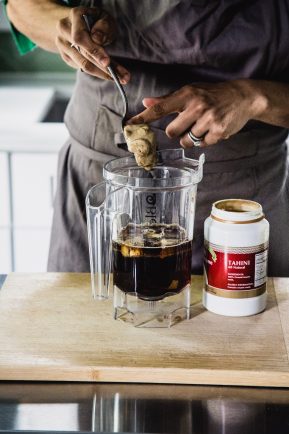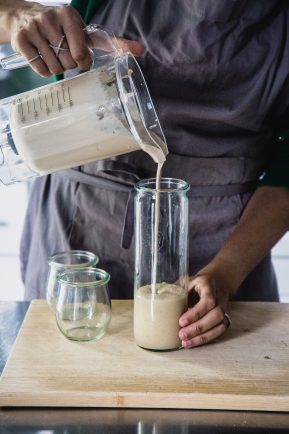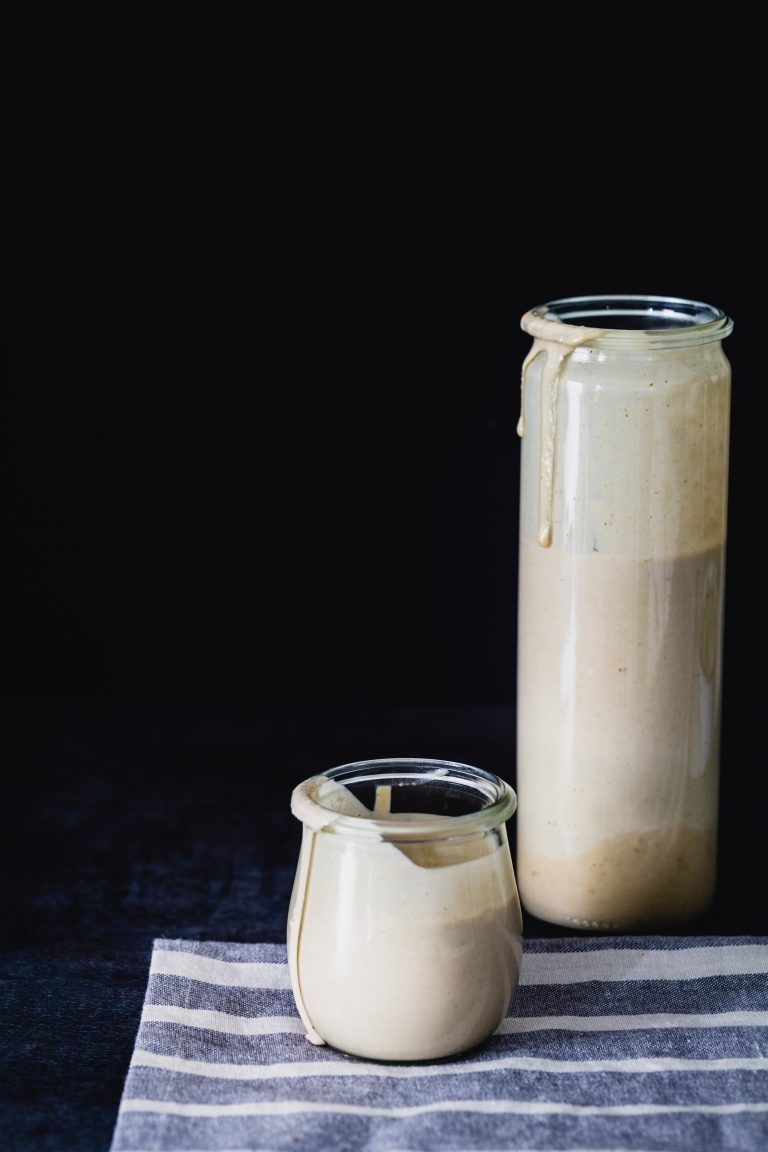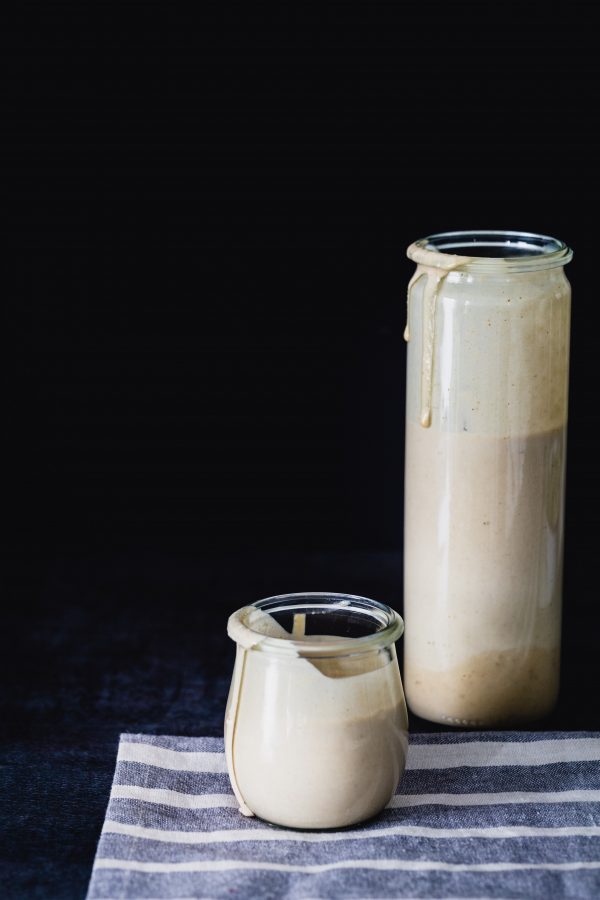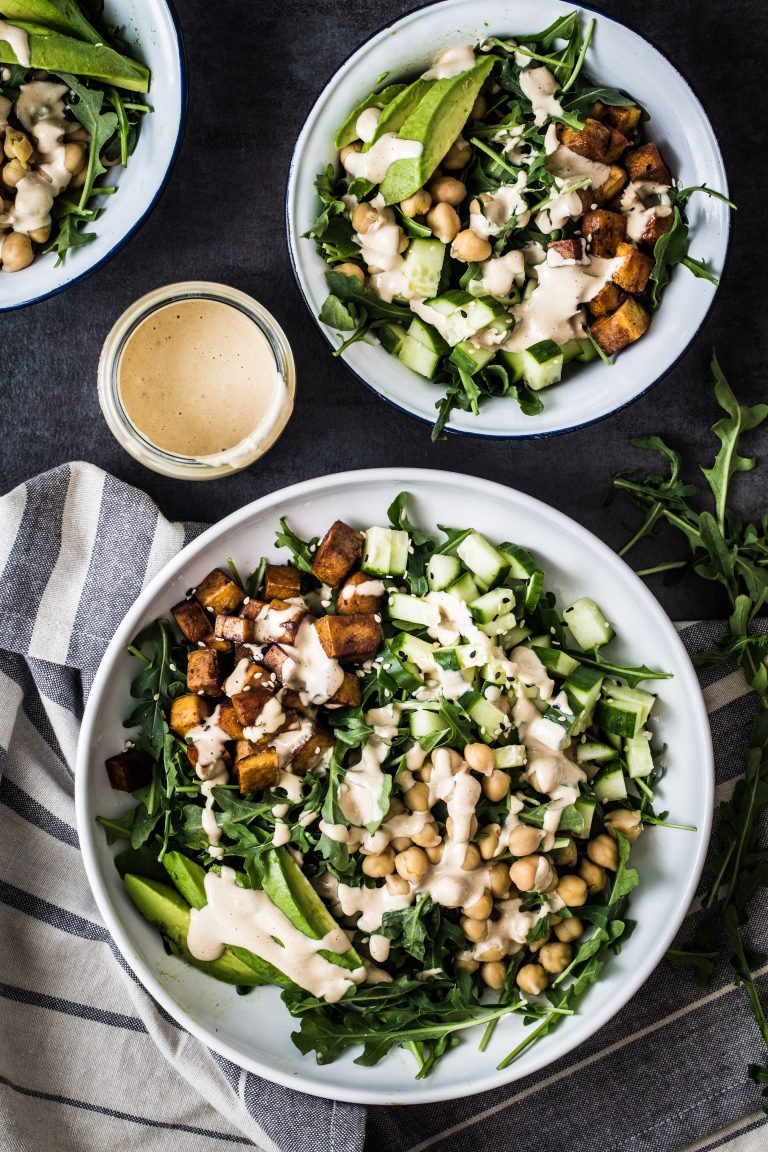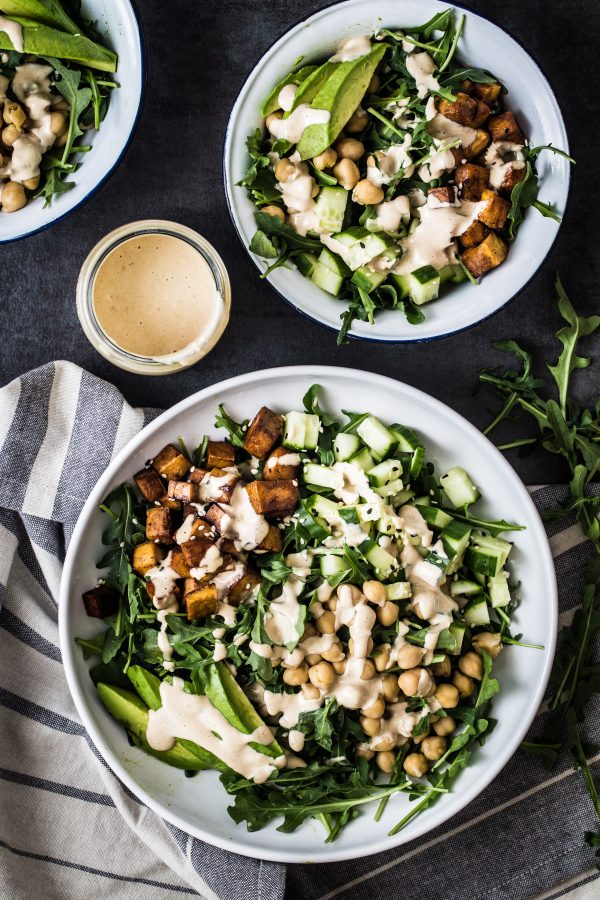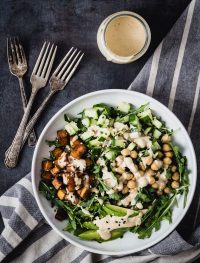 Caramelized tofu arugula salad with tahini dressing
Yield: 4 servings
Total Time: 15 minutes
Ingredients:
16 oz extra-firm tofu, cubed
7 oz fresh arugula
15 oz chickpeas
1 large cucumber, chopped
2 large avocados, chopped
1 tbsp sesame seeds, optional
2 tbs olive oil
1/4 cup low sodium soy sauce
Dressing
Directions:
In a non-stick pan, over medium to high heat, add the oil and cubed tofu. Cook for about 3-5 minutes stirring occasionally until it begins to brown.
Add the soy sauce and cook further for about 1-2 minutes until the tofu begins to caramelized a bit. Place in glass jars and set aside.
For the dressing, place all the ingredients in a blender and blend until smooth. Set aside.
To assemble the salad, in 4 plates divide the arugula. Topped each plate with cucumbers, chickpeas, sliced avocado and cooked tofu. Add 3-4 tbsp of the tahini dressing and sprinkle some sesame seeds.
NOTE: If the dressing is still too thick for your liking you can add more water. You will also have left over dressing. It will last for 1-2 weeks in the refrigerator.