Candy bars-gluten free and vegan
Holy cow these candy bars are the absolute bomb, gluten free, vegan and no so bad for you.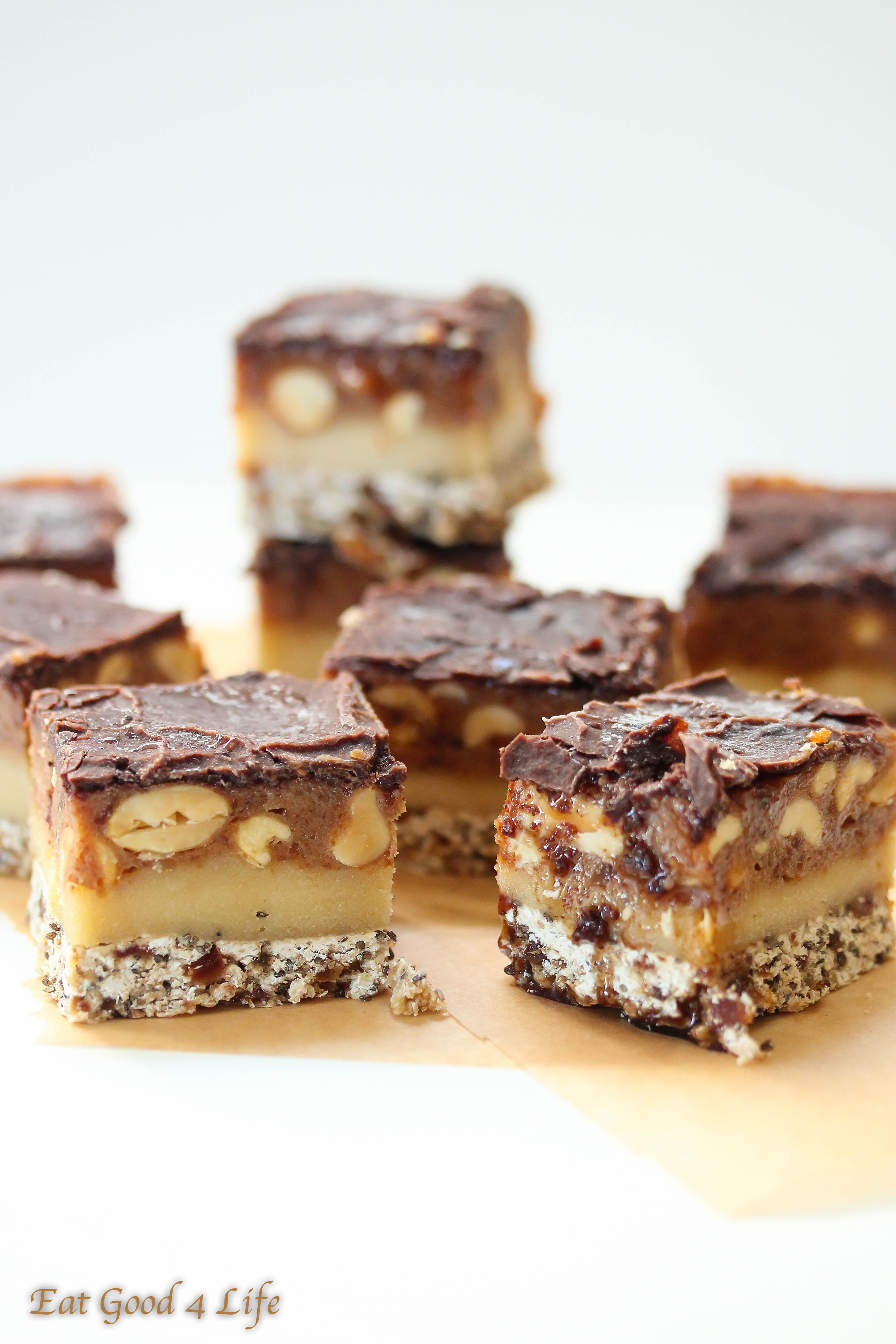 I literally should have quadrupled the batch of these candy bars when I made them last week. Holly molly where they the best… They were sensational to say the least but at the same time dangerous since stopping at just one bar was rather difficult for me…what the heck, I think I have to make them again this weekend!
Have you used dates for making desserts before? If you haven't you really should give it a try. I started not too long ago. Probably about a year ago to be exact. Not only dates are a healthier option to use in place of unrefined sugar, but they are extremely versatile. Give dates a try, I think you will love them too.
On another note, for the first time ever I am started to cook most of my meals for the week on Sunday. I started summer school and since my schedule is super crazy including study time, gym, picking the kids from school, kids activities, running small errands etc, I hardly have enough time to fit everything in anymore. I really had to device a plan to cook most of my weekly meals during the weekend with the exception of perhaps one.
Last Sunday I cooked five meals in record time. One hour to be exact. Of course I was cooking like a mad woman but the amount of cooking time that I will be saving during the week would be priceless. Will see how it goes this coming Sunday because today I spent $300 on groceries. I have never spent that kind of money in just one grocery trip before. Oh well, it was really good quality food.
Anyhow, I think if you are new to dates, or are thinking about giving them a try, this is the recipe you need to make. You would love the end result. Just make sure you keep these candy bars in the freezer and thaw for 5-10 minutes before digging in.
I truly hope you like these candy bars. Let me know if you don't, however, I doubt that :-)
Enjoy!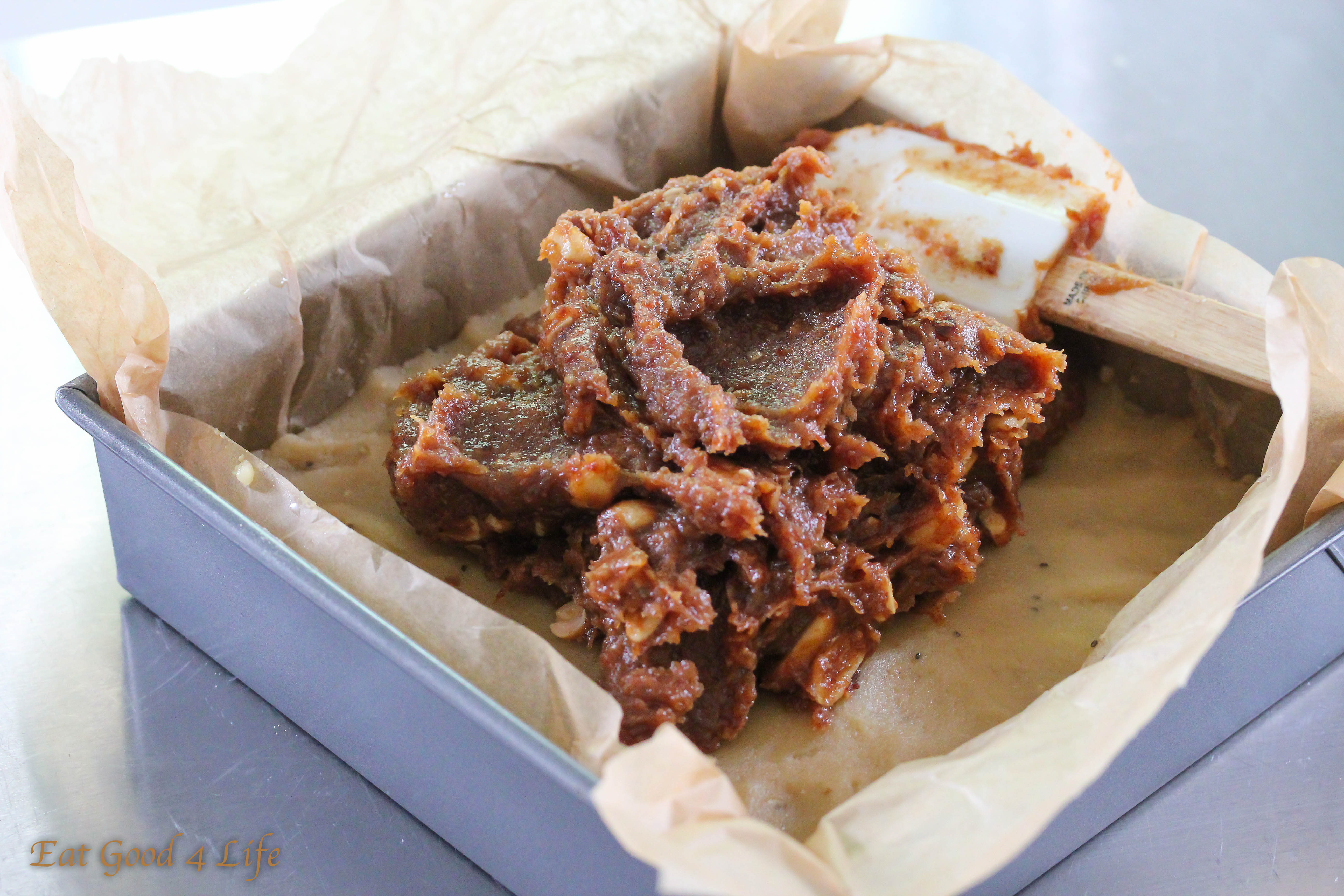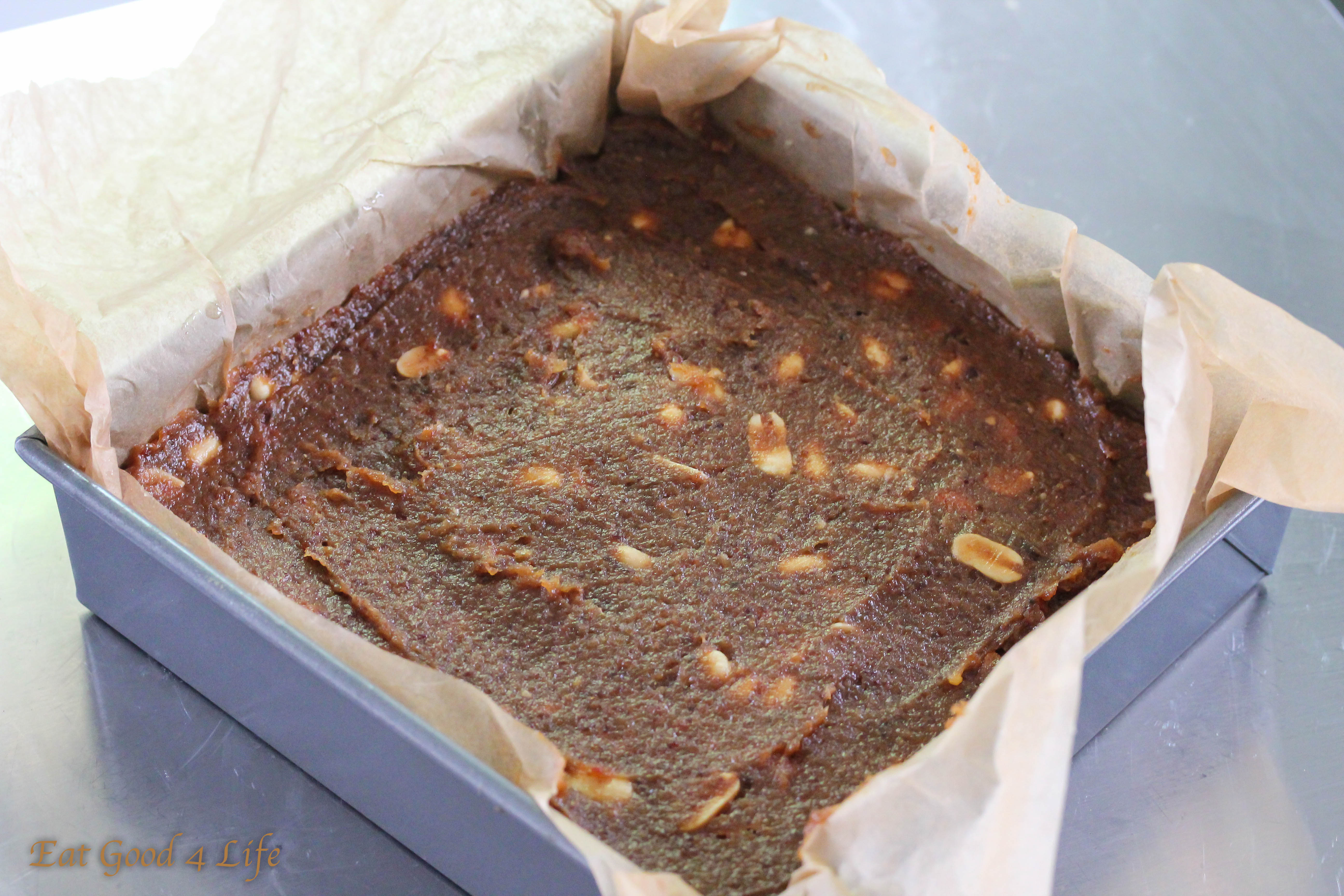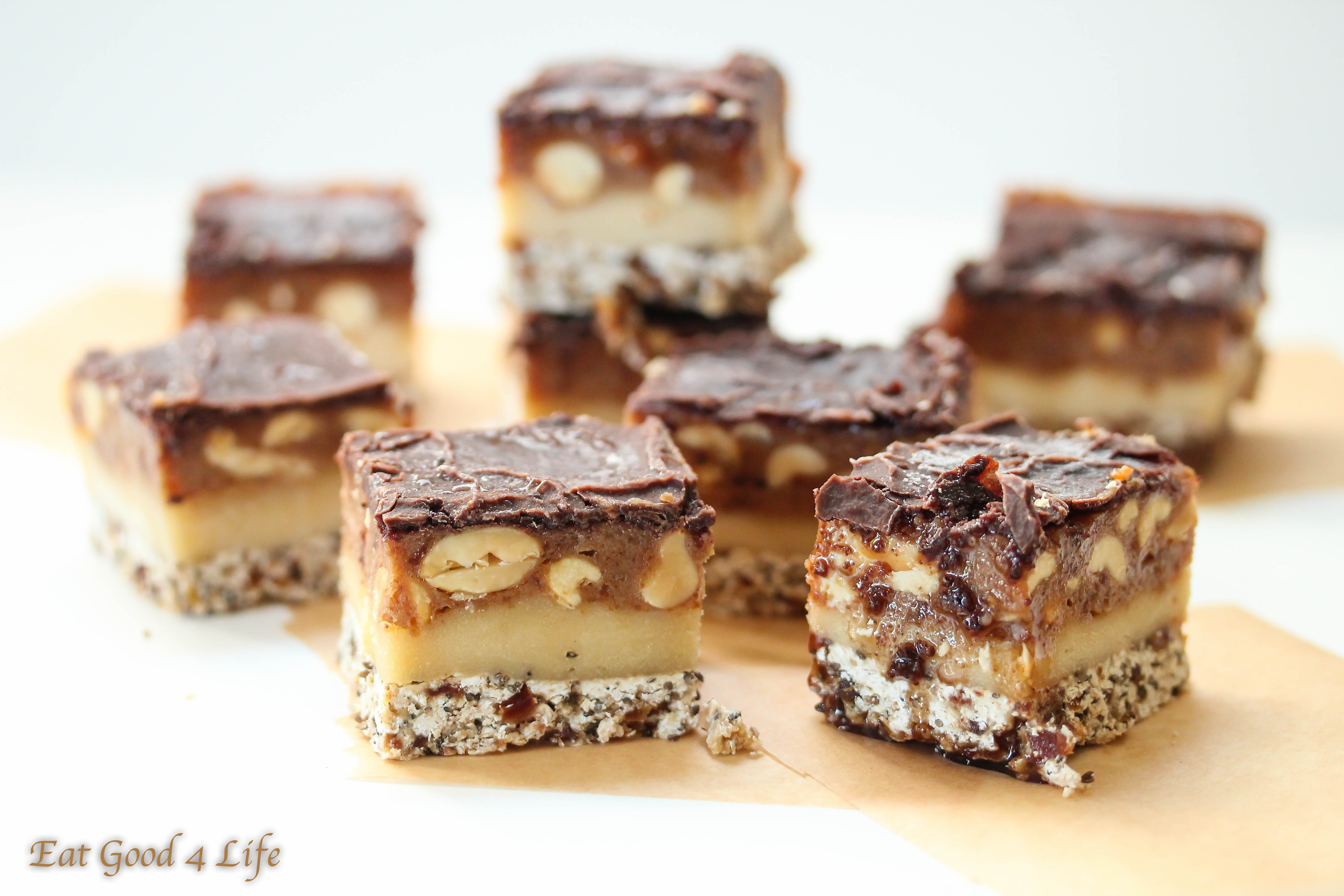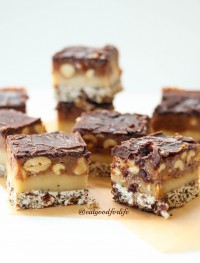 Candy bars-gluten free and vegan
Yield: 16 bars
Total Time: 25 minutes
Ingredients:
Crust
2 cups old fashion oats, Gluten Free
3 tablespoons coconut oil
2 tablespoons almond milk
1 cup pitted prunes or dates
1/4 cup chia seeds
Middle Layer
1 cup almond flour
1/3 cup almond milk
1/3 cup maple syrup
Caramel Layer
2 cups pitted dates
1/2 salted peanuts
2-3 tbsp water
1/2 tsp celtic salt or Himalayan salt
Top Layer
Directions:
Line a 8x8 square baking pan with unbleached parchment paper and set aside.
In your food processor add the crust ingredients. With a spatula, press the mixture onto your prepared baking pan.
Place the middle layer ingredients in the food processor and pulse until the ingredients come together. It will look like pizza dough. Press this mixture over the crust. I used my fingers, however, it is a bit sticky.
Place the caramel layer ingredients in your food processor. Pulse until you obtain a spreadable mixture just like in the pictures. You may have to add a tad more water if it is not a spreadable consistency. Add the chopped peanuts to the caramel layer and with a spatula spread the caramel mixture over the middle almond layer.
Place the top layer ingredients in a microwavable dish and microwave for 30 seconds intervals until the coconut oil as melted and the ingredients are liquified. Spread this mixture over the caramel layer and freeze until set. About 3-4 hours.
Take the mixture out of the square pan and cut into squares. Keep candy in the freezer and thaw for 5-10 minutes before eating.
NOTE: If your dates are a bit dried when you make the caramel layer you can soaked them up for 10 minutes before placing them in the food processor. My dates were quite soft and moist so I didn't have to do this step.