Cajun Chicken Jambalaya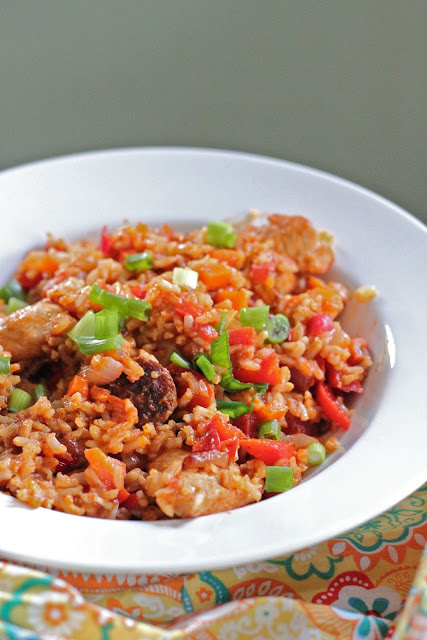 I found myself making this Cajun chicken jambalaya after making the home made Cajun seasoning a few days ago. It was really yummy although a bit of a pain in the neck with the sauteing of the chicken….the oil kind of got everywhere…..oh well the end result was excellent so well worth all of the oil splatering :-)
This dish is extremely versatile, one of my favorite things. If you want you can add any other veggies, omit the chicken and perhaps make it with seafood or just simply keep it vegetarian by just adding veggies.
Now that I have home made Cajun seasoning I will be making this often varying the protein in the dish.
I hope you are having a good start of the year, until my next post…..
Enjoy!!
Here you can see the veggies, the chicken and the rice being mixed in right before adding the chicken stock. I first added about 5 cups of the chicken stock but found myself I had to still add at least one more cup for the rice to finish cooking!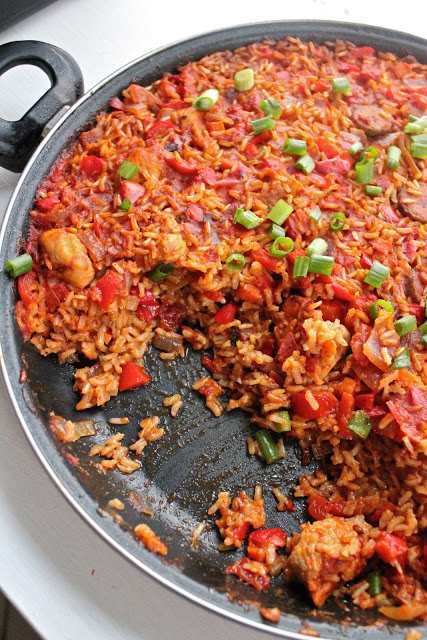 This was my first serving and after feeding 4 1/2 people there were no leftovers :-)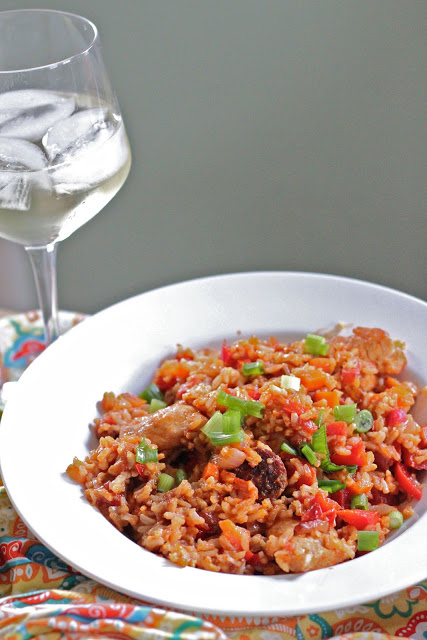 I had my Cajun chicken jambalaya rice with a huge cup of Moscato wine….just my favorite wine since it is sweet ;-)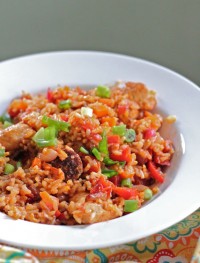 Cajun Chicken Jambalaya
Ingredients:
6-8 tbsp olive oil
4 cloves of garlic, minced
1 onion, chopped
2-3 peppers. chopped
2-3 carrots, chopped
1 lb chicken breast, pieces, I always use organic chicken
1 lb chicken sausage, chopped
2 cups whole grain or brown rice
2-3 tbsp Cajun spices
1 14.5 oz can chopped tomatoes
5-6 cups chicken stock
2-3 green onions, optional
Pepper flakes, optional
Directions:
Over medium heat, heat the oil in a large pan and add the chicken and chicken sausage (the chicken sausage will cook rather fast so remove it from the pan after 2-3 minutes, just when you see that it has browned).
Keep cooking the chicken for another 2-3 minutes. Add the onion, chopped peppers, carrots and garlic and cook for another 5 minutes. Add the chopped can tomatoes and cook for another 1 minute.
Add the rice and stir. Add the Cajun spices and mix in well. Add the chicken stock and bring to a simmer, then turn the heat down to medium-low. (At this stage I added 5 cups of chicken stock but had to add another extra cup to cook the rice further)
Once the rice its almost cooked add the chicken sausage and finish cooking the rice, it took me about 30 minutes. Turn of heat and let the rice rest for 10-15 minutes before serving. Add salt and pepper to taste and sprinkle the green onions and pepper flakes if using.