Butternut squash barley salad
Here you have it, butternut squash barley salad, another salad using butternut squash. I told you I was obsess with this ingredient and there is still another salad recipe using butternut squash to come so stay tuned!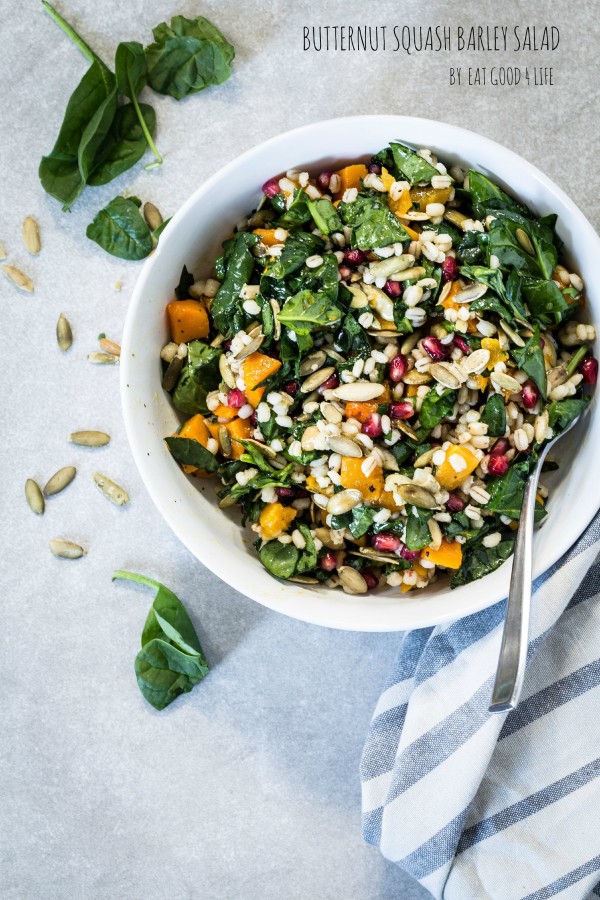 I know the holidays are just around the corner. For thanksgiving I am planning on having at least three vegetarian side dishes. One of them is going to have butternut squash of course, the other two, well, it is still on the works. I just haven't decide yet.
This coming Sunday, two days from now, I am going to post one of the recipes that I will be serving for Thanksgiving. It is going to be a healthy vegetarian casserole so I suggest you stay tuned for that recipe. I really think you are going to love it.
For this butternut squash barley salad recipe I used butternut squash that was already chopped. I have been buying it this way to save time. The only thing I have to do is coat it with a little bit of olive oil and roast for 15 minutes. That is it!
For this salad I also used barley, however, you can use any type of grain you like. Barley is not gluten free so if you need a gluten free option quinoa will work as well.
Also, for the salad dressing, I used simple extra virgin olive oil and rice wine vinegar. This is the vinegar I always use to make salad dressings. I believe any other salad dressing will work as well so if you want to get creative be my guess!
Well, I am still really busy trying to develop more healthy recipes for you guys. Lately I have been into salads so I hope you like the few I have posted so far.
Enjoy!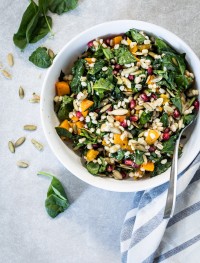 Butternut squash barley salad
Yield: 6 servings
Total Time: 30 minutes
Ingredients:
2 lbs butternut squash, chopped
1 1/2 cup dried barley, uncooked
6 oz fresh spinach, chopped
1/3 cup pumpkin seeds
5 oz fresh pomegranate seeds
2 tbs olive oil
pinch black pepper
pinch celtic salt
Dressing
1/3 cup rice wine vinegar
1/4 cup extra virgin olive oil
Directions:
Preheat oven to 400 degrees Fahrenheit.
Place the butternut squash, olive oil and pepper in a baking sheet and coat the butternut squash with the olive oil. I use my hands for this step. Roast in the preheated oven for 15 minutes and cool.
On the meantime, cook the barley. I do this in my rice cooker. Let the barley cool once it is cooked.
In a large bowl add the cooled butternut squash and barley and the rest of the salad ingredients including the olive oil and vinegar. Combine well and serve.