Buffalo and cheese oven fries
Buffalo and cheese oven fries anyone? I am in love with these oven fries. So easy and just sensational.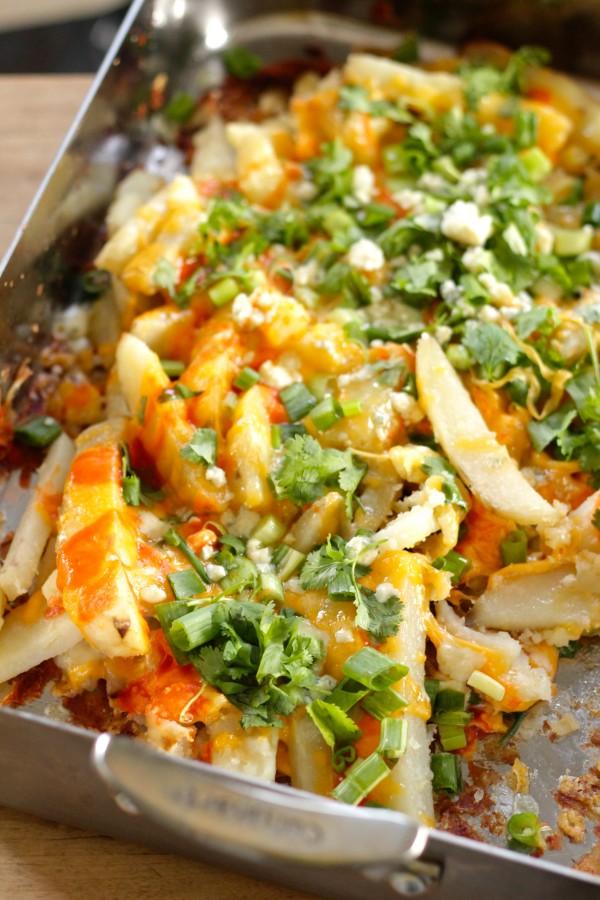 What can I say about these sensational Buffalo and cheese oven fries? Not much. The only thing I can say to you is, do yourself a favor, and make them NOW!!
I think the combination is just spectacular. Who wouldn't want to eat them right?
I actually made a minor mistake and got any organic potatoes I could find at the store. This recipe calls for russet potatoes, however, I used a different kind.
The reason why I point this out is because while my potatoes where baking away I noticed that they where getting a bit mushy. You see, you have to stir the potatoes around once or twice while baking to make sure they cook evenly, so the second time I did this I noticed I got the wrong potatoes.
Oh well, all in all the potatoes where awesome. I got no complains, however next time I will remember to get the correct kind of potatoes.
Also because my kids were going to eat them I didn't load them with buffalo sauce or Gorgonzola cheese. I just did on my own serving!
I actually paired these Buffalo and cheese oven fries with some homemade chicken nuggets. My kids were static to have this for dinner. Chicken nuggets and oven fries is not something that I whip for dinner t0o often!
I hope you guys get to try these Buffalo and cheese oven fries. I think your family will love you for them. You will be very please having this for dinner!
Stay safe and enjoy!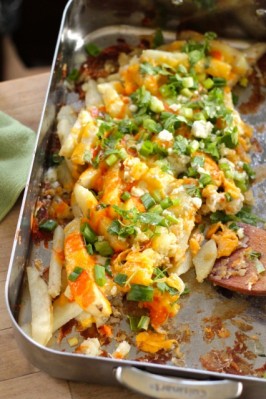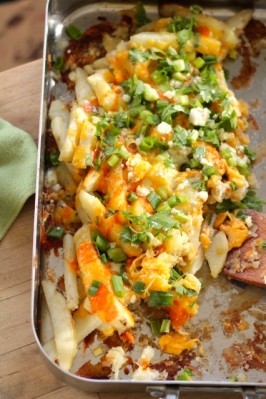 I used a very large roasting pan. I recently got it, and I just love it. If you don't have one just use two large baking sheets.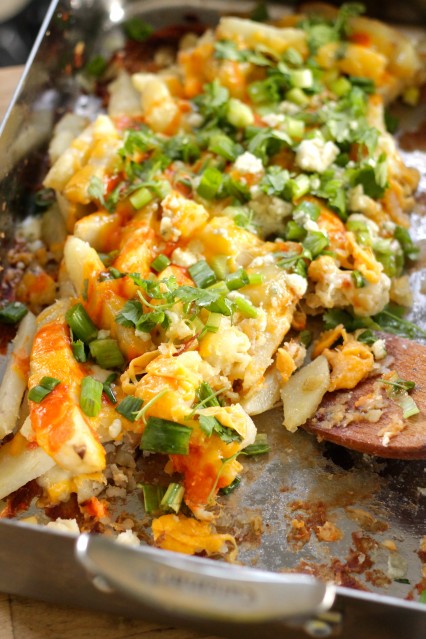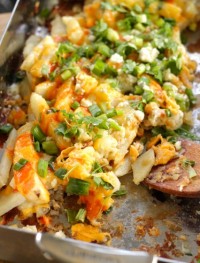 buffalo and cheese oven fries
Yield: 6 servings
Prep Time: 15 minutes
Cook Time: 1 hour
Ingredients:
5 pounds organic unpeeled russet potatoes, cut into wedges
4 Tbsp olive oil
1 cup buffalo wing sauce
10 oz freshly grated sharp cheddar cheese, I used a mixture of them
4 oz crumbled Gorgonzola cheese
6 green onions, sliced
fresh cilantro, chopped
Recipe adapted from how sweet eats
Directions:
Preheat oven to 425 degrees F.
Place potatoes in a large baking sheet or roasting pan in one layer. Roast for 30 minutes, then flip and roast for 30 minutes more. You want the potatoes to be sort of golden and crunchy on the outside.
Remove potatoes from the oven and switch on your broiler to the highest setting. Drizzle a bit of wing sauce over the potatoes and sprinkle both cheeses evenly over the top. Place under the broiler for 2-3 minutes, until cheese is bubbly and golden. Remove immediately and pour the rest of the wing sauce. Sprinkle the scallions, chopped cilantro and more cheese if you like.
Serve while they are still hot.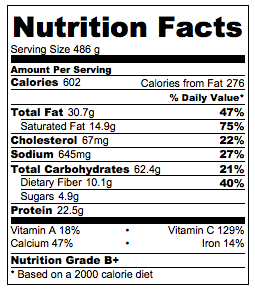 Nutrition facts calculated based on the recipe giving 6 servings, if you are lucky!!