Brownie Pie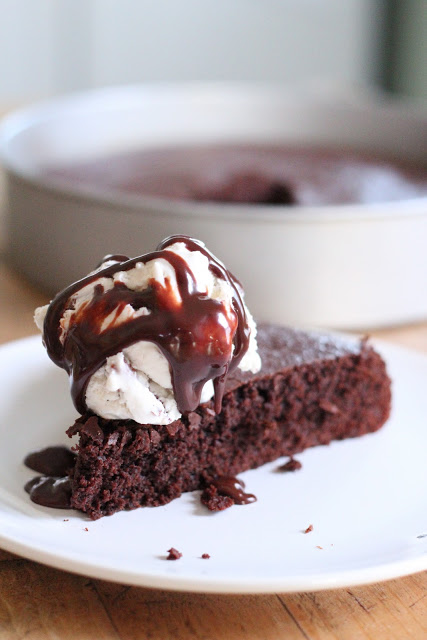 Some of my follower friends know that I live in NJ, right on the other side of the water from NYC. It has been extremely cold the pasts few weeks and I really can't take this weather much longer……..it is way too extreme for me…..I think I have had it with the snow and extreme temperatures.
Is spring near?……
Anyhow, I have been craving some sort of warm chocolate dessert lately so I figured I could make brownies. I came up with brownie pie…..yum….yum….
I must say that I really love this brownie pie. Not only because it is super simple to put together, like many other desserts that I have made, but because it is really tasty and moist. I skipped the nuts this time around but next attempt will include the nuts, perhaps some walnuts.
It is good by itself or with some ice cream and chocolate sauce, as in the picture. I am sure it would also be just as good with caramel sauce. Either way, you can't go wrong with this one. You may choose another type of baking pan if you prefer. It is a pie so I figured a 9 inch cake pan would do.
Let me know if you try it.
Enjoy!
It is just like brownies. Moist, chocolaty and divine to say the least :-)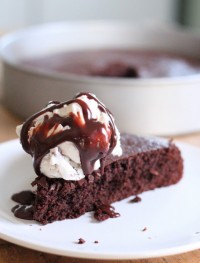 brownie pie
Yield: 8 servings
Total Time: 35 minutes
Ingredients:
1/2 cup unrefined sugar
3 tablespoons olive oil, canola oil will also work
4 tablespoons water
2 organic eggs
1 1/3 cup dark chocolate chips
2/3 cups whole wheat pastry flour
1/4 teaspoon baking soda
1 teaspoon chocolate extract, vanilla extract will also work
3/4 cup walnuts, optional
Directions:
Preheat oven to 350 F. Grease and flour a 9 inch pie baking plate.
In a sauce pan, at low heat, mix water, oil and chocolate chips stirring occasionally. Remove from heat right before all the chocolate as melted and continue to stir until all the chocolate melts.
Add eggs and sugar and beat until combined. Add flour, baking soda and extract and nuts if desired.
Bake for 25-30 minutes or until almost set.