Broccoli quinoa salad
Now that the weather is getting warmer I love preparing quick healthy salads. This broccoli quinoa salad, gluten free and vegan, is refreshing and perfect for on the go as well.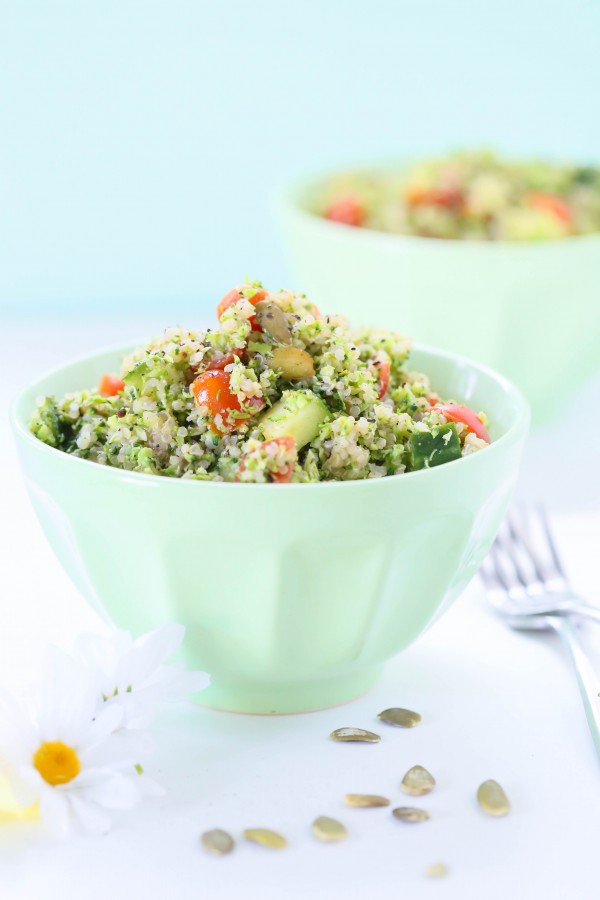 Have you tried to make broccoli rice before? It is extremely easy, delicious and healthy. If you like broccoli this is a different way to prepare it, a great way by the way. Since making this broccoli quinoa salad I have made this recipe already three times. I love preparing broccoli this way now.
I have incorporated it into a rice dish and it was great. My kids loved it. With the quinoa it was actually perfect.
For this broccoli quinoa salad you can add any veggies and nuts of  your choice. Next time I will add some legumes. I used pumpkin seeds but even sunflower seeds and pistachios would be good in this salad.
As far as herbs, next time I will add some mint as well. I love mint mixed in in salads. It gives it a very refreshing taste and you will be surprised as to how good it goes with fresh veggies and salad recipes.
For the broccoli quinoa salad recipe you can visit nuts.com Be sure to browse their site, as they have many of the products you will need for your healthy baking and cooking. I love their large selection of products.
More amazing easy and healthy recipes to come you way soon.
Enjoy!