Black bean chicken stir-fry with snow peas and carrots
This is the first time I make black bean stir-fry chicken. I just bought some black bean sauce from the Asian market and I know it will not be my last. This dish was super tasty, healthy, quick and easy to put together. Super delicious to say the least.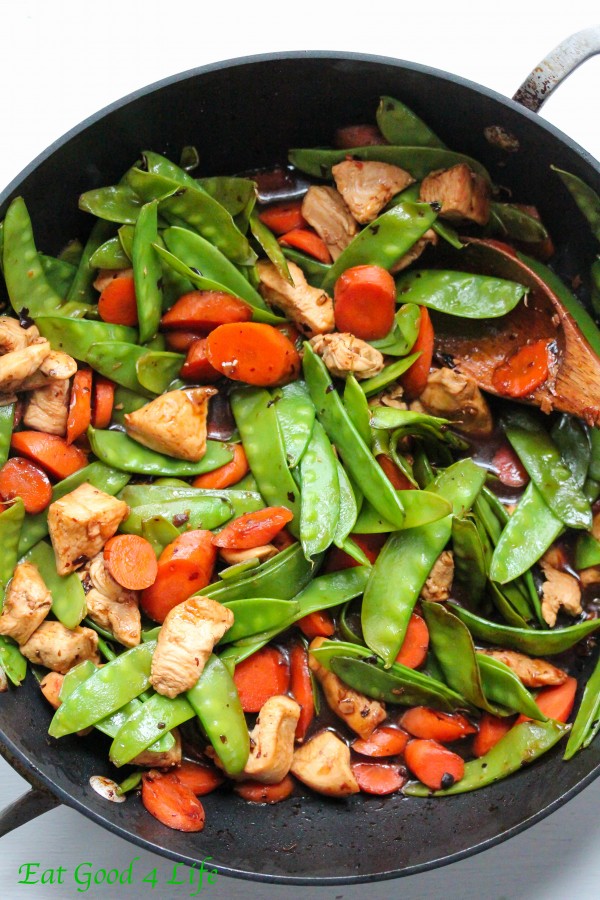 I love cooking Asian food not only because I love the flavors but also because they are super quick and versatile. This black bean chicken stir-fry can also be made vegetarian by adding more veggies or substitute the chicken with firm tofu.
Do you have an Asian market near by? Even though I have placed the links for some of the ingredients, which you can purchase on Amazon, these products will be a fourth of the price if you go to a local Asian market. I just happened to have one about 10 miles away from my house so there is where I get them all. I normally go every 6 weeks and stock my pantry with some Asian essentials.
Be ware of some of them thought because a lot contain MSG. There are several products, like oyster sauce, that I have not been able to buy just because of that.
I have made some black bean stir-fry veggies the other day as well using eggplants and onions. We love eggplant so I try to use it as much as possible. I know some of you are not to fond of it but we truly like it a lot, we couldn't live without it.
This black bean chicken stir-fry recipe kind of jumped ahead from other recipes I wanted to post, sorry about that. I figured it was too good of a recipe for you to wait until next week for me to post it.
Well, here you have it. I hope you get to make this recipe soon. If you like Asian food you will love this dish.
Enjoy!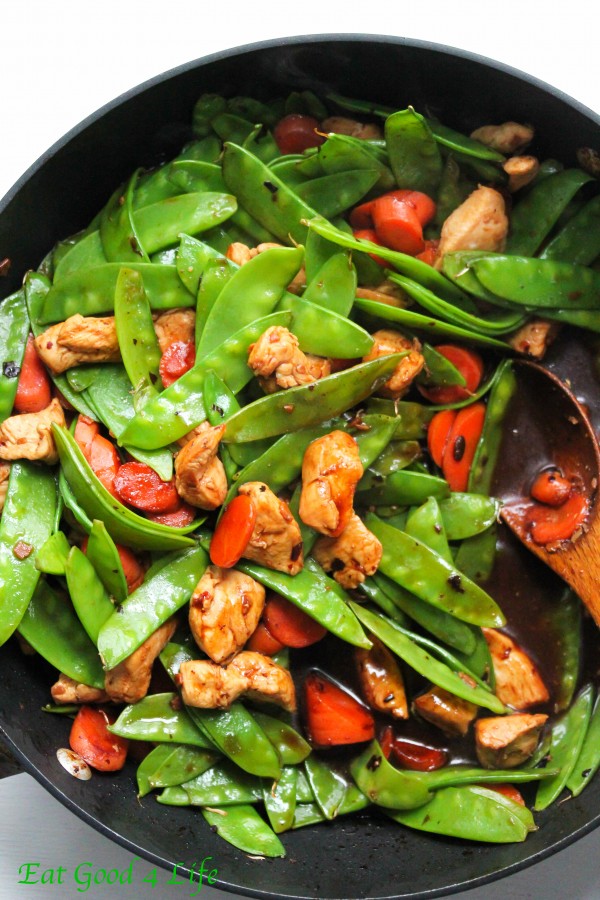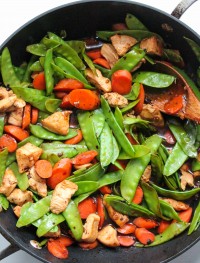 Black bean chicken stir-fry with snow peas and carrots
Yield: 4 servings
Total Time: 20 minutes max!
Ingredients:
1.5 lb organic chicken breast, cut into cubes
4-5 large carrots, sliced
9 oz snow peas
2 tbsp olive oil
Sauce
Directions:
In a large skillet, over medium to high heat, add the oil, carrots and chicken and cook for 8-10 minutes stirring frequently until almost cooked through. Add the snow peas and cook further for about 3 minutes making sure they still remain with some crunch. You don't want to over cooked them and make them mushy.
In a small mixing bowl, mix the sauce ingredients and add to the skillet. Cook for 1 minute until the sauce thickens up a bit. Serve this black bean stir-fry chicken with egg noodles, quinoa or brown rice.