Baked Black bean burgers
These are on of the simplest Baked black bean burgers you will ever make. Super easy, healthy and very tasty.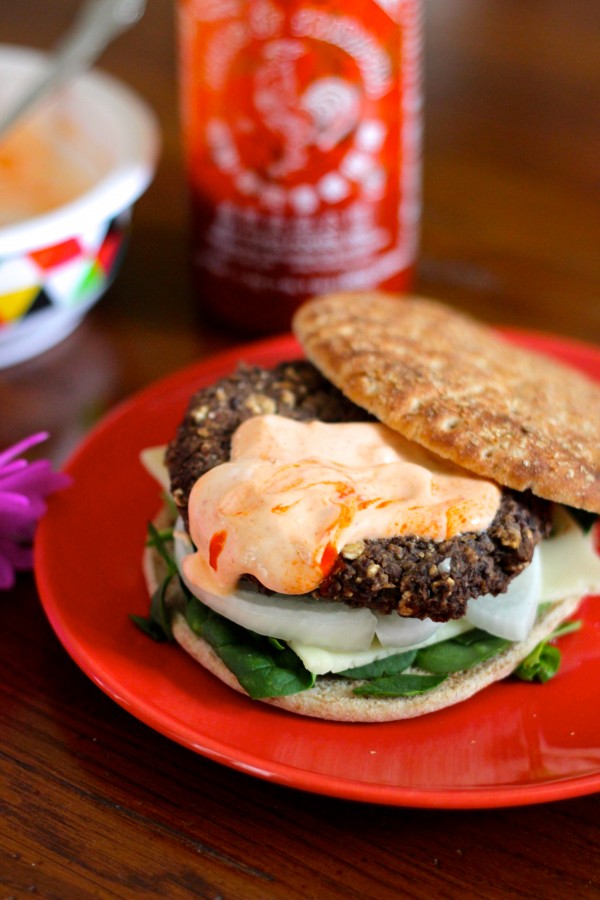 Hello again my friends, I am back at last!
I had about a couple of weeks vacation that was much needed but now I am back with really good goodies to post for you starting with this amazing baked black bean burgers. I am excited to get back to my little kitchen and cook and bake again so stay tuned for the weeks ahead for the good recipes to come!
I have no idea why I have waited so long to make these baked black bean burgers because they are just sensational. The recipe makes 12 large burgers and within two days they were totally gone. I think you would be very glad to make these. Trust me they are that good.
This Baked Black bean burgers recipe for the bean burgers is very versatile because you can add whatever ingredients you like. I will be making them again this week so I will add a little bit of corn and more spices to them. You can even add any other veggies of you choice. Peppers will also work but you may need more oats as the mixture may be a bit more wet.
I have been thinking that since the nice weather is just upon us I will be posting some drinks very soon. How does a white sangria sound? I have not made sangria in for ever so I think I will post a Sangria recipe very soon.
Anyhow, I hope you like these bean burgers. If you haven't try to make your own you are missing out because they are super easy and taste way way better than the ones you buy at the super market, and let's not forget how much healthier these will be for you since they won't contain all of the unnecessary ingredients. I think if you want you could even freeze them and bake for future consumption. Perhaps an extra 5 minutes baking time would be needed.
Enjoy!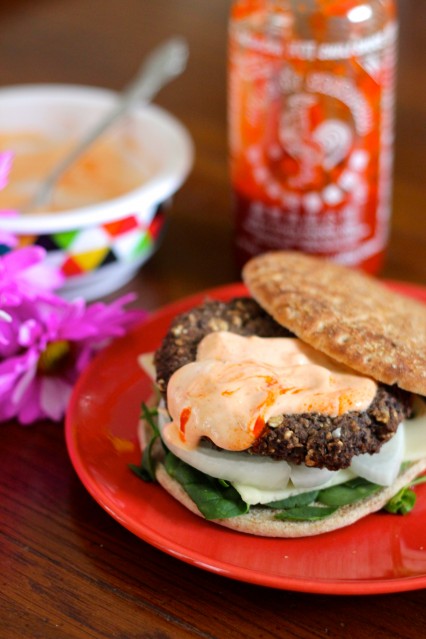 Black bean burgers
Ingredients:
2 15.5 oz cans black beans, drained and padded dry
1/2 cup rolled oats, gluten free
10 oz mushrooms
1/2 onion
1/3 cup flax seed meal
1 egg
3 garlic cloves
1 tsp cumin
1 tsp chilli powder or cayenne pepper, more if you like the heat
1/2 tsp celtic salt
Sauce
1/2 cup mayonnaise
1/4 cup Greek yogurt
2-3 Tbsp Sriracha sauce, more if you like
1 Tbsp sesame oil
Directions:
Preheat oven tot 350 F. Grease a baking sheet with olive oil and set aside.
Place 1 can of the black beans, garlic and onion in the food processor and pulse until pureed. Place the remainder of the ingredients, except the flax seed meal, and pulse until combined, not totally pureed. You want some little chunks of mushrooms and perhaps some beans to be seen.
Transfer mixture to a bowl and add the flax seed meal. Combine all the ingredients well. Start making the burgers by shaping about 1/3 cup of the mixture into burger patties.
Place patties in the prepared baking sheet and bake on each side for 10-12 minutes. They will dry out and become more firm.
While the burgers are in the oven, place sauce ingredients in a bowl and mix until combined.
Serve bean burger with the sauce and any other toppings you may like. I used organic spinach, onions and Swiss cheese.