Best ever healthier brownies for valentine's day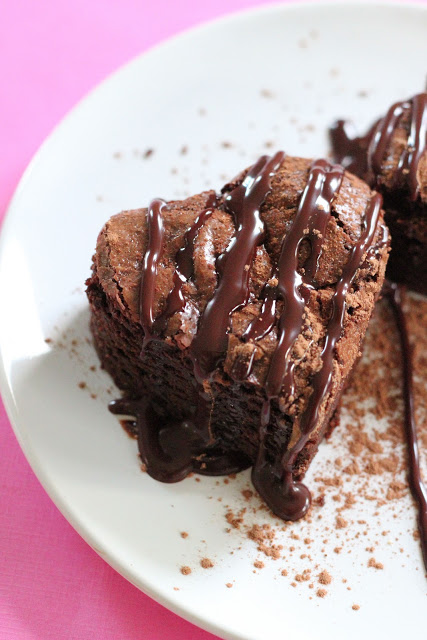 I just baked these brownies I made a while back and used a heart shape cookie cutter to make them especial for valentine's day. If you want something simple and decadent this is it!!
They are great brownies, I must say :-), but if you use semi sweet chocolate chips use 1/2 cup of sugar instead of 3/4 cups. This time around I did use semi sweet chocolate chips and used 1/2 cup sugar which was enough!!
There is not much to say about these brownies, but just that they are awesome and we love them so I hope you try them soon :-)
In the next few days I will have a post with some healthier baking options for Valentine's day so stay tuned but until then these brownies will keep you satisfied :-)
Enjoy!!
Here you can see how I was using the cookie cutter. You can serve the brownies how ever you prefer. I used chocolate syrup, cocoa powder and ice cream afterwards :-)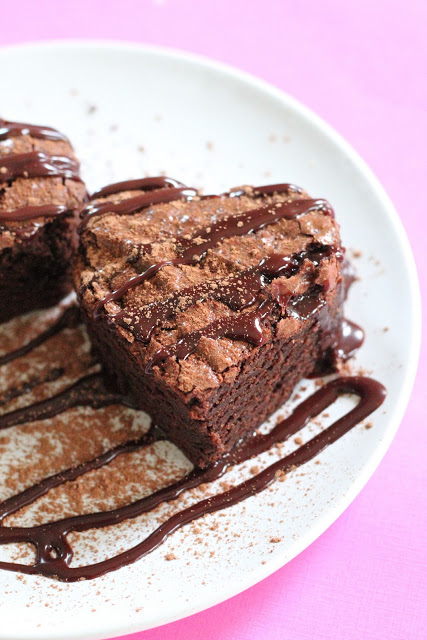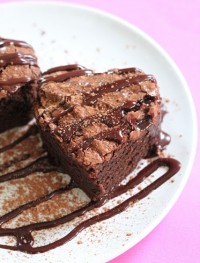 Ingredients:
1/2 cup olive oil, minus 2 tablespoons
2 eggs
1/2 cup strong brewed coffee
1/2 cup unrefined sugar, you can do 3/4 cup if you like
1 teaspoon vanilla extract, I sometimes use chocolate extract or amaretto liquor
1 cup whole wheat pastry flour, minus two tablespoons
1/2 teaspoon baking powder
12 oz dark chocolate chips, 1 bag
Directions:
Preheat oven to 350 F. Grease and flour a square baking pan and set aside.
In a bowl whisk first 5 ingredients. Add flour and baking powder and incorporate well.
In a bowl place chocolate chips and microwave on high for 1 minute. Stir well. Continue microwaving in 30 second intervals, stirring in between, until chocolate is melted and mixture is smooth.
Incorporate melted chocolate into the batter and mix through. Pour batter into prepared pan and bake for 35-40 minutes or until cake tester comes out clean.
Let the brownies cool. When completely cool remove the brownies from the pan to a flat table of cutting board where you can cut the brownies using the heart shape cookie cutter. Stamp hearts on the brownies, like in the picture, and serve as desired.