Berry pomegranate oatmeal bowl
I have been making plenty of different oatmeal bowls lately but this berry pomegranate oatmeal bowl I think is one of my favorite. I love pomegranates so I will be using them quite often in the near future.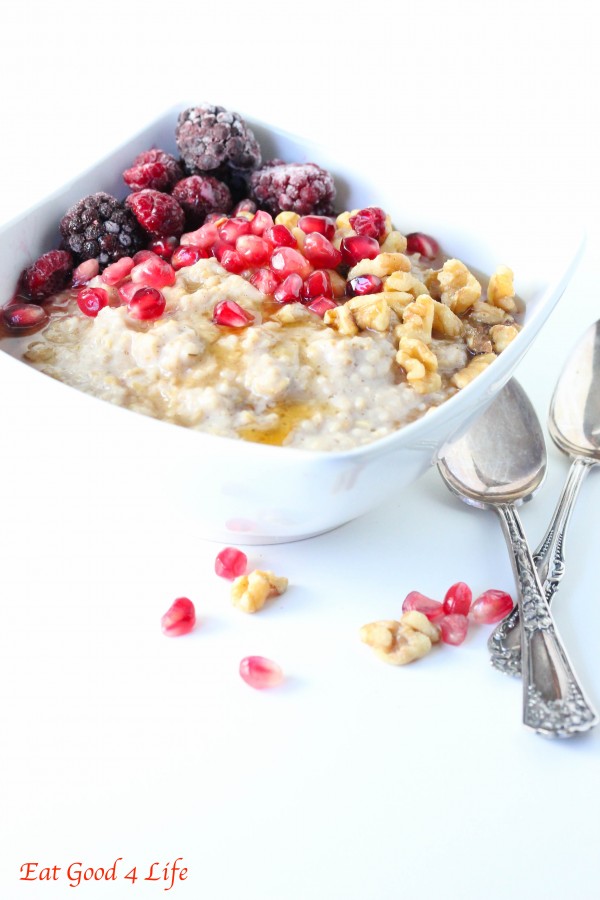 Pomegranate seeds can be a bit expensive. If you can get the entire pomegranate instead of just the seeds that would be much more economical. I just haven't been able to see the whole pomegranate just yet.
For this oatmeal bowl I used steel cut oats. I like the crunch they provide so I have been using this type quite often lately. You can use regular oats if that is what you have as well. No big deal. The recipe will still be as good.
You can also use any type of fruit, nuts, etc of your choice. The variations are endless so make your favorite combo if this one doesn't appeal to you.
Every time I make oatmeal I make a huge batch. I love my large mixing bowls that are glass, which I have in different sizes. I use the large one to stored this berry pomegranate oatmeal bowl, which lasted the entire week. It was great to have breakfast prepared already. I keep mine in the fridge but I heat each serving in the microwave for one minute and add some extra milk. My kids love it.
I am going to post another variation over the weekend. That one is coconut and strawberry. Super easy, healthy and good as well.
You can even take berry pomegranate oatmeal bowl on the go. I have placed servings on mason jars and then just have it at room temperature. I take them to school. I love it because it keeps me full longer than if I were to have a protein bar or something. This with an apple and I am good to go for at least a couple of hours.
Anyways, I hope you like this recipe. There are more to come just like this one so until then…
Enjoy!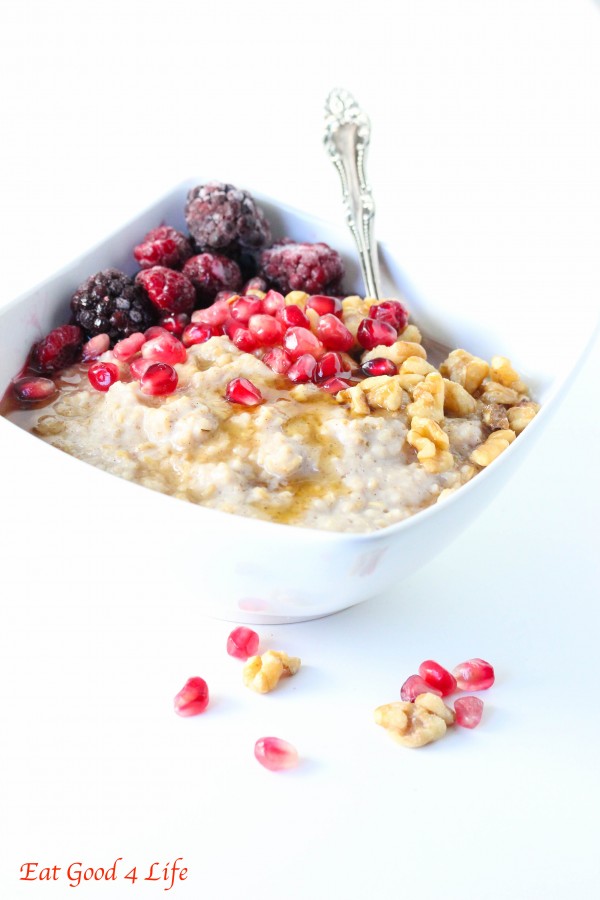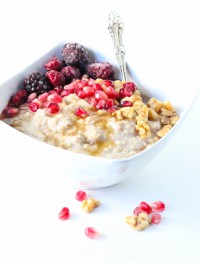 Berry pomegranate oatmeal bowl
Yield: 8-10 servings
Total Time: 15 minutes
Ingredients:
Directions:
In a large sauce pan add the steel cut oats, cinnamon and almond milk. Cook over medium to low heat until the oats have soften. About 10 minutes. You may add more milk if the mixture becomes too dried.
Transfer the oats to a large mixing bowl and add the rest of the ingredients and combine.
Store in the refrigerator for up to one week.